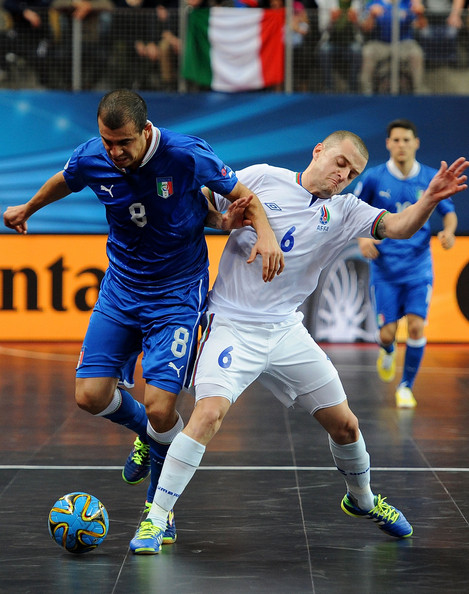 Estimated reading time:1 minute, 48 seconds
On top of the 18 Futsal internationals that have already been announced, Premier Futsal has signed 13 more top futsal stars from across the world to take part in its inaugural season, adding to the battery of decorated futsallers already signed up to play in the sport's first-ever multi-national league.
The roster of players announced today includes UEFA Championship-winning Italian national Jairo Manoel dos Santos (Pictured above), two-time World Cup-winning Spaniard Francisco Ruiz Serrato, triple world champion Leandro Simi and triple Copa Del Rey winner, twice UEFA futsal champion and twice world champion Gabriel da silva Dias.
Legendary Spanish goalkeeper Luis Amado Tarodo two-time world champion, five-time UEFA Futsal Championship winner, twice world champion and winner of the best goalkeeper of the world accolade was also announced.
All players have committed to competing in Premier Futsal for five years and will be assigned a team in the upcoming player draft scheduled for later this month.
Along with the players, the league also confirmed the participation of world-renowned international futsal coaches in Italians Max Bellarte & Sergio Tabbia and Brazilians Octavio Gomes De Oliveira Junior and two-time best coach of the year Ney Pereira.
The technical aspects of the league will be designed and overlooked by Douglas Reed, who joins as Tournament Technical Commissioner. Reed, a full England Futsal International, has extensive experience in futsal administration from around the world.
Kicking off on July 15, the league has signed some of the best futsallers in the world spearheaded by the renowned Alessandro Rosa Vieira, fondly known as 'Falcao' and has even enticed iconic footballers like Paul Scholes, Deco and Michel Salgado to compete plus 5 more football players will be announced soon.
If you like the information provided, you can read more articles about global Futsal by going to the top bar navigation or click here
If you like this article and would like to keep updated on Futsal news, developments etc then please submit your email below in the Newsletter section or by clicking on the Subscribe to Futsal Focus option on the header.
Follow Futsal Focus by clicking on Facebook, Twitter or Instagram or on the social media buttons on the right sidebar.