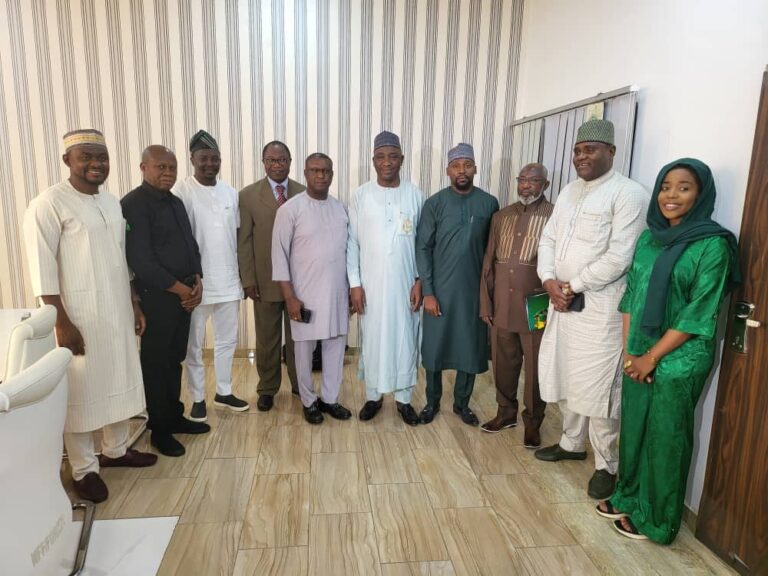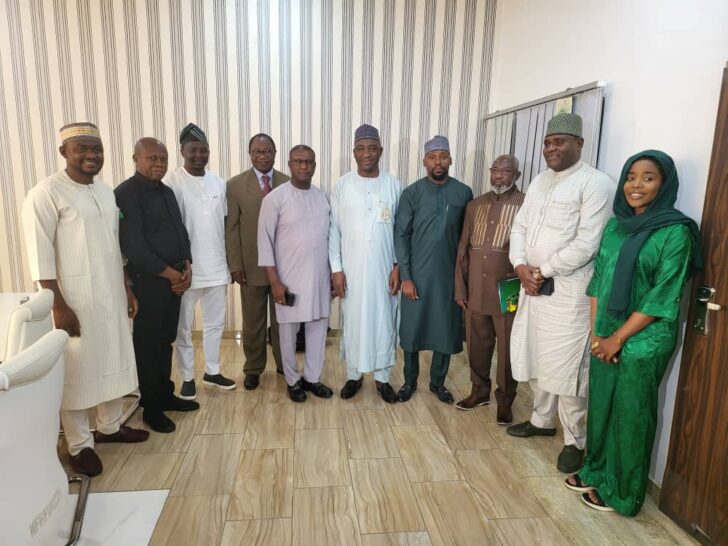 Estimated reading time:9 minutes, 40 seconds
Reviving Futsal in Nigeria: A Game-Changing Partnership for Futsal Growth in Nigeria between Futsal Nigeria and the Nigerian Football Federation
In a significant move to invigorate the Nigerian football sector and promote the growth of futsal, the Nigeria Football Federation (NFF), under the leadership of Ibrahim Musa Gusau, has pledged its support for Futsal development in Nigeria to bring this exciting sport back into full action. A recent courtesy call by a team from Futsal Nigeria, a private organization partnering with the NFF to boost the game of futsal (5-A-Side football) in Nigeria, marked a pivotal moment in this endeavour.
Gusau, the President of NFF, reminisced about Nigeria's participation in a Futsal World Cup qualifying fixture against Egypt a decade ago. However, due to various reasons, the country took a deliberate hiatus from the sport. Now, with a more robust foundation in the form of a stable local league and clubs with a genuine passion for the game, Gusau believes it is the right time to encourage and support the resurgence of futsal.
"I am delighted that even FIFA is thinking of organizing a Futsal World Cup for women. Our country is blessed with talented footballers at all levels, men and women, and I am sure that even if we are not in the maiden edition, we will soon have a team that will qualify to participate in subsequent editions of the competition," Gusau stated.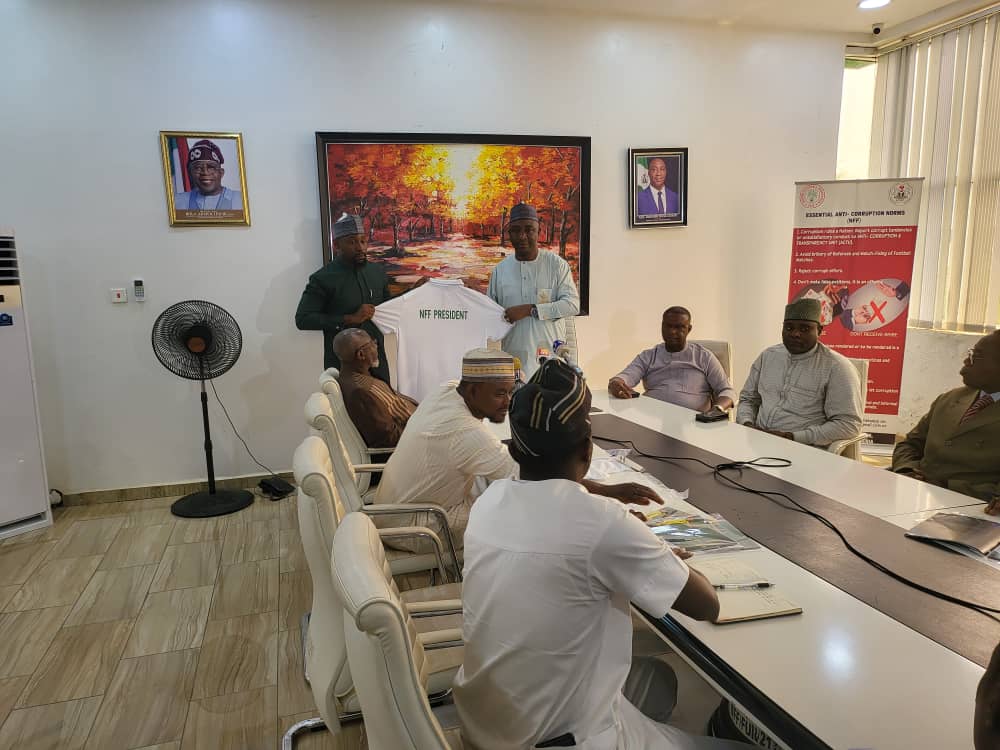 This ambitious project is not without its challenges, but the NFF Futsal and Beach Soccer Committee, represented by Abubakar Barde, is committed to revitalizing these sports in Nigeria. Shamsudeen Tijani Yusuf, the Coordinator of Futsal Nigeria, shared his enthusiasm for promoting Futsal in the country, a game that seamlessly combines both recreation and competition. He emphasized the abundance of footballing talent in Nigeria and the potential for the country to make a significant impact at the continental and global levels.
In their quest to revive futsal, Futsal Nigeria also presented T-Shirts and brochures to the NFF President and the General Secretary, Dr. Mohammed Sanusi, underscoring their dedication to the cause.
With these exciting developments, it's clear that the NFF and Futsal Nigeria are embarking on a transformative journey to reintroduce futsal in Nigeria. To gain further insights into this initiative and its potential impact, we have the privilege of interviewing Shamsudeen Tijani Yusuf, the Coordinator and Head of Competitions for Futsal Nigeria in this Futsal Focus exclusive.
Can you tell us more about Futsal Nigeria's mission and its partnership with the NFF in promoting futsal in Nigeria?
Our mission is to rejuvenate the landscape of Futsal in Nigeria by elevating its presence to the highest level. Concurrently, we are dedicated to fostering the development and promotion of the sport across all tiers, ranging from grassroots initiatives to the pinnacle represented by the senior national teams for both men and women. Our overarching aim is to integrate Futsal seamlessly into the developmental journey of every young player.
In pursuit of our objectives, a pivotal alliance has been forged with the Nigerian Football Federation, the authoritative body governing football in Nigeria. This strategic partnership is not only significant for garnering support, through this collaboration, we aim to solidify Futsal's standing and establish it as a core component within the broader spectrum of football development in Nigeria.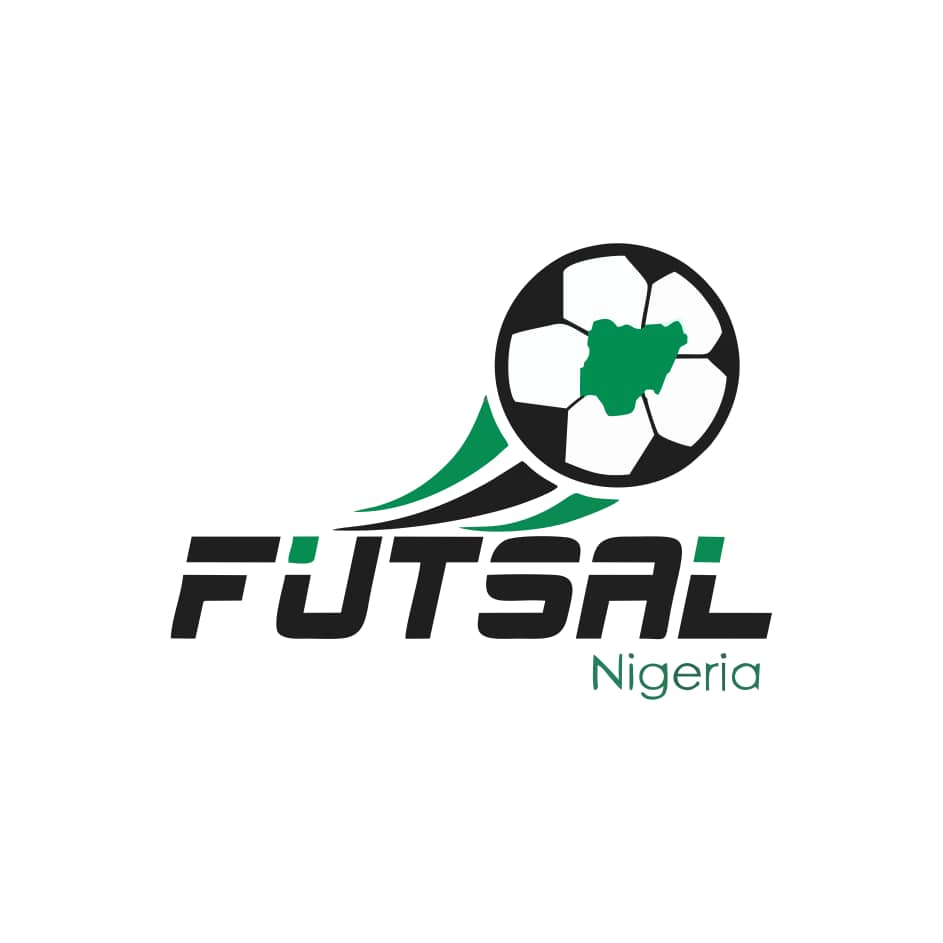 What are the key challenges you anticipate in reviving the sport in the country, and how do you plan to overcome them?
The initial hurdle we encountered was securing funding, yet we've successfully navigated this challenge by actively involving the private sector in investing in Futsal. Our optimistic outlook is fueled by ongoing efforts to attract substantial sponsors who share our vision and are poised to align with our strategic plans.
On the infrastructure front, while it presented another formidable challenge, we have proactively addressed this obstacle. Leveraging the resources at our disposal, we've capitalized on existing indoor courts, strategically distributed across nearly 8 cities nationwide. Additionally, we are proud to announce the utilization of a world-class velodrome in the Federal Capital Abuja, boasting a seating capacity for 5000 spectators. This innovative approach underscores our commitment to overcoming obstacles and ensuring the successful establishment and growth of Futsal in Nigeria.
How do you envision the future of futsal development in Nigeria, both at the grassroots and professional levels?
The future outlook for Futsal at the grassroots level is brimming with potential, poised to captivate a vast audience. With Nigeria's population exceeding 220 million and football reigning as our most beloved sport, Futsal emerges as a promising avenue, offering an alternative pathway for players better suited to its nuances. Our mission is to bridge the gap for those players who may find a more fitting expression of their skills in Futsal, presenting a viable option where none currently exists within conventional football pathways. This ambition is embodied in our comprehensive Futsal Development Plan, strategically designed to introduce the sport across all educational levels, from schools to universities.
As we anticipate a surge in sports participation and heightened popularity, the groundwork for professional aspirations will naturally take shape. However, it's crucial to emphasize that, at present, we are not yet contemplating a transition to professionalism. Instead, our immediate focus is on cultivating amateur competitions infused with a professional touch. This approach aims to elevate the quality and experience of Futsal competitions, creating an environment that mirrors professionalism while nurturing the grassroots essence that is fundamental to our vision.
The NFF President mentioned the possibility of Nigeria participating in a Futsal World Cup for women. What are your thoughts on this, and how does it align with Futsal Nigeria's goals?
Certainly, we are diligently gearing up for the Women's World Cup in 2025, and we are committed to deploying every resource at our disposal to ensure our participation. However, recognizing the significant groundwork ahead, the establishment of a women's national futsal team demands a multifaceted approach.
Our success hinges on garnering substantial support, facilitating talent identification, assembling a proficient coaching team, meticulous preparations through friendly matches, and securing the necessary resources to orchestrate international travel for World Cup qualifiers. It's a comprehensive undertaking that underscores our dedication to fostering women's futsal on a global stage.
We are actively engaged in this process, and while there is much to be accomplished, rest assured that progress is underway. We anticipate making a formal announcement next year, providing a glimpse into the strides we've made in shaping a formidable women's national futsal team for the upcoming World Cup.
Several international coaches from America and Europe have been in contact with me to coach our national team so we are looking into the possibility of having international experienced coaches. Any interested coaches in our international setup for the men and women sections can contact me at: Shamsu208@gmail.com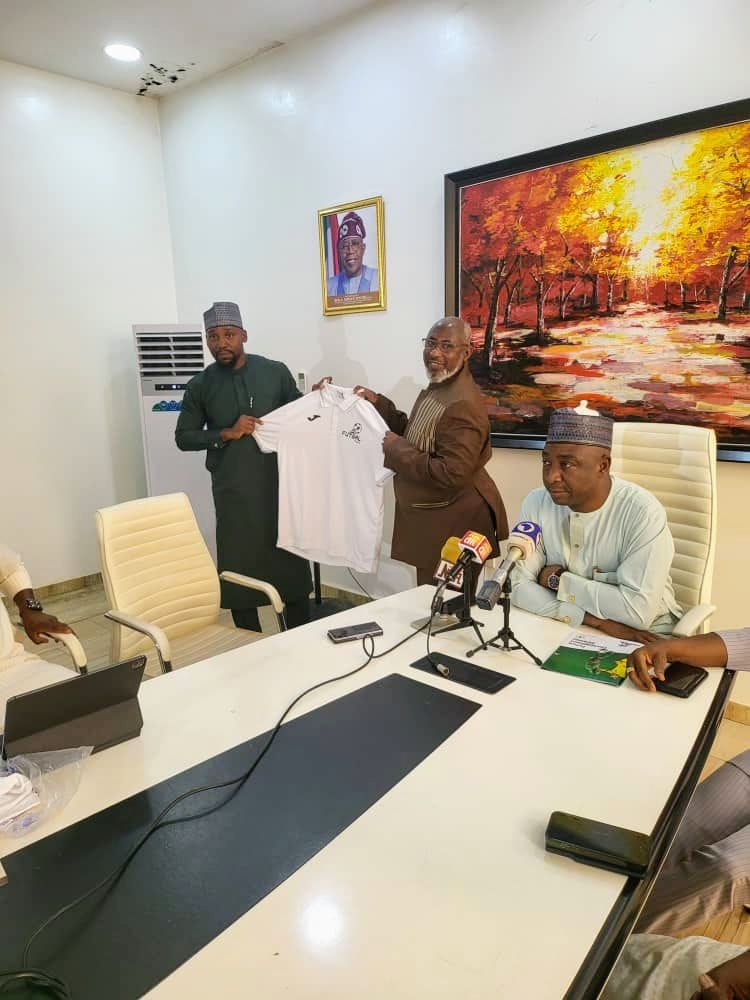 Does the NFF have any plans to launch a men's national team?
In tandem with our forthcoming initiative to establish a women's team next year, we are equally dedicated to cultivating a men's team, setting our sights on the prestigious 2028 FIFA Futsal World Cup. This marks a thrilling chapter in our journey, and I eagerly anticipate witnessing the emergence of our countrymen and women donning the green, showcasing their abilities on the courts as they take on nations in Africa and beyond in international friendlies and international competitions. The prospect of our national teams competing at this level adds an extra layer of excitement to the global futsal landscape, reflecting our commitment to excellence and fostering spirited competition on the international stage.
What initiatives and programs does Futsal Nigeria have in place to nurture and develop local talent for the sports and if not in place yet, what are the first stepping stones to take in your opinion?
Recognizing the inherently technical nature of Futsal, we acknowledge that to compete at the pinnacle of the sport, it's imperative to enhance the knowledge and expertise of our coaches and referees. In pursuit of this, we are proud to announce upcoming coaching and referees training workshops in collaboration with CAF and FIFA, aiming to elevate the standard of Futsal education in our country.
Moreover, a significant milestone on our horizon is the inauguration of the National Futsal Super League (NFSL) in 2024. The anticipation for the country's inaugural Futsal league is palpable, and we are thrilled about ushering in this groundbreaking chapter. embracing a regional format, the league promises to be a dynamic platform, uniting Futsal enthusiasts nationwide and fostering spirited competition at an unprecedented level. We eagerly look forward to witnessing the talent, passion, and excitement that the NFSL will undoubtedly bring to the forefront of Futsal in our nation
2026 will see the Youth Olympics come to Africa for the first time in Senegal and futsal will be a part of the competition for men and women. Do you know if Nigeria plans to take part in this competition and use it to help increase awareness and interest at home?
The forthcoming Youth Olympics in 2026, set to take place in Senegal, represents a significant opportunity for the growth and development of the game. As the games unfold on African soil, the potential impact extends beyond our borders, offering a catalytic moment for the advancement of Futsal across the entire continent. This event not only serves as a platform for our own national aspirations but also stands as a beacon for other African countries, providing a unique chance to elevate the status and popularity of the sport on a broader scale. The hosting of the Youth Olympics in Senegal holds the promise of leaving a lasting legacy for Futsal, marking a pivotal chapter in its regional and continental evolution. Should we have futsal competitions taking place at the University level by 2025, competing in this competition may be a possibility.
How can enthusiasts and potential players get involved in futsal through Futsal Nigeria's activities and who should they contact?
The operational hub of FUTSAL NIGERIA is strategically located at the FIFA Goal Project of the Nigerian Football Federation. Our online presence is set to expand with the imminent launch of our website and activation across various social media platforms. Stay tuned for updates and engaging content as we connect with our audience and share the exciting journey of Futsal in Nigeria.
Thank you to Shamsudeen Tijani Yusuf for this exclusive interview and insights into Futsal Nigeria and the NFF's vision for the future of futsal in Nigeria.
Author of the Interview 
Stephen McGettigan was born in the Republic of Ireland but grew up in Belfast. He is the founder of Futsal Focus and a Football Industries MBA graduate from the University of Liverpool Management School. Stephen has worked in the Football and Futsal industries for 15 years.
Organ Donation
Futsal Focus is a supporter of Dáithí Mac Gabhann and his family's campaign to raise awareness of Organ Donation. We encourage our readers to learn more about Organ Donation: https://www.organdonation.nhs.uk/
Futsal Focus
You can read more articles about global futsal by going to the top navigation bar or by clicking here
If you like this article and would like to keep updated on Futsal news, developments, etc then you can now follow Futsal Focus via Google News by following our page which will send you an alert as soon as we publish an article so please click here and follow us on Google.
You can also keep updated on Futsal news, developments, etc then please submit your email below in the Subscribe to Futsal Focus option.
Follow Futsal Focus by clicking on Facebook, Twitter, or Instagram or on the social media buttons on the website.