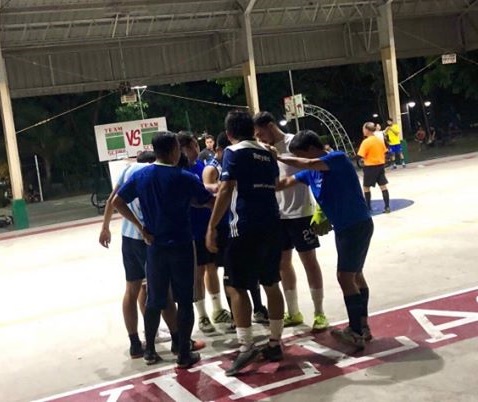 Estimated reading time:2 minutes, 15 seconds
Team Socceroo Football Club is one of the pioneering Football clubs in the Philippines involved in futsal development.
Team Socceroo Football Club is one of the pioneering Football clubs in the Philippines involved in futsal development. Michael Reyes is the Managing Director at the club since 2005 and aims to make football and futsal accessible to more Filipinos by providing opportunities for young talent to hone their skills. Formerly, a professional club in the first division in the Philippines, the club has shifted their focus to developing youth footballers and have since helped pioneer futsal development in the Philippines.
Michael is a former national team player and an experienced manager in sports development. He envisions establishing a sustainable futsal league in the country as the club believes in futsal as a great source of talent. To take their aims further, they have recently recruited a UEFA A Licensed Football Coach and Futsal Licensed Coach, Andy Williams from England.
Michael and his colleagues introduced a competitive environment to the open futsal nights at Tahanan within the Team Socceroo Club. The tournament was organized to try and help players improve their footballing skills/ knowledge plus promote and increase awareness of Futsal in their area. The event was also aimed at bringing participants together irrespective of their backgrounds while providing opportunities for players from within the club to showcase their abilities. The tournament was mainly targeted for male players aged 17 years and above. The tournament will be held at the Tahanan Village Covered Court in Paranaque,
"We have created a cool urban environment where you will find music while you play, a stand for spectators, a cafe and ample parking available," said Michael to Futsal Focus.
Preparations are now underway for season two and interest from outside of Tahanan has grown rapidly thanks to the inclusion of a Social Media Livestream on Matchdays. The tournament was conducted in a league format over five nights and concluded with a Cup Night on Matchday 6. The free-flowing game has witnessed significant growth throughout the Philippines over recent years, as a sport in its own right, and as a fundamental part of football development.
If you like the information provided, you can read more articles about global Futsal by going to the top bar navigation or click here
If you like this article and would like to keep updated on Futsal news, developments etc then please submit your email below in the Newsletter section or by clicking on the Subscribe to Futsal Focus option on the header.
Follow Futsal Focus by clicking on Facebook, Twitter or Instagram or on the social media buttons on the right sidebar.