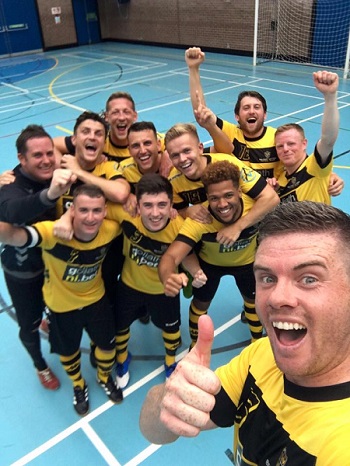 Estimated reading time:2 minutes, 50 seconds
Ciaran Donaghy is a retired semi-professional football player with Cliftonville Football Club in Northern Ireland, whose career came to an early end.
To continue his love of the game, Ciaran stayed in the sport through coaching and currently works for the Irish Football Association. However, once he heard of Futsal and its impact on the Football industry since the 1930s, his interest in the game grew and he wanted to learn more.
Today, Ciaran is enjoying a big step for his own ambitions within the sport of Futsal. Belfast United Futsal Club which he established this year are celebrating their weekend success, the club lifted the Irish FA National Futsal League trophy and will be the first club in Northern Ireland's history to represent the country in the UEFA Futsal Cup which is the Champions League equivalent to Football. This August, Belfast United Futsal Club will fly to Denmark to compete in preliminary round Group G against Record Bielsko-Biała (Poland), Doukas SAC (Greece) and København Futsal (Denmark, hosts).
Futsal Focus spoke with Ciaran after the final to get his thoughts on how Futsal is an opportunity for retired semi-professional and professional players. Here are Ciaran's thoughts:
"Developing Futsal in your community is a huge opportunity for retired players. Unfortunately, not every retired player can stay involved in Football but these players have a good understanding of what is demanded of a player, what is expected at the highest levels and their experience is vital for young ambitious players. Furthermore, they understand the heart break, the mental strength needed and the passion.  All this experience should not be wasted and if Football is not an option then Futsal definitely is."
"Futsal is a sport in its own right, therefore, you have to learn the tactical and technical needs of the game. But, there are different levels of opportunities you could start with such as developing young players, start development programmes, hire a unit and start a Futsal centre, leagues, and tournaments or you could start your own club."
"Depending on where you live in the UK there will be more opportunities, Futsal is more established in England and I have read of players like Kevin Davies, former England International developing the sport in Bolton, Dean Gordon, former Crystal Palace player developing the sport in the North East and former Manchester United player, Luke Chadwick working with Cambridge United."
"Futsal is an opportunity that should be considered by former players because their profile can help develop the game further. You have Ryan Giggs and Paul Scholes playing in the Premier Futsal in India, if they developed Futsal as part of Salford City FC then their profile would do wonders for the sport, its awareness and development in the UK as would other retired players getting involved and promoting it."
If you like the information provided, you can read more articles about Futsal by going to the top bar navigation or click here
If you like this article and would like to keep updated on Futsal news, developments, etc then please submit your email below in the Newsletter section or by clicking on the Subscribe to Futsal Focus option on the header.
Follow Futsal Focus by clicking on Facebook, Twitter or Instagram or on the social media buttons on the right sidebar.