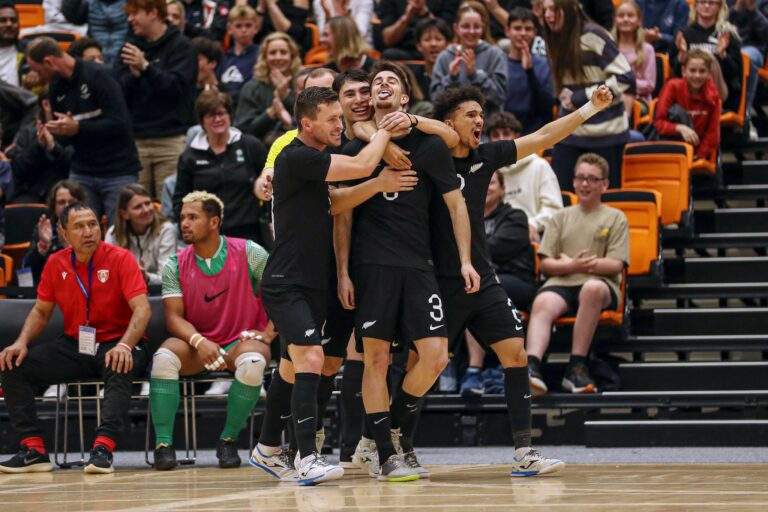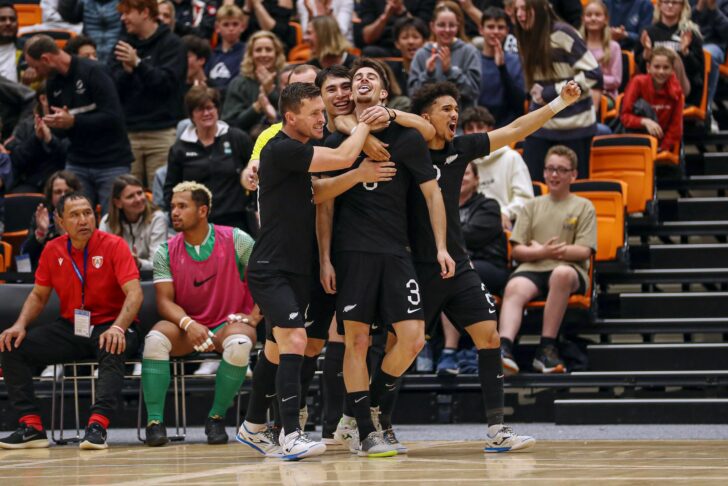 Estimated reading time:7 minutes, 52 seconds
Balancing Preparation for Success: An Opinion Piece on New Zealand's Path to International Glory
In the wake of the Futsal Whites' remarkable victory in the Oceania Football Confederation (OFC) Futsal Nations Cup, retaining their title and securing a coveted ticket to their first FIFA Futsal World Cup, it's the perfect moment to delve into New Zealand's journey and their aspirations on the global stage. As we explore their path, it's important to consider the contrasting preparations of New Zealand and the Solomon Islands for the OFC Futsal Nations Cup, setting the stage for their quest for World Cup success.
(Main picture source: OFC Facebook page)
Additionally, we'll contemplate the choices New Zealand should make regarding their international friendly matches as they balance performance and player development. Is it time for New Zealand to seek opponents who will challenge them, or should they focus on refining specific aspects of their game as they gear up for the Futsal World Cup? Let's dive into the intricacies of New Zealand's futsal journey and their hopes of making a lasting impact on the world stage.
"It's a nice one to have," Coach Marvin Eakins expressed his satisfaction about winning the Oceania Nations Cup trophy. The Futsal Whites retained their title by defeating Tahiti 5-0 in the final in Takanini last month, but on this occasion, they earned a coveted ticket to their first FIFA Futsal World Cup. Captain Dylan Manickum, who had been striving for this victory for 13 years, expressed his deep emotion, saying, "We've been working so hard for it for so long that it's an emotional time for everyone." The triumph held a special place in Eakins' heart as he had been a former Futsal White himself, and he admitted, "It did have a moment when I was like, 'thank god, we've done it.' I was kind of a little bit jealous in a way."
Manickum praised Eakins for his contribution, noting, "When I started playing, he was the captain, so I think for him, it's wonderful he can be involved as the coach and lead this team forward." With World Cup qualification in their sights, the team's goal now is to transition from being qualifiers to strong contenders. New Zealand secured their World Cup spot ahead of the 24-team tournament, scheduled to commence in September next year, becoming the first team to do so after hosts Uzbekistan.
Eakins outlined their plans, saying, "We'll have a couple of camps throughout the year. We already train fortnightly. The harder part is how we connect with those players that are overseas in different environments." World Cup qualification not only opens doors to international competition but also brings financial support from FIFA, although the specific amount remains undisclosed. Eakins emphasized the importance of these resources, stating that they would be crucial for a successful lead-up to the World Cup, ensuring that the players are well-supported and that they have the opportunity to play international matches as part of their preparations.
Before discussing New Zealand's potential World Cup preparations, let's consider the disparity in preparation between New Zealand and the Solomon Islands leading up to the OFC Nations Futsal Cup, it's important to highlight the contrasting approaches of these two teams before discussing World Cup preparation. The Solomon Islands FA demonstrated exceptional dedication to their national futsal team, who embarked on a demanding journey that included trips to Fiji for the Extra Supermarket Melanesian Futsal Cup, which they won. However, they faced a stern test from Vanuatu during the group stage. Subsequently, they ventured to Australia, resulting in a series of mixed outcomes, a draw, and two defeats, followed by daunting losses in Vietnam and Thailand as part of the Continental Futsal Cup, an invitational event. Notably, they suffered substantial defeats at the hands of Thailand (10-1), Myanmar (6-2), and Mozambique (0-8).
Recognizing the Solomon Islands' unwavering commitment raises a thought-provoking question about the potential impact of their demanding journey on the national team's confidence as they approached the competition. In stark contrast, New Zealand, as the defending champions, entered the tournament with a sense of buoyancy after a successful tour in China, where they won both matches with scores of 5-0 and 6-2. This contrast leads to another pertinent question: should the Solomon Islands have participated in the Continental Futsal Cup, given their reflections on their performances leading up to the competition?
Looking ahead, New Zealand faces the decision of who they should compete against in international friendly preparation matches. Should they test themselves against formidable opponents in order to face the reality of the task ahead or should the focus be a balance between performance and player development while maintaining a competitive spirit. If the decision is the latter, then to achieve this, organizing matches against nations that are relatively close in skill and slightly ahead in the rankings could be ideal. New Zealand should seek opponents that can challenge them and help them grow as a team. Prioritizing specific aspects of their game, including tactical strategies and defensive organization, becomes imperative as they prepare for the Futsal World Cup.
When considering New Zealand's choice of opponents, a locally centered approach emerges as a promising starting point, with the potential for a home tournament to serve as an ideal platform for development. In this envisioned format, a four-team invitational could come to life, with prospective participants including the Solomon Islands, Australia, South Korea, or Bahrain. This blend promises a captivating mix of playing styles and developmental opportunities. Notably, Bahrain secured a second-place finish, narrowly falling 5-3 in their final AFC Asian Futsal Cup qualifier match against the Group F champions, Kuwait. Similarly, South Korea earned the second spot in their group, conceding a 5-2 defeat to Vietnam. Importantly, both of these nations have advanced to the final tournament, showcasing their competitive edge.
The proposed four-nation invitational serves as a conducive platform for bolstering confidence and advancing development. This is particularly noteworthy since none of these countries can boast professional-standard futsal leagues, yet they have demonstrated commendable performance against nations that do possess a certain professional level of standard/infrastructure. This type of competition would also help to increase awareness and excitement in New Zealand ahead of the World Cup.
Building on this developmental progress and contingent upon their performance in the proposed home nation competition, the second preparational objective remains to continue leveling up and facing increasingly competitive opponents. While taking into account New Zealand's limited exposure to professional-level futsal, their journey could extend beyond Asia, Europe, and South America.
In the pursuit of greater challenges and growth, New Zealand Football's support for the national team, coupled with FIFA's rewards for qualification, might facilitate encounters with teams from Central America and North America. Nations like Costa Rica, the United States of America, or Guatemala, or nations from Africa such as Egypt, Libya, or Zambia, could provide an ideal level of competition that aligns with New Zealand's developmental goals.
As the competition date draws nearer, seeking matches against formidable opponents becomes essential for acclimating to the high level of international futsal on the World Cup stage. But even at this time, who you pick should be measured based on the performance of the team in the initial stages of the preparations. However,  this could include facing a team from Asia, such as Indonesia, Japan, and Thailand, or a team from Europe like Italy, Serbia, Croatia, or France.
Squaring off against the top-tier nations, and suffering heavy defeats in the preparation phase to teams expected to win the World Cup or reach the latter stages would hinder confidence building. Instead, the primary aim should be to create memorable experiences, display competitiveness, and build confidence and understanding of the tactical needs in order to be ready to play well, much like Angola did in their group during the 2021 FIFA Futsal World Cup. Paced development steps could provide New Zealand with the confidence building needed to face top nations. By aspiring to be a challenging test for stronger opponents and leaving a lasting impression despite the potential of defeat, New Zealand can take substantial strides toward achieving their benchmark and attaining the desired competitive level. Nonetheless, the most significant challenge, as highlighted by New Zealand's head coach, Marvin Eakins, lies in uniting his group of players for this preparation process, particularly given that some of them reside in foreign countries such as England and Italy.
Author of the Interview 
Stephen McGettigan was born in the Republic of Ireland but grew up in Belfast. He is the founder of Futsal Focus and a Football Industries MBA graduate from the University of Liverpool Management School. Stephen has worked in the Football and Futsal industries for 15 years.
Organ Donation
Futsal Focus is a supporter of Dáithí Mac Gabhann and his family's campaign to raise awareness of Organ Donation. We encourage our readers to learn more about Organ Donation: https://www.organdonation.nhs.uk/
Futsal Focus
You can read more articles about international futsal by going to the top navigation bar or by clicking here
If you like this article and would like to keep updated on Futsal news. You can now follow Futsal Focus via Google News. Follow our page which will send you an alert as soon as we publish an article. Please click here and follow us on Google.
You can also keep updated on Futsal news by submitting your email below in the Subscribe to Futsal Focus option