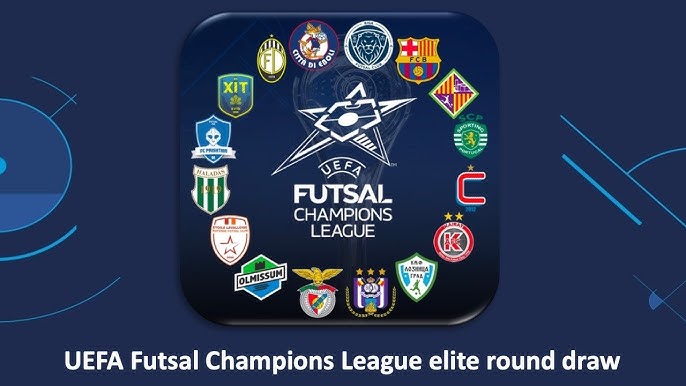 Estimated reading time:5 minutes, 3 seconds
The Road to UEFA Futsal Glory: Elite Round Draw Unveils Intense Battles and Intriguing Rivalries
In a riveting revelation at the heart of UEFA's headquarters, the stage has been set for the forthcoming drama in the world of futsal. The UEFA Futsal Champions League elite round draw, held with much anticipation, has bestowed upon us an intriguing clash of the titans. A dramatic showdown awaits as the four groups, formed through this draw, will ultimately determine the contenders who will advance to the knockout finals set for May 2023.
Intriguingly, the elite round draw has bifurcated the 16 formidable teams, which had successfully navigated the treacherous waters of the main round, into four distinct groups. These groups, each harbouring their own aspirations and ambitions, have been tasked with the responsibility of separating the contenders from the pretenders on the path to futsal glory.
The Elite Round Draw Groups:
Group A:
FC Barcelona (ESP)
Etoile Lavalloise (FRA)
Città di Eboli (ITA)
Riga Futsal Club (LVA)*
Group B:
SL Benfica (POR)
Kairat Almaty (KAZ)
FC Dobovec (SVN)
Prishtina 01 (KOS)*
Group C:
Sporting CP (POR)*
Sporting Anderlecht Futsal (BEL)
Loznica-Grad 2018 (SRB)
Haladás (HUN)
Group D:
Palma Futsal (ESP, holders)*
Hit Kyiv (UKR)
Olmissum (CRO)
Lubawa (POL)
(*Group hosts)
The elite round will be an intense, one-venue mini-tournament, set to unfold between the 28th of November and the 3rd of December. For aspiring teams, this is the crucible where dreams will be either fulfilled or shattered. The four victorious teams from this crucible will then move on to the grand finals, scheduled for the 2nd/3rd and 4th/5th of May, with the hosting arrangements yet to be finalized.
Team Facts:
As the spotlight falls upon the illustrious history of these teams, a few captivating narratives emerge. Last season's debutant, Palma Futsal, sensationally clinched the title, setting the stage for a riveting showdown this year. Past champions like FC Barcelona, SL Benfica, Kairat Almaty, and 2023's runners-up, Sporting CP, are hungry for another taste of glory.
Anderlecht, having reached the semi-finals for the first time last season, are the only remaining contender other than the five past winners to have reached the final four. Kairat Almaty etches their name in history, becoming the first club to enter an impressive 20 seasons of UEFA futsal competition. Their recent main round games mark them as the first team to engage in 100 matches in the UEFA futsal club competition.
Sporting CP's victory over Olmissum in their last main round match saw them equal Inter FS's record of 68 UEFA futsal club competition wins and surpass Inter's previous record of 410 goals. Additionally, Nuno Dias of Sporting achieved a coaching milestone with 50 competition wins for a single club, an honor previously held by Jesús Velasco with 60 wins but spanning multiple teams.
It's not just the giants, though; the elite round welcomes fresh faces from the preliminary round. Lubawa, Prishtina 01, and Riga have defied the odds to reach this stage, marking a unique occurrence where three teams have progressed from the preliminary round in the current format. Riga Futsal Club's new signing, Ricardinho, made a grand entrance with an impressive six goals during the preliminary round, amassing 59 goals, just one shy of his personal best from 13 campaigns set during his tenure with Benfica in 2007/08.
Riga's 58 goals this season stand as a remarkable feat, the highest tally since FC Dynamo's 66 goals in their runner-up finish in 2004/05. Interestingly, Croatia, Kosovo, Latvia, Poland, Serbia, Slovenia, and Ukraine have never witnessed a team reaching the final four under the current format, adding an extra layer of intrigue to this year's competition.
Astonishingly, Eboli delivered a resounding 10-3 victory over Riga (then known as Petro-w) in the main round last season. The thrilling rivalry between Benfica and Kairat continues, with the two teams having locked horns on six occasions in the competition, most recently culminating in a 2-1 elite round triumph for Benfica in Almaty, earning them a spot in the finals. Sporting's dominance is evident in their victories over Anderlecht and Halle-Gooik (their former name), underlining their status as a formidable force in European futsal.
The elite round promises us another chapter in this ever-enthralling journey through the world of futsal. It is a battleground where giants seek to maintain their dominance, and underdogs aim to etch their names in European futsal history. One thing is certain – the futsal world is in for a treat as these teams vie for supremacy. May the most skillful, disciplined, and determined emerge victorious in this high-stakes dance of finesse and agility.
The author of the article
Stephen McGettigan was born in the Republic of Ireland but grew up in Belfast. He is the founder of Futsal Focus, a Football Industries MBA graduate from the University of Liverpool Management School, and he has worked in the Football and Futsal industries for 15 years.
Organ Donation
Futsal Focus is a supporter of Dáithí Mac Gabhann and his family's campaign to raise awareness of Organ Donation. We encourage our readers to learn more about Organ Donation: https://www.organdonation.nhs.uk/
Futsal Focus
You can read more articles about domestic futsal by going to the top navigation bar or by clicking here
If you like this article and would like to keep updated on Futsal news, developments, etc then you can now follow Futsal Focus via Google News by following our page which will send you an alert as soon as we publish an article so please click here and follow us on Google.
You can also keep updated on Futsal news, developments, etc then please submit your email below in the Subscribe to Futsal Focus option.
Follow Futsal Focus by clicking on Facebook, Twitter, or Instagram or on the social media buttons on the website.