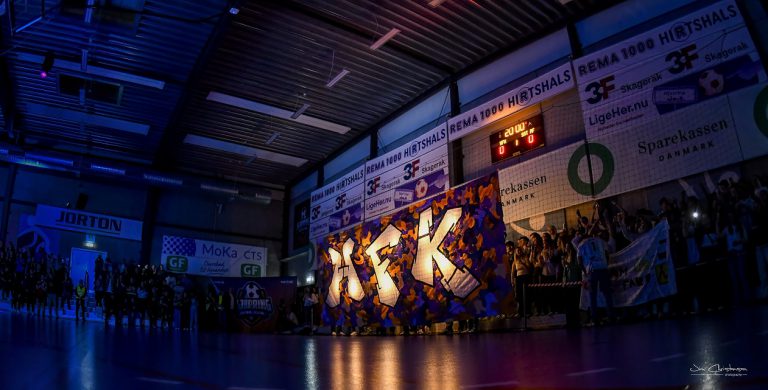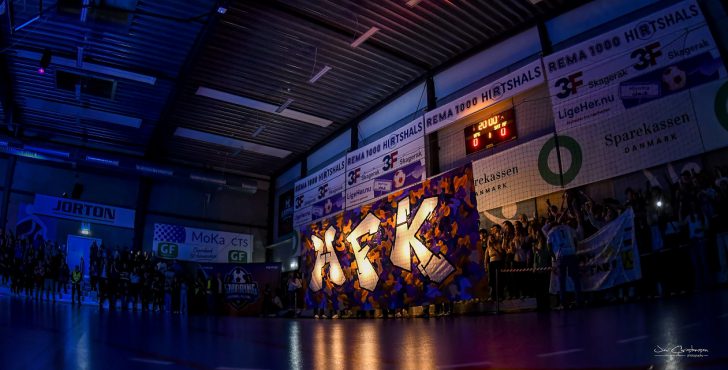 Estimated reading time:14 minutes, 0 seconds
Peter Steen, Chairman of Hjørring Futsal Klub (HFK) in Denmark, talks to Futsal Focus followers about the development of their club from amateurism to professional amateurism.
Looking at Futsal content on Instagram, I came across a video that featured Hjørring Futsal Klub in Denmark. Danish futsal is considered amateur, but what I was watching was professionally produced content. It was entertaining to watch, the footage showed an audience enthralled by the match they were watching, and most of all, they were having fun.
Main picture: The fans are singing, drumming, and making tifos – not only for the big games. Foto: Jim Christensen
My thoughts were how did this club move from amateurism to professional amateurism, and what could other amateur clubs learn from them that could aid their own development. I jumped on the internet and went straight to their website at https://www.hjoerring-futsal-klub.dk/ and checked out their board which includes roles such as:
Chairman – Peter Steen – Email: ps@hfk.one
Deputy Chairman – Michael Moller Nielsen
Chairman of the Sponsorship Committee – Camilla Steen – cs@hfk.one
Chairman of the Events Committee – Michael Vangsted – mv@hfk.one
Press officer – William Rams – wr@hfk.one
I contacted the club and was delighted to speak with Peter Steen about the club's development.
FF: Peter, thank you for agreeing to speak to Futsal Focus followers about your club. To start the interview, please discuss the establishment of your club and its history as a mainly amateur team.
PS: The club was founded in 2017 before the 17/18 season. The roots of the club though started even before that, the first club was called Lundergaard and we were successfully promoted to the Danish Futsal League for the 15/16 season. After two seasons in the league under the name Lundergaard, it was clear to us that if we wanted more branding and to attract fans, we needed a club that was focused only on futsal and a name change that would connect us with our community and appeal to the town. So, we changed our name to Hjørring Futsal Klub, if you have never heard of Hjørring, it is a town on the island of Vendsyssel-Thy at the top of the Jutland peninsula in northern Denmark.
FF: When did your club structure start to come into place outside of the first team in relation to the academy being established, the administrative staff, and how did you attract the business administrative skill sets you needed to develop your club?
PS: The most important thing outside of the court has been to get a lot of people into the project. Normally in Danish futsal, the clubs and the projects are very fragile because few people are involved. An example is on matchdays, we have around 50 people volunteering – jobs from serving the sponsors, setting up the banners, selling beers, time takers, and many more. We would never be where we are today without the great work of our volunteers.  The administrative staff is working 100% for free too. Some weeks the administrative staff use even more time at Hjørring Futsal Klub than they do at their real jobs. I think the way, that people are attracted to use their free time to help in HFK is, that everyone feels they are a part of the club's development. Every time media publishes news about the club, a lot of the volunteers share, like, and comment – and really want to share with the world what an amazing club we already have, and we will keep developing. It sounds like a cliché, but being a part of HFK feels like being a part of a family. We really appreciate the volunteers and they are coming week after week because they like the way they are treated. And of course; we always remember that it should be fun to be a part of HFK.
At the academy level, we were blessed to recruit our coach, Sergio Benatti, who is a former World Cup winner with Brazil and a Champions League winner.
FF: Aleksandr Sarkisyan, his former assistant when he was the coach at MFK Dinamo described him as "one of the best futsal coaches in the world. He won a UEFA Futsal Cup (Now known as the UEFA Futsal Champions League) with Action 21 [Charleroi] and this fact alone tells you how strong he is as a professional".
PS: (Continues) I would agree with this statement. In Denmark, it is very hard to find coaches with a lot of futsal knowledge. In the first season, his main focus was to develop the first team – it still is his main role, but he is also in charge of the Under 19 team and helps with the Under 17. The other coaches in the club are really inspired by him and he helps with their education. With Benatti at the club, we want a pathway from our U15 to the senior team, so we can keep developing our own players.
FF: How did you connect to your community and start to build your audience?
PS: At the start, it was mostly friends and family who came to watch the games. One thing that really had our attention was, nobody should choose to stay away from the games because of the ticket prices. For the first three years, the entrance fee was free but in the middle of the season the fans started to say, that they wanted to pay for the experience – at that point, we had around 400 fans per game. In the next season, we put the ticket price at 20 DKK (around 3 euros / £3). Today, the ticket price is 48 DKK (around 6 euros and 5 cents/ £5). For the last 11 games, we sold out.
Another strategy that is very important for us concerns after the match. No matter if we win or lose, the court is opened up for the fans, and all the children can go and get a picture or an autograph. We always want to meet our fans and to be seen around in the local community.
FF: How did you get sponsors interested, how many do you have and what support have you had from sporting bodies when it comes to funding?
PS: This season, we have around 50 sponsors. For us, it is very important that all the sponsors feel appreciated and welcomed, no matter how much money or energy they put into the club.
What is special in relation to sponsors, is our Sponsorship Lounge during the matchday. As a part of the sponsorship package, you can be a part of the Sponsor Lounge, where before every match they will have a nice meal, free draft beer, wine, and soda, reserved seats, and the opportunity to join special competitions.
Before every game, 210 sponsors (or sponsor-related) meet in the lounge. The lounge is very popular and if we had more space, we could invite even more in. Some of the sponsors don't even want banners, print, or any branding, they just buy lounge access. But how we got sponsors in the start: We went and knocked on doors. We had two or three volunteers and getting sponsors for us was their main focus. In the start, the companies just did it for kindness. Today, companies contact us because they now can see a big opportunity for branding.
FF: What are the main revenue streams now for your club, how do you intend to improve them and what additional revenue streams do you aim to create?
PS: The main revenue stream is from our sponsors. Without them, we wouldn't have a Hjørring Futsal Klub as we know it today.  Another revenue stream is from our matchday. For our last 11 matches, we have been sold out. Our fans are super loyal and supportive. From this season, we also started to sell the official HFK shirts – and that has been a great success! To improve our revenue streams, we put a lot of focus on the way we treat our sponsors and fans.  We want to expand our arena so we can have even more fans for our matchday. We aim for around 1500-1700. That will also make it easier for us to host the matches of the national team.
FF: I know I started this interview by giving my own opinion that your club is at a professional amateurism standard but where would you see your club on the club development pathway? Amateurism, professional amateurism, semi-professionalism, or professional? And, what timeline and plans do you have to reach the next stage of your club's development?
PS: I agree with your observation, the development stage we are at is professional amateurism. And for us, it is a very important stage. We believe that futsal clubs make mistakes by going from amateurism straight into semi-professionalism. We have always wanted to build a club where it would be nice to play because of the set-up – and not because it can give you some money. And we believe that we have maybe the nicest set-up in Scandinavia; great and loyal fans (we have sold out for our last 11 matches), maybe the greatest coach in Scandinavia, a lot of volunteers, and great facilities. Of course, our ambition in the long term is to go to the next stage; semi-professionalism and then professional. But taking the next step will also be easier for us now, because of the foundations the clubs have built are of a professional standard. We always knew how important it was to bring money into the club to build a foundation before paying players. As we will talk about later, the arrival of our coach Sergio Benatti, was like getting in new players because of the increased development of our existing players under his leadership.
FF: What industry and market developments outside of the club's control do you feel need to improve in order for you as a club and your league to improve?
PS: For the league to develop, we need to get more action from the federation, the DBU. They showed the way through the development of women's football in Denmark. If they will do the same for futsal it could develop so much faster, Sweden is an example of this. But we don't believe that the clubs can just sit tight and wait on that. Clubs need to be in charge of their own development and developing a club with a strong foundation that attracts upwards of 1,000 fans per game, if each club in the top division did this, the federation nor the media could ignore those numbers. Plus, it would encourage clubs in the divisions below to develop further as well if they want to enter the top division, their development could also lead to the expansion of our league. A lot of teams in the league have improved on developments outside of the court this season, and we hope that Hjørring Futsal Klub will be an inspiration for other clubs. We always want to help other clubs to build their own infrastructure. On the pitch we are enemies but outside of the pitch we must help each other, it is in everyone's interest that we succeed if clubs fail who will we play? It will also make it easier for DBU to go more into Futsal if they feel the clubs are doing more to develop themselves and not rely on them.
FF: What are your top three successes on and off the court? But what are also your top three failures that you have learned from?
PS: Top three successes:
1: Investing in the club/taking risks: When we got in some sponsors and we got more money, we preferred to invest in the club and the matchday experience instead of paying players. An example: At the start, we bought a complete light show that goes off before the game for around 100.000 DKK (Around 15.000 euros). People thought it was cringey and unnecessary but today some people come only to see the light show, and the social media stories after the games are filled up with light-show stories from the fans. Other clubs would maybe have put this money into player salaries. Instead, we wanted to make a club that players want to play for – not because of the money but because of the experiences and the opportunity to develop under our head coach
2: Signing the legendary coach, Sergio Benatti: This was a game changer. The only employee of Hjørring Futsal Club. The former world champion and Champions League winner. He really improved the team and after his arrival, we started to play real futsal – not just football indoors. Our results have improved a lot. In his first year, he took us to our first semi-final, in his second year he took us to our first final and this year we are one of the real contenders for the title. He taught our players how to play and understand futsal. Before he arrived, we never had a national team player but now we have 7 players who have made their debut for the Danish National Team, and 5 of them were at the club before Benatti arrived so they have developed under his leadership.
3: Putting more energy into the youth and talented players. For the first time ever, we have qualified for the Danish Championship Final Four in U15 and U19 – where our U19 won the Danish Championship. This season we also change the second team, they now play in the second division. They went from being a team of normal football players to being a futsal team, with young and talented players, who want to focus on futsal. They won the league but they cannot be promoted. It is very important for us that we can secure the future of Hjørring Futsal Club, so we will mainly have local players. This year four of the players from the U19 champions got their debut in the first team – and there will be more to come.
HFK's special-designed shirt for this season. The shirt has incorporated local trademarks.
Top three failures: 
This is a hard one. Like anyone else we also make mistakes, but one of the forces in the club is the way that we always learn from them and act fast to fix our mistakes. A tough one was losing the final last year with 17 seconds remaining, but it was the first time we ever reached the final, so we wouldn't call it a failure. If we have to name something, it could be a nicer, larger arena, so we could welcome all the fans, that we want to welcome, but we are working on securing this. Watch highlights of the match below:
Author of interview
Stephen McGettigan was born in the Republic of Ireland but grew up in Belfast. He is the founder of Futsal Focus, a Football Industries MBA graduate from the University of Liverpool Management School, and he has worked in the Football and Futsal industries for 15 years.
Futsal Focus
You can read more articles about domestic futsal by going to the top navigation bar or by clicking here
If you like this article and would like to keep updated on Futsal news, developments, etc then you can now follow Futsal Focus via Google News by following our page which will send you an alert as soon as we publish an article so please click here and follow us on Google.
You can also keep updated on Futsal news, developments, etc then please submit your email below in the Subscribe to Futsal Focus option.
Follow Futsal Focus by clicking on Facebook, Twitter, or Instagram or on the social media buttons on the website.