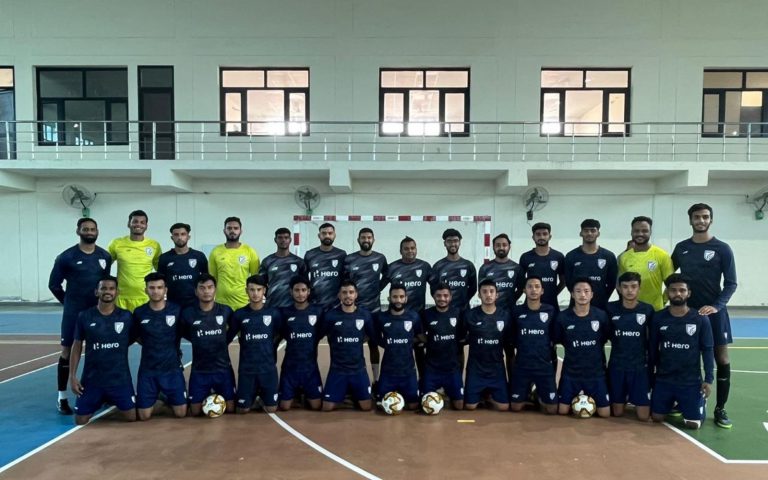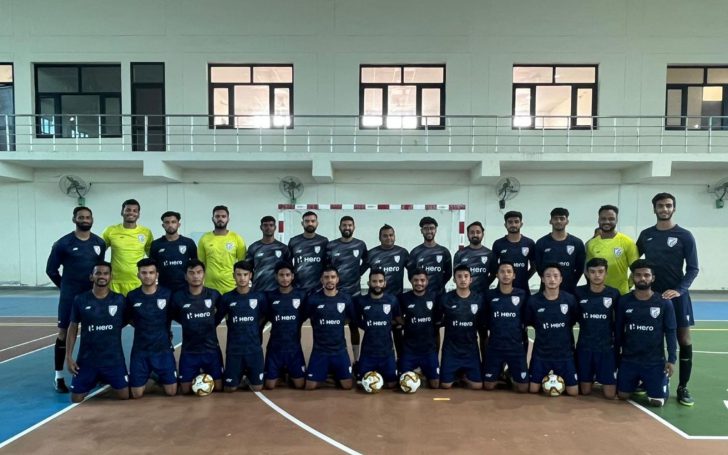 Estimated reading time:3 minutes, 26 seconds
Historic Debut: Indian Futsal Team Gears Up for International Clash with Bahrain, Showcasing Goan Talent
In a groundbreaking moment for Indian futsal, the national team is poised to make its international debut against Bahrain on August 12 and 14. The Indian Futsal Team, led by Coach Joshua Stan Vaz, includes three talented players from Goa: Augustine D'Mello, Sachin Patil, and Kashinath. This exciting inclusion highlights the rise of Goa's futsal community on the national stage.
Historic Debut on International Stage:
The Indian Futsal Team is on the brink of creating history with their first-ever appearance in the international arena. This remarkable journey will see them go head-to-head against Bahrain in two anticipated matches.
Goan Talents Shine:
In a boost for Goa's futsal scene, three local talents  – Augustine D'Mello, Sachin Patil, and Kashinath – have earned coveted positions in the 14-member Indian Futsal Team. Their selection is a testament to their standout performances during the Futsal Club Championship earlier this year.
Preparation and Strategy:
Coach Joshua Stan Vaz has prepared the team over the past four weeks in Punjab. The team has tailored their game strategies to match the upcoming opponents and extensively studied the playing styles of various Asian counterparts. This exposure tour is expected to provide valuable insights into team dynamics, especially considering India's debut in Asian-level futsal.
Road Ahead:
After the two matches against Bahrain, the team will regroup for a month-long training camp in Punjab, commencing on September 1. Following this, they are set to compete in the main tournament in Tajikistan on October 2. The team's performance in these matches is not only crucial for the immediate matches but also indicative of their potential in upcoming tournaments.
Pride in Goan Representation:
Coach Joshua Stan Vaz expressed immense pride in the triumphant trio of Goan players – Sachin, Augustine, and Kashinath. As a Goan himself, he sees their achievement as an inspiration for local talents to embrace futsal and strive for excellence.
Upcoming Challenges:
Currently fine-tuning their skills in Amritsar, the Indian Futsal National Team is gearing up for the journey to Bahrain on August 10. The two matches against Bahrain on August 12 and 14 promise exhilarating encounters that will put to test the mettle of not only the Goan stars but the entire Indian team.
The Indian Futsal Team's international debut against Bahrain is a monumental step for Indian futsal. With the representation of Goan talents and the guidance of Coach Joshua Stan Vaz, the team is ready to make a mark on the international stage. The matches against Bahrain will not only showcase their skills but also lay the foundation for their upcoming journey in the main tournament in Tajikistan. As excitement mounts, Indian futsal enthusiasts eagerly anticipate witnessing this historic moment.
Indian Futsal Team Squad:
Goalkeepers: Augustine D'Mello, Jagdish Tokas.
Anchors: Sachin Patil, Sandeep Oraw, Aman Shah, Jayesh Sutar, Kashinath Rathod, Rajneesh.
Wingers: Nikhil Mali, Shamshad Ali, Abhay Gurung, Bijoy Gusai.
Pivot: David Laltlansanga, Sandesh Malpote.
Head Coach: Joshua Stan Vaz
Main picture source: All India Football Federation Twitter page
Author of the article
Stephen McGettigan was born in the Republic of Ireland but grew up in Belfast. He is the founder of Futsal Focus and a Football Industries MBA graduate from the University of Liverpool Management School. Stephen has worked in the Football and Futsal industries for 15 years.
Organ Donation
Futsal Focus is a supporter of Dáithí Mac Gabhann and his family's campaign to raise awareness of Organ Donation. We encourage our readers to learn more about Organ Donation: https://www.organdonation.nhs.uk/
Futsal Focus
You can read more articles about international futsal by going to the top navigation bar or by clicking here
If you like this article and would like to keep updated on Futsal news. You can now follow Futsal Focus via Google News. Follow our page which will send you an alert as soon as we publish an article. Please click here and follow us on Google.
You can also keep updated on Futsal news by submitting your email below in the Subscribe to Futsal Focus option.