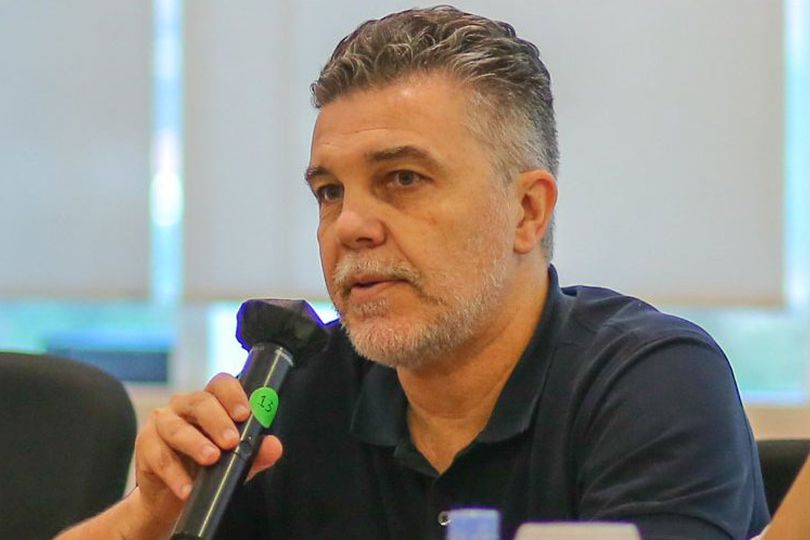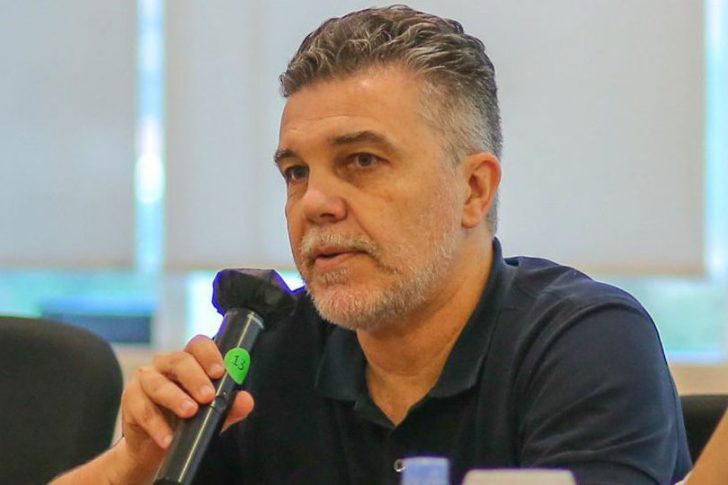 Estimated reading time:8 minutes, 13 seconds
In a significant move, the Indonesian Futsal Federation (FFI) has named Marcos Sorato as the head coach of the Indonesian National Futsal Team. Hailing from Brazil, Sorato has set his sights on an ambitious goal: steering the Indonesian Garuda team toward participation in the 2024 Futsal World Cup.
(Main picture: Marcos Sorato – the source of the image: Bola.net)
The appointment of Sorato as the coach of the Indonesian National Futsal Team was confirmed on Friday, August 4, 2023. Marcos takes over the reins from Mohammad Hashemzadeh, the former Iranian coach, who resigned from his position.
Marcos Sorato also known as Pipota, boasts an impressive track record, having achieved success both as an assistant and head coach with the Brazilian National Futsal Team. His coaching prowess led Brazil to victory in the Futsal World Cup in both 2008 and 2012.
"I am very proud to be chosen as the new coach of the Indonesian futsal national team. The quality of the players and Indonesia's strong futsal position convinced me to take on this exciting project. I am determined to work hard and achieve the targets given by the federation," Pipota said as quoted by Antara.
The general chairman of FFI, Hary Tanoesoedibjo, could not hide his joy because he had succeeded in bringing in Pipota.
"We are very pleased to be able to secure the services of a world-renowned coach like Marcos Sorato. This appointment underscores Indonesia's futsal commitment to achieving our ambitions in this game," said Hary.
Pipota is known to have long experience in the world of coaching. He was an architect when the Serbian national team held a training camp at the Futsal World Cup in Lithuania in 2021.
Sorato's most notable accomplishments occurred during his tenure coaching Brazil. Out of 287 matches under his guidance, Brazil, led by Sorato, suffered only six defeats, a 94.4 percent success record.
Aiming for 2024 World Cup Qualification
Marcos Sorato's decision to accept the role of coaching the Indonesian National Futsal Team stems from his observation of Indonesia's profound enthusiasm for futsal. Born on November 5, 1970, Sorato believes that Indonesia possesses a pool of talented players, and he is determined to elevate their performance.
"There are many talented players, and we will strive to enhance their capabilities," remarked Marcos Sorato when speaking to Indonesian CNN
Under a three-year contract, Marcos Sorato has set an ambitious objective for his tenure. He expressed his intent: "We aim to guide Indonesia to the Futsal World Cup. While Asia boasts formidable teams, we remain optimistic," Sorato affirmed.
Indonesia faces a challenging path to secure a spot in the Futsal World Cup finals. To achieve this, the nation must first advance to the semi-finals of the Futsal Asia Cup, as only the top four Asian teams gain entry to the global tournament.
Before embarking on the grand aspiration of qualifying for the Futsal World Cup, Marcos Sorato has an imminent target on the horizon. In October, he will lead Indonesia in the Futsal Asia Cup 2024 Qualifiers.
"For these qualifiers, our objective is to emerge as the top team. We aim to be champions. Furthermore, Indonesia has the honor of hosting these qualifiers," Sorato emphasized.
Indonesia is set to host Group B of the Futsal Asia Cup 2024 Qualifiers. Joining Indonesia in this group are teams from Macau, Afghanistan, and Saudi Arabia. Group B matches are scheduled to take place from October 7 to 11.
When the news broke concerning Marcos appointment earlier this week, we reached  out to him to learn more:
FF: Marcos, thank you for accepting our interview invitation. To start can you explain what attracted you to take on the role of coaching the Indonesian National Futsal Team?
MS: Certainly. Following my recent contract renewal with Sharja Club, Emirates Club, where we clinched the league championship, an unforeseen development emerged: the club's decision to discontinue futsal. Amidst this situation, various offers came my way. However, the Indonesian national team's prospect intrigued me the most. I was well aware of their robust league, complemented by exceptional foreign players and notably resilient local talents. The allure of this challenge was undeniable. I anticipate a formidable undertaking, as futsal in Asia is progressively intensifying its prowess.
FF: Do you plan to adapt your coaching style to the unique challenges and opportunities presented by the Indonesian futsal scene or do you aim to get your players to play a different style?
MS: My extensive 36-year journey as a futsal professional has reinforced my belief in continuous learning. This philosophy transcends borders and applies to every country I've been fortunate to work in. By amalgamating insights from my experiences in the Brazilian, Spanish, and Russian futsal traditions, I aim to equip the Indonesian national team with a multifaceted arsenal. The objective is clear: sculpt a competitive unit capable of navigating any scenario that unfolds on the futsal court.
FF: What strategies do you intend to implement to enhance the performance and skill level of Indonesian futsal players?
MS: Recognizing the presence of adept coaches within the league and the athletes' robust tactical foundation, my endeavor centers around orchestrating a harmonious amalgamation of these existing strategic facets. This orchestration aims to fortify our national team, ensuring proficiency across every dimension of the game.
FF: Given the competitive landscape in Asia, how do you plan to ensure the Indonesian team can achieve success in the Futsal Asia Cup and their journey toward World Cup qualification?
MS: My focus resides in the immediate horizon, adhering to a short-term goal. Our initial objective is to secure qualification in the group stage, necessitating exceptional performance. It's noteworthy that our group houses formidable contenders, including Macau and Afghanistan, who have displayed commendable prowess against strong adversaries. Adding to the challenge, Saudi Arabia, led by the accomplished coach Andreu, is set to compete in a forthcoming Brazil tournament. My emphasis remains on our meticulous preparation and steadfast performance in the present, aligning with our aspirations for future glory.
FF: Could you elaborate on your approach to player development? How do you plan to identify and nurture talent within the Indonesian team?
MS: Given our imminent training start date of August 22, acknowledging the condensed timeline, my priority lies in streamlining tactical scenarios. By simplifying and enhancing the athletes' grasp of these situations, I aim to optimize their comprehension and readiness. While our preparation may be time-constrained, our commitment to nurturing talent and refining our team's capabilities remains unwavering.
FF: What leadership qualities do you believe are essential for both the coaching staff and players to achieve your ambitious goals?
MS: I firmly believe that effective leadership is rooted in persuasion rather than imposition. As such, my role involves skillfully conveying my futsal philosophies to the athletes, fostering a shared understanding and alignment. It's imperative that while imparting these ideals, I respect and nurture each individual's distinct qualities, ensuring their contributions remain integral to our collective pursuit of success.
FF: How do you plan to engage with the Indonesian futsal community, fans, and aspiring young players to further develop the sport in the country?
MS: While my immediate focus is on the critical group stage in October, which forms the bedrock of our ongoing efforts, I'm attuned to the remarkable fervor for futsal prevalent in Indonesia. This burgeoning passion heightens my sense of responsibility. Although my present commitment necessitates a short-term perspective, I recognize the importance of fostering relationships, engaging with fans, and inspiring the next generation of players. Balancing these priorities remains pivotal to my overarching mission.
FF: How do you envision the growth and evolution of Indonesian futsal under your guidance, both in terms of performance and popularity?
MS: Undoubtedly, the journey's trajectory will be intertwined with our on-court achievements. The considerable anticipation surrounding my arrival amplifies the significance of our results. However, my commitment goes beyond momentary triumphs. I aspire to cultivate a sustainable legacy by consistently securing victories and effectively steering the Indonesian national team toward qualifications. This, I believe, will fortify our journey's continuity, and contribute to the sport's enduring popularity and elevation.
The national team demonstrated their potential during the 2022 AFF Futsal Championship, notably holding Thailand to a 2-2 draw and clinching second place following a penalty shootout. With all the necessary elements for success at hand, my role is to introduce enhancements that were deemed necessary. Yet, paramount to our journey is the players' belief in their capabilities. By harmonizing both aspects, we stand poised to secure Indonesia's inaugural spot in the FIFA Futsal World Cup.
Author of the Interview 
Stephen McGettigan was born in the Republic of Ireland but grew up in Belfast. He is the founder of Futsal Focus and a Football Industries MBA graduate from the University of Liverpool Management School. Stephen has worked in the Football and Futsal industries for 15 years.
Organ Donation
Futsal Focus is a supporter of Dáithí Mac Gabhann and his family's campaign to raise awareness of Organ Donation. We encourage our readers to learn more about Organ Donation: https://www.organdonation.nhs.uk/
Futsal Focus
You can read more articles about international futsal by going to the top navigation bar or by clicking here
If you like this article and would like to keep updated on Futsal news. You can now follow Futsal Focus via Google News. Follow our page which will send you an alert as soon as we publish an article. Please click here and follow us on Google.
You can also keep updated on Futsal news by submitting your email below in the Subscribe to Futsal Focus option.