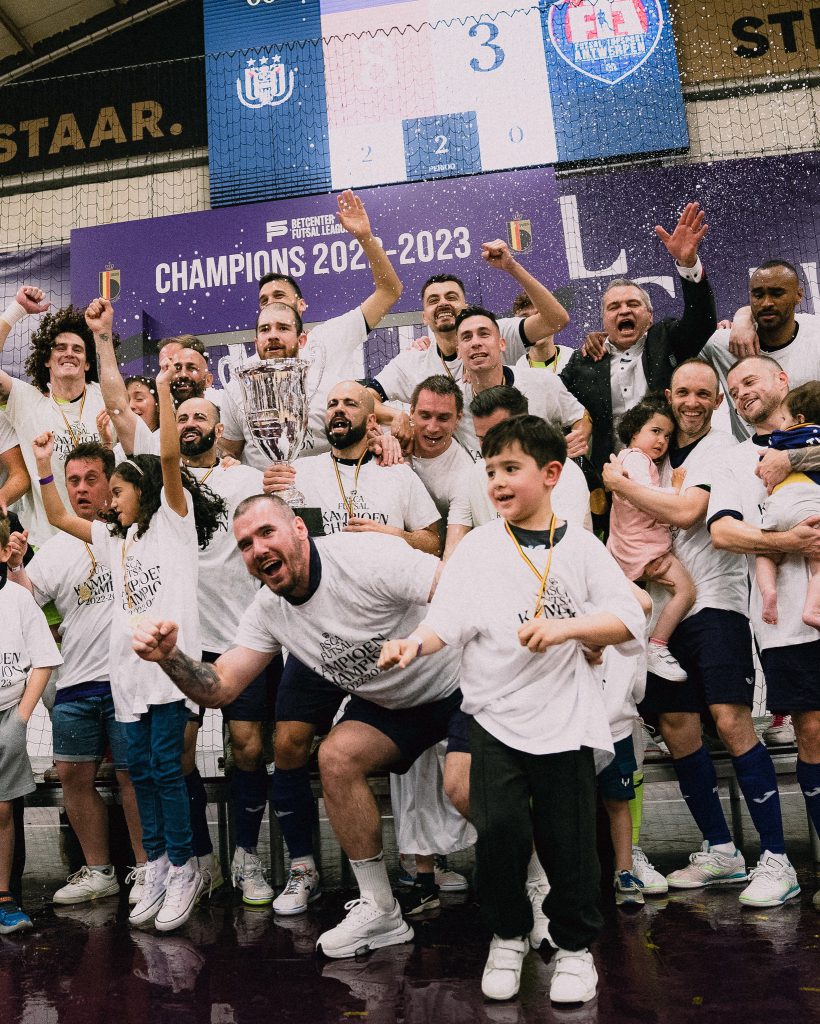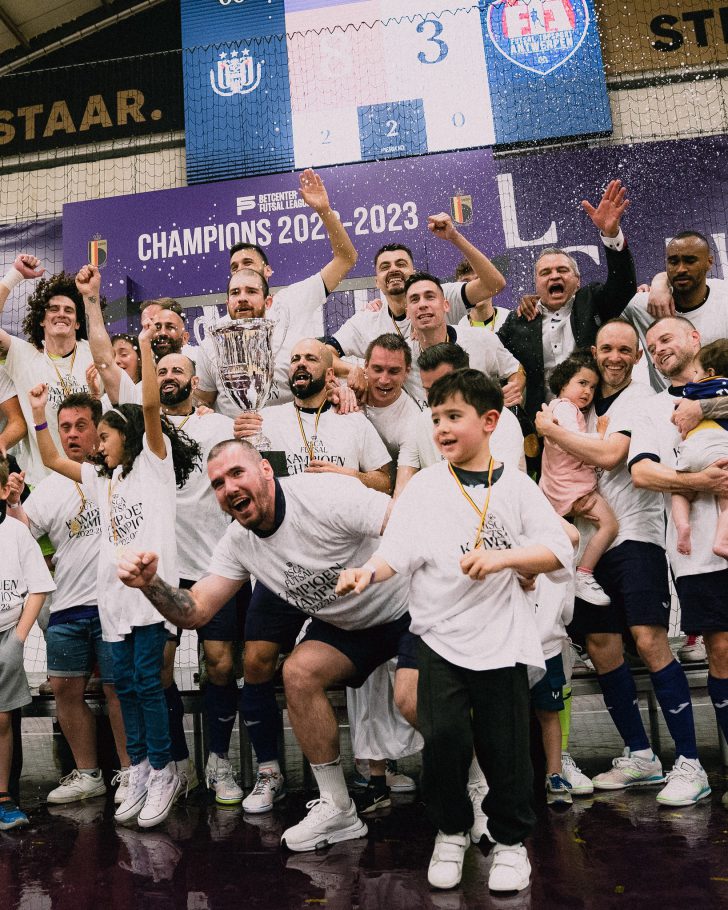 Estimated reading time:13 minutes, 33 seconds
Exclusive Interview with Lieven Baert, General Manager of Anderlecht Futsal, Delves into Transfers, Challenges, and Aspirations
Royal Sporting Club Anderlecht Futsal, who made it to the finals of the UEFA Futsal Champions League's Final Four last season, has been proactive in their summer transfer window activity. Before delving into the players they've acquired, let's take a moment to discuss the departures from the team. Diogo, a seasoned player, has chosen to step away from the game, while Maxi Rescia will return to his native Argentina.
Diogo's journey in futsal saw him play for Minas Tênis Clube in the Liga Nacional de Futsal (LNF) before making his way to Europe in 2007. He represented Brussels United and other clubs, including Action 21 Charleroi, the UEFA Futsal Champions League winners in 2004/05. Later, he moved to France and played for Sporting Paris and Châtelineau before returning to Sporting Paris. His significant move to Sporting Club de Portugal in 2014 proved fruitful, with 111 games played and 92 goals scored. In 2018, he returned to Belgium to play for FP Halle-Gooik, which eventually merged with Royal Sporting Club Anderlecht last year. Under the new colors, the club reached the Final Four of the UEFA Futsal Champions League this year, finishing in fourth place.
Maxi Rescia, hailing from Argentina and an international player for his country, boasts an impressive career. He achieved notable successes, winning the 2014 Confederations Cup, the Copa America in 2015, and the FIFA Futsal World Cup in 2016. Maxi started his club career with Pinocho and later moved to Italy, playing for clubs like Napoli, Acqua e Sapone, Real Rieti, and Pescara. His journey then took him to Spain, where he represented Catgas Energia S.C. and Levante Unión Deportiva. In Belgium, he joined Anderlecht Futsal and played a crucial role in the team's successful run in the UEFA Futsal Champions League, securing a place in the elite round and ultimately reaching the Final Four, a historic achievement for a Belgian club since 2005. Although they finished in fourth place, Maxi and Diogo both left the club after a dominant domestic season.
Strategic Recruitment for Success
Looking ahead to the upcoming season, Royal Sporting Club Anderlecht Futsal is determined to replicate their success. They have made significant additions to their roster, signing six new players. One notable signing is Alberto Saura, a Spanish international pivot, who joins from the Spanish first division Cordoba Patrimonio on a two-year contract. Another promising talent is 22-year-old Marc Campàs, who comes from Barça and has signed with Sporting until 2024.
Cainan, an Italian international left-winger, has also joined the team, bringing his experience and recent UEFA Futsal Champions League victory with Palma. The team's solidity has further been strengthened by the addition of Marcenio Ribero da Silva, a Brazilian winger with a legendary status in international futsal. Rangel Taiain, a 32-year-old Brazilian defender and playmaker, has signed a two-season contract, bringing his experience from various clubs in Brazil and Europe, including Italy's Came Dosson.
Rafael Vilela, another Brazilian player, will also defend the team's colors next season. Known as one of the best pivots globally, Rafael has played for prestigious clubs like Palma, Kairat, and Tyurmen. Finally, the young Turkish international winger, Erdem Kus, who previously played for FULL Hasselt, has returned to Brussels to reinforce the team.
With these exciting signings, Royal Sporting Club Anderlecht Futsal is gearing up for another competitive season at the Alfasun Indoor Arena. The club hopes to achieve remarkable feats once again and build upon their achievements in the UEFA Futsal Champions League and domestic competitions.
Baert's Vision for Belgian Futsal
In this exclusive interview with Lieven Baert, General Manager of RSC Anderlecht Futsal, we delve into the team's reflections on the past season, the impact of departing players, and the retention of the existing squad on Belgian Futsal. Baert also shares his thoughts on the historic UEFA Futsal Champions League Final Four experience and the reasons behind the team falling short of their intended goals.
Looking forward, Baert discusses the strategic recruitment processes that led to the signing of six new players, strengthening the team for the upcoming season. With excitement building, RSC Anderlecht Futsal is drawn in Group 2 of the Main Round, where they will face challenging opponents, including FC Barcelona, whom they famously defeated in the previous competition.
Moreover, Baert shares insights into the pros and cons of the UEFA Futsal Champions League and suggests areas of improvement for the prestigious competition. Additionally, he discusses the developments happening in Belgian Futsal over the next five years that excite him and the potential improvements that could further elevate the domestic game.
Experience Anderlecht Futsal's Ambition
As the team gears up for the new campaign at the Alfasun Indoor Arena, RSC Anderlecht Futsal is brimming with ambition and optimism, ready to build on their achievements and aim for greater success in both the domestic and European futsal scene:
FF: Lieven, as you reflect on the recently concluded season, what are your key takeaways? Could you also share with our readers the significance of the players who departed and the influence success that the members of the squad you retained had on Belgian Futsal and the sport's awareness domestically?
LB: My key takeaways primarily focus on the events that unfolded behind the scenes. We kicked off the season with an impressive first half, but unfortunately, we became too complacent in the latter part. This led to us neglecting certain crucial details, which in turn affected our performance. These seemingly minor aspects can significantly influence the outcomes of top-tier games, and they've become our primary focus for the upcoming season.
Our team boasted incredible potential, which could have been further harnessed during the Final Four. While we had hoped to retain Diogo for another year, it was the right time for him to retire. As for Serginho and Lennon, their contributions didn't align with our expectations, prompting the decision for them to explore opportunities elsewhere. On the other hand, Roninho proved to be an invaluable asset, both in terms of skill and character, and his absence will undoubtedly be felt.
The departure of Fits had a profound negative impact on us in terms of our competitive edge. Additionally, Maxi Rescia's request for release to return to Argentina with his family, only to subsequently sign with L84, left us somewhat puzzled. This situation was a significant disappointment from a human perspective.
In summary, we're focusing on refining the finer points to ensure better results in crucial games. While changes in the team structure were necessary, we cherish the contributions made by those who have moved on and anticipate the upcoming season with determination and renewed focus.
FF: At the UEFA Futsal Champions League Final Four, your club achieved a historic milestone and reached the pinnacle of the season. After some time to reflect on the experience, what are your thoughts on the outcome, and what factors do you believe contributed to the team falling short of the goals you had aimed for?
LB: To begin with, reaching the Final Four was truly a dream come true. While our team's readiness to surpass the top four teams might have been questionable, the experience itself was invaluable. Eliminating Barcelona was a remarkable achievement, yet it's crucial for us to maintain humility in our success. During the latter part of the season, our key players weren't performing at their optimal levels, serving as a significant lesson in the significance of fine-tuning details.
Unfortunately, our winter transfers didn't unfold as planned, contributing to the outcome we ultimately achieved in the Final Four. This marks a pivotal learning experience for us as we move forward. It's worth noting that even renowned teams like Sporting and Barcelona had their struggles in their initial finals. Gaining this kind of experience is indispensable for competing in tournaments of this nature.
Looking ahead, we're hopeful for the chance to replicate our achievement and potentially reach the final stage. The lessons learned and experiences gained from our first Final Four participation will undoubtedly contribute to our future successes.
FF: When previously met, you mentioned that you were already planning for the new season. Now that you have announced the signings, could you share the thought process behind the recruitment strategy and how you believe it has strengthened the team for the upcoming campaign?
LB: Our strategy was straightforward: securing two high-quality players for each position. Cainan seamlessly stepped into Diogo's shoes, bringing an ideal replacement. The addition of Marcenio represents a significant injection of the quality we were seeking. Saura, a prolific goal-scorer, promises substantial contributions in both domestic and European competitions. Rangel's exceptional defensive skills further bolster our team.
In addition to these targeted transfers, remaining receptive to unexpected opportunities is crucial. Kus and Campas stand as players with immense potential, granted the platform to showcase their readiness for greater challenges to a wide audience. The unexpected chance to acquire Vilela emerged towards the end of the Mercato—a truly once-in-a-lifetime opportunity that we couldn't pass up.
As a result, our team is undeniably stronger than last season's lineup. The responsibility now rests with the technical staff to unify these new players into a cohesive unit. Through meticulous coaching and strategic planning, we aim to harness the full potential of this reinvigorated team..
FF: Congratulations on being drawn in Group 2 for the Main Round, where you'll face KMF Loznica-Grad 2018 from Serbia, Luxol St. Andrews Futsal from Malta, and the familiar opponent, FC Barcelona, whom you defeated in the previous competition. How do you feel about the prospect of facing the Spanish champions again? Are you excited for the rematch, or did you have any hopes of avoiding them in the draw?
LB: Certainly, the draw hasn't unfolded as we had hoped. It's no secret that most teams aim to steer clear of Barcelona in such draws, given the memory of their elimination in Pula. Nevertheless, facing the world's best team is always a privilege. Our upcoming match in Loznica carries the dual objectives of advancing to the elite round and securing victory in the main round.
Positioning ourselves either as the first or second team, in the wake of Barcelona's results, will also safeguard us from another encounter with them in the Elite Round. However, the crux lies in not underestimating the other two teams in our group. Loznica, playing on their home turf, boasts a roster of well-studied, high-quality players. Luxol, a prominent contender in European leagues for several years, demands our utmost attention, requiring us to maintain a consistently high level of performance.
With a combination of diligence and determination, we can maximize our chances for success and surpass these challenges.
FF: Having competed in multiple editions of the UEFA Futsal Champions League under the former name FP Halle-Gooik and now in your new colors, what are the notable advantages and challenges of the competition? Additionally, what aspects do you think could be improved to further enhance the tournament's overall experience, attractiveness, and competitiveness?
LB: The UEFA Futsal Champions League undoubtedly enriches every participating club. The opportunity to engage with the finest in European futsal presents an ongoing challenge that benefits the development of our players. Consequently, it's unfortunate that an additional round isn't included during the months of January, February, and March. The leap from 16 teams to 4 in a single step appears to be quite substantial. Perhaps, an adjustment could involve incorporating a home-and-away game format, similar to what is already in practice for international qualifying matches. Our club strongly supports these potential changes, recognizing their positive impact on the competition's dynamics.
FF: Looking ahead to the next five years in Belgian Futsal, what developments are you aware of that particularly excite you? Moreover, what specific developments do you hope to see to further advance and develop the domestic game of futsal in Belgium?
LB: We've observed a growing trend of increased investment in Futsal among various teams. The infusion of international players into our league has significantly bolstered its competitive strength. Noteworthy examples like Herentals and Charleroi are demonstrating a clear commitment to advancing our sport.
At our club, we hold the development of young Belgian players in high regard. However, we also hope that other teams share in this perspective, investing in Futsal as a dedicated sport rather than treating it as a secondary facet of football. It's concerning to witness instances where teams lack adequate training due to their players' football commitments, or where teams solely focus on matches without adequate training.
Furthermore, the expansion of female Futsal deserves special attention. Creating opportunities for young girls to train and excel in Futsal is crucial. To facilitate this, establishing a Futsal Champions League for female teams would be a significant step forward. By fostering the growth of both male and female Futsal, we can collectively contribute to the sport's overall development and expansion.
The women's Futsal community currently participates in an unofficial tournament, organized by clubs from Italy, Spain, and other nations. However, this situation calls for change, particularly considering UEFA's active role in orchestrating events such as the UEFA Women's Futsal EURO. It's only fitting that we envision the establishment of an official U19s competition for the women's category, mirroring the equivalent competition available for men. This would not only provide young women with a platform to showcase their talents but also align with UEFA's commitment to fostering the growth and recognition of women's Futsal on a broader scale.
A Vision for Success and Growth in Futsal
The interview with Lieven Baert, General Manager of RSC Anderlecht Futsal, sheds light on the club's journey, aspirations, and challenges. Reflecting on their recent achievements and setbacks, Baert emphasizes the importance of attention to detail and the lessons learned from their historic UEFA Futsal Champions League Final Four participation.
Baert's insights into the club's strategic recruitment approach underscore their commitment to bolstering the team's strength. The signing of players like Alberto Saura, Marc Campàs, and others reflects their determination to enhance their competitiveness on both domestic and European stages.
Looking ahead, Baert's candid thoughts on facing formidable opponents like FC Barcelona in Group 2 of the Main Round reveal a combination of respect and determination. The club's dedication to excellence is evident as they seek to overcome challenges and secure victories.
Furthermore, Baert's vision for Belgian Futsal's future echoes the sport's potential for growth and development. His emphasis on investing in youth and promoting female Futsal aligns with the broader goal of nurturing talent and expanding the sport's reach.
In essence, the interview encapsulates RSC Anderlecht Futsal's unwavering commitment to success, resilience in the face of challenges, and a forward-looking vision for the growth and evolution of futsal in both Belgium and Europe.
Author of the Interview
Stephen McGettigan was born in the Republic of Ireland but grew up in Belfast. He is the founder of Futsal Focus, a Football Industries MBA graduate from the University of Liverpool Management School, and he has worked in the Football and Futsal industries for 15 years.
Organ Donation
Futsal Focus is a supporter of Dáithí Mac Gabhann and his family's campaign to raise awareness of Organ Donation. We encourage our readers to learn more about Organ Donation: https://www.organdonation.nhs.uk/
Futsal Focus
You can read more articles about domestic futsal by going to the top navigation bar or by clicking here
If you like this article and would like to keep updated on Futsal news, developments, etc then you can now follow Futsal Focus via Google News by following our page which will send you an alert as soon as we publish an article so please click here and follow us on Google.
You can also keep updated on Futsal news, developments, etc then please submit your email below in the Subscribe to Futsal Focus option.
Follow Futsal Focus by clicking on Facebook, Twitter, or Instagram or on the social media buttons on the website.