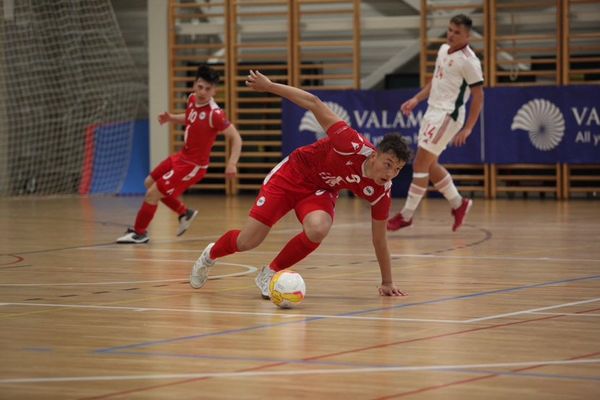 Estimated reading time:10 minutes, 52 seconds
A Journey from the Arctic to the International Futsal Stage and European club futsal: The Remarkable story of William Gantzhorn
A few months ago, I became interested in Greenland and its futsal scene ignited a quest for deeper understanding. I got in touch with the most prominent people in the field of this intriguing polar territory to investigate the popularity and importance of the sport there. The outcome of my endeavor proved both enlightening and delightful: futsal has undeniably made its mark in Greenland, with every passing year ushering in notable progress. The individuals I interviewed, unanimously and intriguingly, spotlighted a singular player. This consistent emphasis on one player's prowess resonated deeply and sparked my curiosity further.
Gantzhorn's Remarkable Skillset
Lars Erik, the captain of the Greenland National Team, aptly summarizes William Gantzhorn's skill set as a player: 'Proficient in shooting, dribbling, technical finesse, strategic thinking, and impressive speed.' René Olsen, the Head Coach of the Greenland National Team, echoes this sentiment with high regard, stating, 'Endowed with remarkable talent and an ambitious drive toward a professional career.'
These commendations all converge on William Gantzhorn, a prodigious young talent of not more than twenty years. Gantzhorn has achieved the extraordinary feat of becoming the second Greenlander to grace the Denmark National Team's ranks. Furthermore, he is poised to become the second Greenlander to venture abroad, transcending the confines of the Kingdom of Denmark. His signing with SK Örebro promises a new chapter, one that unfolds beyond national borders and ushers in a new season of challenges and opportunities—all of this accomplished within a remarkably brief span of time.
The unanimous praise and endorsements from all corners solidified the notion that these accomplishments are far from mere chance or happenstance. I decided to closely monitor his progress, in order to ascertain the accuracy of the glowing appraisals from the Greenlandic National Team's captain and coach. This scrutiny yielded tangible results, affirming the authenticity of their commendations. Leading me to believe that engaging in a conversation and conducting an interview would be the most fitting avenue to truly delve into his story.
This journey led me to uncover the unexpected origins of his futsal journey. These origins, quite contrary to what one might assume for an individual who has achieved such a plethora of triumphs by the age of twenty, trace back to a pivotal moment at eleven years old. It was during this pivotal juncture that William embarked on his first foray into futsal.
As is the case for the majority of Greenland's population, the harsh winter conditions at these latitudes rendered traditional soccer fields impassable. The recourse to indoor sports, particularly the 40×20 court of futsal, emerged as the only viable avenue for pursuing athletic endeavours. Nevertheless, for young William, the transition was marked by ambivalence: "Initially, futsal didn't resonate with me. Soccer had always been my forte. In fact, there was a period where I shelved futsal for a few months due to its unfamiliarity, l wasn't happy at all."
Rekindling Passion and Overcoming Challenges
Fortunately, a few years down the line, he gave the sport another chance. At the age of fourteen, William rekindled his interest in futsal, opting this time to commit to the sport. Admittedly, this decision was not bereft of challenges: " "It was a bit boring. There is only one championship in the whole year, the rest of the year we could only play the odd friendly with two other teams from Nuuk, the capital of Greenland, where I played with B-67. In the end, you finished knowing your rivals and we knew how the matches were going to end".
The trajectory soon became an amalgam of predictability and monotony, yet within this persistence lay its own remarkable reward. After several years of dedication, the year 2021 marked a pivotal turning point in William's journey. It was during this year, in the month of September, that he received the call that would reshape his path. The beckoning call came from none other than his National Team, and the prospect of representing Greenland filled him with an overwhelming joy. Reflecting on that milestone, he shared, "Defending Greenland's colours brought immense joy. It was a sensation that's truly indescribable. It was my first time to play at this level. I wanted to play against other national teams. It also helped to give extra motivation to see that you are growing, going one step further and achieving your goals". The international experience unfolded during the Futsal Week Autumn Cup of 2021, serving as a stepping stone toward broader horizons.
Danish Detour: Futsal Gentofte's Triumph
In that very same year, yet another chapter of experience unfolded with the Greenlandic team, culminating in a pivotal milestone—his signing with Futsal Gentofte, the reigning Danish champion. With a mere two weeks remaining before the commencement of the Nordic Futsal Cup, William found himself on Danish soil, contemplating his impending journey to Greenland for their training camp. However, the imminent tournament altered his course.
In a strategic decision, he chose to remain within Danish borders, a choice bolstered by the impending championship. "I reached out to the Gentofte coach, who incidentally also served as the assistant coach for the Greenland National Team during that period. My proposition was to join their training sessions for those two weeks, ensuring I maintained peak fitness leading up to the Nordic Futsal Cup. To my delight, the coach consented, and during those weeks, I showcased my ability," he recounted.
Growth and Transformation: Danish League Experience
This commendable performance caught the coach's eye, leaving an impression that remained even after the Nordic championship. This interest prompted the coach to initiate conversations with William, gradually kindling his curiosity and eventually the young Greenlander made a pivotal decision. William bought a plane ticket, heralding his arrival in the Danish league for the latter half of the season.
During his time at Gentofte, William's growth has been nothing short of remarkable. "My game has undergone significant development. Our coach stands out as one of the finest mentors, and he bears significant credit for shaping who I am today," asserts the young talent. In this enclave north of Copenhagen, he embarked on his debut journey into the UEFA Futsal Champions League. Reflecting on the experience, he shares, "It was an exhilarating experience. We engaged in the Preliminary Round held in Austria. Admittedly, I had limited playing time as I had only joined the Danish team a mere week prior, which left me ill-prepared. Yet, the experience was invaluable."
In the recent season, their triumph in the league painted a stellar picture for Gentofte. This time around, William emerged as a consistent presence throughout the season, and the team's dominance was palpable. "This season has been exceptional. Our team exhibited remarkable cohesion. Astonishingly, we remained undefeated in every game I partook in. It's a testament to the team's ability," he reflects.
Personal Growth and Playoff Success
On a personal scale, William informs us that this has been among his finest seasons. He candidly admits, "I did face a bit of a slow start, given my late arrival and the challenge of fitting into a team already seasoned in Champions League competition. However, I found my rhythm as the season advanced, consistently improving my performance across all facets of play. As the playoffs rolled around, I netted seven goals in four games, culminating in a wonderful conclusion. It's quite a feat, especially considering I'm the youngest player on the team."
The most recent season also etched another historic achievement as William joined the ranks of a select few. He emerged as the second Greenlander to represent the Denmark National Team, closely following in the footsteps of Frederick Funch. While he hasn't yet participated in an official match, his involvement in the preparatory phase for the World Cup qualifiers stood as a noteworthy step forward. Reflecting on this development, he shares, "This news was incredibly gratifying, as it echoed my aspirations of donning the jersey of an 'official' national team—one with the potential to qualify for the World Cup and other international tournaments. The opportunity filled me with joy, propelling me to enhance my skills throughout the training camps. Looking ahead, I am eager to contribute once again to the upcoming tournaments."
This young player possesses a clear vision and an unwavering desire to continually evolve, driven by the pursuit of his ambitions. In alignment with this aspiration, he has chosen to embrace a new level of challenge and enrichment this summer. With an enticing proposition from SK Örebro, the Swedish champions, on the table, he seized the opportunity without hesitation. This decision has now etched his name as the second Greenlander to venture beyond the confines of the Kingdom of Denmark, following in the footsteps of goalkeeper Malik Hermarij, who also plies his trade in the Swedish league.
SK Örebro's Call
Recalling his decision, William recollects, "We encountered SK Örebro on the court last year, and it was during that match that I netted what I believe to be my most memorable goal, a memory that still elicits laughter." That moment opened avenues of communication that led to his current endeavour. Describing his rationale, he elaborates, "The prospect of embracing new challenges and seizing an extraordinary opportunity with a formidable team like Örebro was too compelling to overlook. The allure of competing in the Champions League and engaging in a more competitive and rigorous league than Denmark's influenced my decision."
Even with the historic weight that accompanies this signing, the young man's humility remains unwavering. He modestly shares, "While I acknowledge the significance of this achievement, I primarily focus on the game itself, on enhancing my skills and performing at my best. The historical aspect, though noteworthy, doesn't occupy my mind—it's all about the journey ahead."
Championing the Future: Ambitions and Goals
Gantzhorn acknowledges the uncertainty that accompanies his transition into this new league, stating, "As I step into unfamiliar territory, I'm unsure of what to expect. However, my aspiration is to engage in intense battles on the court. While the outcomes are uncertain, the desire to emerge victorious in every match burns strong within me. With the caliber of our team, I'm confident in our abilities." His objective for this season remains unwavering—to secure victory in the Svenska Futsalligan (SFL) and progress to the Champions League Main Round. These goals stand in the short-term scope, but William's gaze extends to a grander horizon. He envisions a future where he makes his mark in prominent leagues like Italy, Portugal, or Spain. He articulates this ambition succinctly, stating, "Playing within one of the major leagues is my ultimate aspiration. To compete against the finest players in futsal-rich nations is where I envision myself."
At the age of twenty, an entire career stretches ahead of him, illuminated by the promise of a brilliant future. His journey is poised to be a symphony of realization, marked by dreams materializing and historic milestones achieved—a source of inspiration for Greenlandic futsal. Rooted in humility, guided by intelligence, fortified by quality, and propelled by undeniable talent, William Gantzhorn's trajectory is poised to be one of continuous advancement along the path of accomplishment.
Author of the article
Alejandro Méndez, born in Cartagena (Spain), is a journalism student at the University of Murcia. Passionate about futsal, he collaborates with different local, national, and international media about Futsal such as Futsal Focus, Efesista.es, Futsal Corner, and Cadena Ser Cartagena.
Organ Donation
Futsal Focus is a supporter of Dáithí Mac Gabhann and his family's campaign to raise awareness of Organ Donation. We encourage our readers to learn more about Organ Donation: https://www.organdonation.nhs.uk/
Futsal Focus
You can read more articles about domestic futsal by going to the top navigation bar or by clicking here
If you like this article and would like to keep updated on Futsal news, developments, etc then you can now follow Futsal Focus via Google News by following our page which will send you an alert as soon as we publish an article so please click here and follow us on Google.
You can also keep updated on Futsal news, developments, etc then please submit your email below in the Subscribe to Futsal Focus option.
Follow Futsal Focus by clicking on Facebook, Twitter, or Instagram or on the social media buttons on the website.