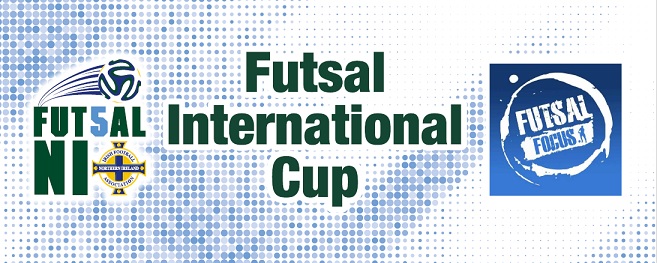 Estimated reading time:4 minutes, 11 seconds
This weekend, Futsal history will be made in Northern Ireland when the first Futsal event and coaching conference will take place called the Irish FA Futsal International Cup and Coaching Conference in partnership with Futsal Focus. It is an honour for Futsal Focus to be a part of this history and to work with the Irish FA to make this happen.
Futsal is an amateur sport in Northern Ireland, and they recently launched their first National Futsal League which came to an end last weekend and was won by Foyle Futsal who will represent Northern Ireland at the event.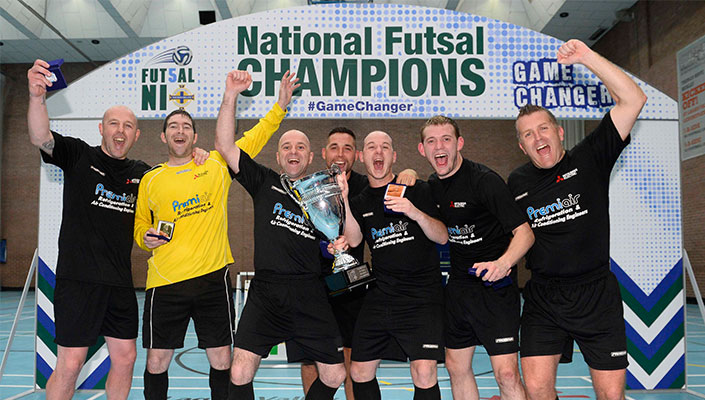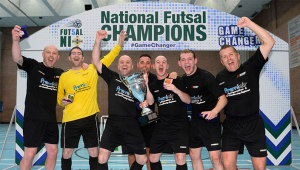 Travelling to Northern Ireland this weekend to take part are Wrexham Futsal Club who have represented Wales in the UEFA Futsal Cup, though they are bringing a young squad with them for this trip, the players flew to Belgium early this year and competed well in an U21 competition. Representing England is the University of Nottingham, who have one of the country's largest Futsal futsal programmes and is led by a former Benfica Futsal Club Head Coach Roger Augusto. The Republic of Ireland will be represented by Saints & Scholars, a young and talented team who competed well last season in the Irish National Futsal League called the Emerald Futsal League, the club see this event as a development opportunity for their players and coaches.
Futsal Focus spoke with each club ahead of this weekend's event and this is what they had to say:
Foyle Futsal – Shane Martin
"Well what can I say, what a feeling it is to be crowned Northern Ireland's first ever national futsal champions. Futsal is new to Northern Ireland but it is starting to gather momentum with more and more people taking an interest in this entertaining sport. We at the Foyle futsal centre believe that futsal will continue to grow and with competitions like this, it  can only benefit it's development. It was a great experience to be able to play against some quality opposition from around the country and it's great to see this wonderful sport finally take off here. We are all looking forward to see the standard of the visiting clubs for the Irish FA Futsal International Cup in partnership with Futsal Focus and to test ourselves and get a better of understanding of where we want to be in the next few years."
Wrexham Futsal Club – Richie Ozolins-Jones
"Wrexham futsal club would like to thank the Northern Ireland FA and Futsal Focus for inviting us to their inaugural international futsal tournament. We are very much looking forward to compete in it, followed by the Sunday workshops which will further help our young squads development."
The University of Nottingham – Daniel Slater
"As a club, we are extremely honoured to be invited to take part in the Futsal International Cup. Hopefully, we can represent England with pride and take the title home! From the outside, it is exciting to see the development of futsal in Northern Ireland. It's clear to see a lot of time and effort has been dedicated to get the sport up and running and to create a long-term development plan. And I think this is the perfect way to officially launch it all."
"It's also very exciting to see a free coaching conference to round off the weekend. To hear from such well-established names is a fantastic opportunity for those attending. Learning from the best will ensure that futsal is given the best possible start in Northern Ireland. I'm sure the event will inspire people to get on board and kick-start futsal and help it achieve its potential."
Saints & Scholars – Martin Perciavalle
"This is a huge milestone for Northern Ireland FUTSAL, this Cup is to celebrate the end of their first FUTSAL league season and as such we all feel very honoured with the invitation and we are all really looking forward to getting the ball rolling."
"Each one of these matches represents a really good challenge and at the same time a learning experience for us. Players believe they can do well and will give their all."
After the final on Sunday, the afternoon will be a coaching conference with former Benfica head coach Roger Augusto, Germany's national futsal assistant coach Wendelin Kemper and world-renowned Goalkeeping coach Andy Reading will lead coaching workshops and the event will end with a panel discussion.
Everyone is welcome at the event is free, therefore, please come along and enjoy the weekend and learn about this wonderful sport.
If you like the information provided, you can read more articles grassroots and coaching by going to the top bar navigation or click here
If you like this article and would like to keep updated on Futsal news, developments, etc then please submit your email below in the Newsletter section or by clicking on the Subscribe to Futsal Focus option on the header.
Follow Futsal Focus by clicking on Facebook, Twitter or Instagram or on the social media buttons on the right sidebar.