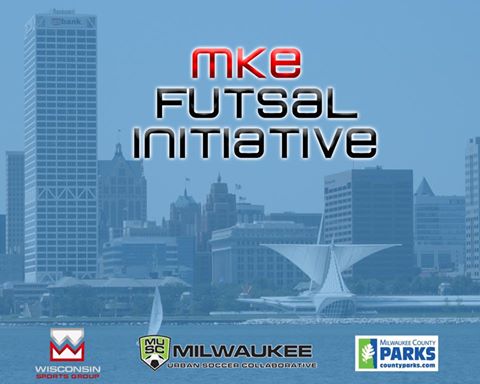 Estimated reading time:2 minutes, 44 seconds
Wisconsin Sports Group announces strategic partnership with Milwaukee Urban Soccer Collaborative
Keith Tozer (League Commissioner of the Professional Futsal League), President of the Wisconsin Sports Group and Mark Sabljak, CEO of Milwaukee Urban Soccer Collaborative, announced today a partnership regarding their MKE Futsal Initiative.
The partnership will include the renovation of underutilized tennis courts into futsal courts in Milwaukee County, futsal coaching education and player development. "we are extremely excited and proud to be able to partner with MUSC to provide the Milwaukee community these wonderful futsal courts as well as programming and education," said Tozer. "It became very apparent from our first meetings that our mission as well as MUSC mission aligned perfectly together to provide the game of futsal (soccer) to the inner city."
"My idol growing up was Pele. He grew up in less than perfect surroundings but captured the world with his play and his smile. Every young person in Milwaukee can play soccer or futsal — or both — if we give them the opportunity. Programs and events like this do just that.", said Sabljak.
The Milwaukee Urban Soccer Collaborative is an 501c3 organization, founded by former Wave owner and businessman Charlie Krause to support central city soccer within Milwaukee. MUSC runs leagues for nearly 1,000 players and over 75 teams year-round, provides soccer camps for youth in the Milwaukee area, serves as a liaison to league teams participating in WYSA sanctioned leagues, offers after school Soccer for Success programming at local community schools, and coordinates soccer clinics for coaches and referees.
MUSC Executive Director Patricia Goeman said, "we are excited that some youth in our competitive recreation league have the opportunity to experience futsal outdoors in other areas of the Milwaukee community. This style of play is such an amazing way for our players to work on their control skills and touch."
Tozer, who coached the Milwaukee Wave for 22 seasons, has been working closely with Milwaukee County Parks to reclaim underutilized or unused tennis courts within Milwaukee County to renovate and resurface them into space that can be utilized by community members. In addition, Tozer is commissioner of the newly formed Professional Futsal League, which is scheduled to begin league play in 2018.
About Wisconsin Sports Group:
Wisconsin Sports Group is a newly established Sports & Entertainment company specializing in all aspects of the game of futsal. WSG is committed to provide our communities the highest quality futsal experience including Futsal court renovation projects, coaching education, player development, exhibition games, leagues, tournaments and academies.
About Milwaukee Urban Soccer Collaborative:
The mission of the Milwaukee Urban Soccer Collaborative a 501c3 is to provide underserved communities of the City of Milwaukee easy and affordable access to quality soccer programs, allowing young people opportunities to develop essential life skills while remaining physically active.
If you like the information provided, you can read more articles about grassroots and coaching by going to the top bar navigation or click here
If you like this article and would like to keep updated on Futsal news, developments etc then please submit your email below in the Newsletter section or by clicking on the Subscribe to Futsal Focus option on the header.
Follow Futsal Focus by clicking on Facebook, Twitter or Instagram or on the social media buttons on the right sidebar.