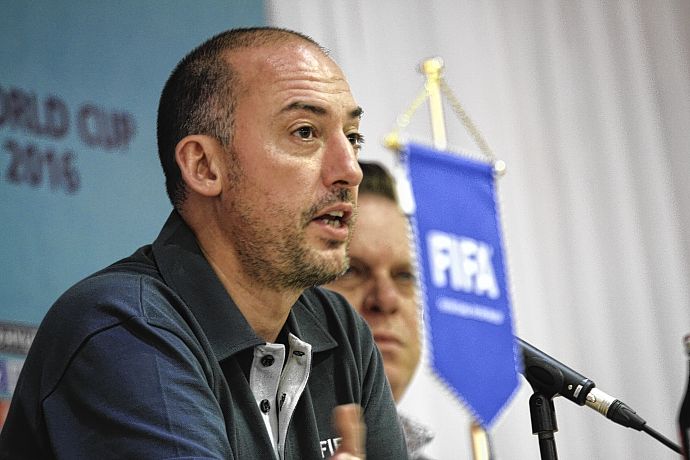 Estimated reading time:21 minutes, 39 seconds
By Kris Fernandes – Futsal Focus Senior Correspondent at the 2016 FIFA Futsal World Cup Colombia, you can follow Kris at @Futsal_Focus for the world cup but his personal Twitter account is  @insidesoccermag
Kris Fernandes is in Colombia for Futsal Focus at the 2016 FIFA Futsal World Cup and sat down with one of the most important people in world futsal, FIFA's Futsal architect Jaime Yarza. In this candid, detailed, and fascinating discussion about futsal Jaime speaks about his experiences and work in futsal and shares in-depth thoughts and analysis about the World Cup, Olympic futsal, women's futsal, the launch of the Professional Futsal League in the United States of America, future ambassadors for the sport, his famous father, and eating fried ants.
KF – You've had so many roles at FIFA over the years. Tell us about your current role in futsal with FIFA and what exactly you do in your job?
JY – Well futsal is still my baby. It's the one I dedicate most of my time too. As you know when I started in 2003 with futsal my mandate was to develop it so I take this to heart. I think I'm trying my best to move it forward. Today, basically since I moved in to inter competitions in 2008 my role is general management of World Cups. So that includes general organization, relationships with the Local Organizing Committee, overseeing the operations of management of planning until the delivery of the World Cup. I do this for the Club World Cup, the Olympic Games, Youth Olympic Games, which now has futsal, which is fantastic, The U17 World Cup, the U20 World Cup, and obviously the Futsal World Cup.
KF -How did you start in getting into the world of FIFA and how exactly did you land at futsal?
JY – Well it was just by chance because I was moving with my wife to Switzerland and was looking for a job before I left and heard about an open position at FIFA so that was interesting for me, so I applied. At the time there were like not many employees so it was a very small FIFA very different from today. I was accepted they wanted me it was fantastic. In futsal I was working in the referee department at the time and the previous person at the time, which is Victor, whom you may remember his name, he had to leave at the time, and they had various open issues. And some of them were related to Spanish companies and relationships with Spanish speaking countries so my director asks me why don't you take care of these projects so I started finding solutions for some of these projects since Victor had left and a few months I was asked why don't you take care of futsal? My initial thought was I'm not an expert in futsal so I don't know if I should be taking this position. Obviously I had played a lot of futsal in the 80's because at the time in Spain everybody played futsal; it was basically the sport to play. It was really the big growth years of futsal in Spain. I had played a lot but I was no expert by any means. So I had to think twice before taking the job, not because it wasn't interesting, but I thought it might more important that somebody really knowledgeable about the game takes the lead on that. But then I discussed with various friends and decided that my job was as a coordinator and I'm going to coordinate the knowledge and expertise of people all over the world to try and do something for futsal. In that sense is when I decided to accept it.
KF – What are some of the most difficult things that you had to go through over the last 13 years to get people in order to get people to return phone calls and emails pertaining to futsal?
JY – Well, one of the most important things that we worked a lot on, and it's very difficult, is lobbying at the political level; to get federations and confederations. As you know many people come from football as football was their job and their passion so they didn't really understand futsal, so it's tough sometimes to make them understand futsal is a just great opportunity for the football family, a great addition to what we already have. So, I think this is the most relevant task that we have and also the most difficult one. I've never experienced not having anyone pick up the phone or not wanting to talk, but maybe convincing them about futsal. This is one of the key items we are working on and that will take us further.
KF – One of the biggest goals that has been achieved so far, and your work was seen as very instrumental, is getting futsal into the Youth Olympics in 2018 in Argentina. Can you take us through that process on how you achieved that?
JY – There is a lot of internal things that I cannot be telling here obviously but basically as a matter of fact, it was the IOC, as you know, they wanted to reduce the size of the Youth Olympic Games, also the Olympic Games, and one of the targets was to do the same, as has been done with basketball and basketball 3's and other sports that have reduced versions of the game. Futsal could be included in the Youth Olympics to reduce the size because they saw that it as a very attractive sport and that there was a lot of interest for young people. So then it was FIFA and we had internal discussions and there was a lot of coming and going asking the confederations about the process as you know we don't have world tournaments at the youth level, which was a complication, but in the end we managed to convince everyone that it was a good move for both the Youth Olympic Games and a good move for futsal. Now, we're working really hard to make it happen. There are some things that we still need to go through but the importance for futsal here cannot be denied, just the fact that being a part of the Olympic level is an upgrade. I think futsal will become one of the main sports in the Youth Olympic Games in every sense because it's an extremely attractive game, and if we have the best teams there then we will have kids 17 to 18 delivering their skills and I think futsal will become the top sport at the Youth Olympic Games.
KF – You mentioned some of the burdens and it's quite known that there are many hurdles in getting futsal accepted as an Olympic sport, despite overwhelming support worldwide from many federations, players, coaches, football stars of prominent positions. What are some of the hurdles still remaining and what do we all need to do collectively to get into the Olympics.
JY – Right now one of our difficulties is establishing which teams will participate. So, as you know, the IOC want the best teams, which is reasonable, obviously, and we still have not defined the qualification process so it's going to be a mixture of qualification tournaments and appointed teams and this is right now the biggest difficulty. Additionally they are having troubles in Argentina, as you know, so it complicates a little bit the communication but I think our main issue right now is to finalize the qualification stage.
KF – Would you prefer to see futsal in the summer Olympics? Or with the trouble of finding nations to actually host the winter Olympics would you like to see it, being an arena sport, possibly as a winter Olympic sport?
JY – It's an option, it's been discussed in the past, honestly, I would be happy to see it in any of them and the emphasis is at the political level which I'm less involved, so I can't say much on that, I think entering to the Olympic committees is key for the future of the sport. If it ends up in the winter or the summer Games I really don't care, as long as it's in there.
KF – We're hoping that it'd be in the winter Games since Canada seems to host every 20 years so that'd be a pretty good fit for us!
KF – If you had to guess when futsal will become an Olympic sport, would it be within the next 5 years? 10 years? 15 years?
JY – It's tough to say. You know it takes a lot of time. I think a lot we'll be able to say after the Youth Olympic Games. There will be another discussion again. Also, the role of football is being discussed in the main Olympic Games so right now I think it's an open process to see what's going to happen. I can't give my best guess on any option, I really don't know. You know that we are working towards this goal but again it's on the political level where I have less influence. I can't really say.
KF – Switching gears from the Olympics, let's talk about women's futsal, a very important subject, a very growing part of the game. When do you see the current World Championship, which is looked at and approved by FIFA, when do you see that eventually evolving into the FIFA Women's Futsal World Cup?
JY – Well, this is our proposal. It's been an internal proposal for a very long time. When we discussed the development of the sport we've included the importance of international competitions. Obviously, a few things came to mind to be more precise which is women's, club, and youth. For me personally, according to my analysis, women's should come first, because they are the biggest community in the world, 50% at least and many of them play futsal. There are at least 55-60 federations with women's national teams in futsal with regular activities. It's extremely important for many regions in the World for example, Muslim countries. So for us, and for me, and my department, organizing a new World Cup is not an easy enterprise, it's not easy to achieve because it's not only the World Cup itself, it's the confederations that have to invest money into that and they need to find the value to it. But again, the Youth Olympic Games I think will serve a lot to people to understand the sport is already there, it's already being played, there's a big community of women playing the sport all over the world I think these Youth Olympic Games will show it to general management of associations and confederations.
Kris – Do we know how many teams will participate at the Youth Olympic Games in Argentina?
Jaime – Yes, there will be 10 for each category. We are now establishing the distribution amongst confederations and also the qualifications stages.
Kris – You've been involved in managing and helping to organize many Futsal World Cups over the years, what have been some of your favourite moments in international futsal?
Jaime – One I will always remember perfectly was Guatemala in 2000, which was my first World Cup. Although I wasn't involved in the general organization of futsal itself I was basically working for the disciplinary committee at the time but I had so much fun I must say. It was like going to the sport I played many times in the 80's and seeing a world cup not in football but in futsal was a fantastic experience. I really enjoyed it a lot. I also remember watching Spain win for the first time which was fantastic. I was right beside the pitch guarding the trophies and the medals and was told to watch them and not the match which was very difficult to do (laughs) so it probably helped me not to forget it. Also, I think one of the first women's tournaments I attended in Portugal. It was a fantastic tournament, a high level of futsal. Another key moment in my futsal life was the increase to 24 teams in Thailand and seeing 24 teams in Thailand was a fantastic tournament. Those are the highlights for me.
Kris – One of the most difficult questions I think for any futsal fan is who is your favourite player of all time?
Jaime – To be very sincere, the one I like the most was Schumacher when he was playing in Spain. He was a team player and it's an amazing quality and I think he will be my favourite player forever. When Falcao or Ricardinho does one of their tricks, or Reyes from Colombia, it's fantastic. But Schumacher really had many of the values of the team game. Kike is also a great friend of mine and he was a great captain of the team and played a similar role in the team so I think Kike and Schumacher are my favourite players.
Kris – What roles do see you for former legendary players like Kike and, after he retires, Falcao, in promoting the game for FIFA?
Jaime – As you know, FIFA is looking into ambassador roles for ex-players and we are looking for the same for futsal. Kike has already cooperated with us for various things such as he played our star match here in Colombia and he is really a person you can send to any activity because he's very well educated and a great leader so, yes, we think using people like them for the good of the game. It's going to be a great gain for the sport and we intend to keep on cooperating with them. Kike is already retired and has been doing things for us already. When Falcao is finished we will try to take him aboard.
Kris – As much as you've had success with FIFA and how prominent you are in within the sport to change it for the better you might not actually be the most famous person in your family. Your father was a legendary researcher and teacher at the University of Barcelona. What were some of the traits that you picked up from your father that you bring at the table at FIFA?
Jaime – It's tough to say. My father was as they say a middle age man, he didn't know only about just history and art but also mathematics and physics. You could talk about many of these areas with him which is completely amazing. I can't say I've taken many of his traits from him but probably the character in certain things. Personality, how you approach a team, leadership in a team is something I think I got from him a lot. The way of thinking and approaching items, but as you say my father it's very tough to get to his level so I'm doing my best (laughs).
Kris – Clearly a man with excellent vision. Let's ask about your vision now. Where exactly do you see futsal four years from now?
Jaime – Well, hosting in 2020 we still don't know as we will decide at the end of the year. My future for futsal obviously is included in the Olympic family and that we have women's, club, and youth tournaments, and that the Futsal World Cup becomes the 2nd most important world cup after football. We all understand we can never reach the size of football because it's just occupying 80% of the world basically. Futsal will remain the smaller brother, which is fine, I think there is a big market out there and I think it should become the most important indoor sport in the world. I think there is a potential to do it and it just needs more time and dedication in some areas but it can become at the level of basketball or higher. In the interest of the people I think this is the target that we all have and I am sure we will do it. There is no doubt, the development of the sport is included for all the federations in the world. It is being played all over the world. I think more people play futsal without knowing it.
Kris – Hopefully with the great interest in hosting the next World Cup we can accelerate that. You mention having it become the largest indoor sport in the world and the 2nd largest after football. We're seeing big investments worldwide; one of the big investments that we are starting to see, particularly in North America and CONCACAF is the creation of the Professional Futsal League, the PFL. We've also seen the start of the Premier League in India, and we spoke to Javier Lozano who mentioned about the agreement with LNFS to assist with 5000 schools in China which is an absolutely phenomenal investment. With these new rapidly emerging marketplaces in futsal where do you see futsal really taking a big hold and accelerating that growth further?
Jaime – On one side, we have Asia, which has been growing strongly for the last few years and we think this is unstoppable. I said in one congress that the future lies in Asia basically. But now the development of futsal in the U.S. also can lead us in a new path. It's important that the new league makes an association with U.S. Soccer, which is our partner and manager of futsal in the country and when this is achieved I'm sure a professional league managed by people coming from the NBA, they are very professional, they are highly motivated and highly talented and I'm sure this will lead the way. We need to be on top of that to make sure it benefits the growth of the game in general and all over the world. There are a lot of countries for options with professional leagues with good TV ratings, with good income, good marketing programs and good commercial partners. I think right now it's a big call on the U.S. but again they need to make an agreement with U.S. Soccer which is the most important thing.
Kris – One thing that was widely talked about with the PFL that we saw Russia a few years ago was the deviation of rules and the Russian League of course went to 2 x 25 halves. The PFL are proposing 4 x 12's, similar to NBA basketball. How far can we possibly deviate from regular FIFA rules without going too far and ruining the credibility of the sport?
Jaime – I think another great achievement we had in the last year was unifying the laws of the game. I think there was a great risk in the world that if everybody plays with their own rules then there is no recognized sport. That we unified these laws of the game I think it helped a lot. I know some of the countries didn't like the laws, but sorry we cannot make everyone happy. But it was a very important step. We should by any means avoid something like that from happening again. There is a risk with football 7's and other variations of football that are also being played small-sided, this is a risk. If we don't have an identified sport with defined rules that can be backed by media, spectators and TV as a unique sport then we will be the same as other sports. We are into the idea of modernizing the laws of the game again, giving them a new approach maybe to make it more attractive and we intend to have a workshop maybe at the beginning of next year that we gather some interested groups from coaching, refereeing, and players, presidents of federations and reanalyze what is the next level of the laws of the game. We're trying to introduce some changes and making it better. We haven't studied it yet but the idea is how can we make this sport better? In the case of Russia for example they wanted to increase the time because they felt spectators should be given more and the cost of traveling was very high so they wanted more time. As a matter of fact today's matches are taking 45 minutes every half, which goes exactly as long as a football match. So if you add five more minutes it gets even longer than a football match. It's not the best TV approach, TV doesn't want such long matches so we need to find a balance that in general keep people happy and we have some ideas about what we can do but obviously it has to be agreed with many and yes we want to modernize it but we hope that everybody plays according to the laws.
Kris – We are seeing a lot of rapid growth. One of the biggest developments earlier this year was the German Federation (DFB) announcing their intention to invest in futsal, they have their first games coming up against England, which we hope should be just as interesting as their football rivalry from the past few decades, but there are still some federations that still have not adopted futsal. But there are still futsal workers and builders trying hard to battle AMF/FIFUSA and other unsanctioned entities. What recommendations do you have for these builders whose FA's perhaps have not adopted or accelerated futsal growth as we'd like to see?
Jaime – Taking a spin on a very famous quote we say 'Don't ask the federation what they can do for you but what can you do for the them.' One of the big problems we have is that people go to the federation asking for things; asking for money and for other things. I think it's the wrong approach because everybody wants money from someone. I think at the end is to convince them of what I can bring to you. Which value are you bringing to the federation? I think this is much more important. It's very easy to ask for money and much more difficult to bring value. But bringing value is exactly what we do and the sport of futsal brings value to the federations. So my recommendation is to explain that the value this sport brings to the football family; you are reaching new communities, you are reaching new areas, you are giving a new path of professionalism to players. We have to remember only 1-2% of football players make a living out of football. There is huge potential for people to take the futsal path. When I say footballers I mean coaches, administrators, physiotherapists there are a lot of people that can be involved in the game, promote the game, and can make a living out of the game. This is always of benefit to the federation. People should be addressing the federations, bringing value to the federations and they should be more keen to listen and more open to opportunities.
Kris – If an FA came to you and said what are the three most important things we should invest in to start futsal and take it to the next level what would those three things be?
Jaime – It's very difficult because it really depends of the situation of the country and conditions. If you're asking me for an African country which has low infrastructure and development compared to a very highly developed country such as the United States because the approach you start with the base and others you start with the national team. The one approach may be valid for one but not the other. In principal I would go for the base, include futsal in youth training in football. I think it has given a lot of good skills to kids in Spain and Brazil and Italy where the kids are playing futsal. This would be one of my first steps because this would benefit the federation directly into better footballers but also create a new path for them into futsal. If you have talented players that can play futsal then create a national team because you can get new sponsors or TV openings, new social communities. Obviously I would go for women because they are playing more and more sports and futsal is one of them. They are 50% of our population so we need to grab them.
Kris – What has been the most interesting story for you so far in Colombia at this World Cup?
Jaime – One of the funny things was distributing something to eat among the team in one of the inspections. It's small, black and everybody was interested. It was fried ants! It comes from the region (Bucaramanga) and you can buy them in bags. So we bought some bags and distributed them. Some people we told them what it was and others we didn't (laughs) after they tried they knew. I don't think many people liked them but it was fun.
If you like the information provided, you can read more articles about global futsal by going to the top navigation bar or click here
If you like this article and would like to keep updated on Futsal news, developments, etc then please submit your email below in the Subscribe to Futsal Focus option.
Follow Futsal Focus by clicking on Facebook, Twitter or Instagram or on the social media buttons on the website.