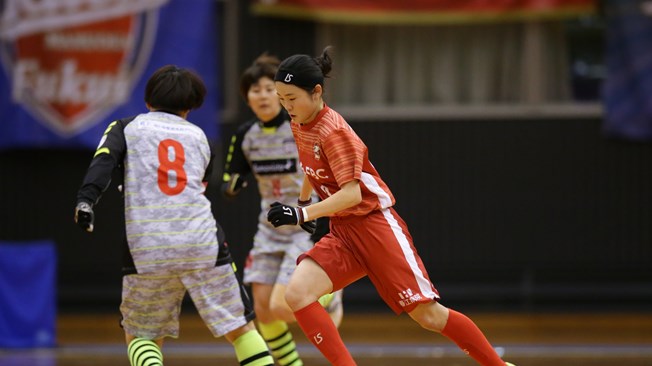 Estimated reading time:2 minutes, 36 seconds
Japan will be one of just a handful of nations to operate a national female competition for the indoor game
AFC Women's Futsal Championship to be held next year
For the past few decades, Japanese football has been marked by innovation at both club and international level, as well in the development sphere. A thorough bottom-up approach to developing the game has seen a boom at the grassroots level, with that momentum echoing all the way up the football pyramid.
The men's national team are well on their way to a sixth successive FIFA World Cup™ appearance, having never featured prior to 1998. They have also won four of the past seven AFC Asian Cups, yet had never enjoyed continental supremacy until 1992.
Arguably, however, the most dramatic breakthrough came in 2011 with the women's national side. The Nadeshiko, as they are affectionately known, had won just three of 16 FIFA Women's World Cup™ matches heading into Germany 2011. Yet they returned home from Europe as world champions, after demonstrating a playing style honed around technique over strength.
Technical development through futsal
Now Japan are looking to extend their technical focus further afield by becoming one of the few nations in the world to conduct a national women's futsal league. The Japan Futsal Federation has announced the maiden edition of the Women's F League, with the opening round that was played yesterday and today (21/05/2017). The men's equivalent is now a vibrant 12-team competition, having just celebrated its tenth anniversary.
The Women's F League launch follows a trial competition last year with the league seeking to further develop women's futsal in general, but also with a view towards next year's AFC Women's Futsal Championship.
Saitama Saicolo is one of the new sides, with their line-up consisting entirely of players with 11-a-side experience. "The speed might be lower than men's futsal, but there are attractive passes, tactical offence and defence, and also intensity in women's futsal," said coach Naoki Ono. Captain Ayako Takahashi added: "I feel the new league is the right thing we need in order for the team and individual players to develop."
Several former Nadeshiko stars will be featuring in the new competition. One such name is Yuko Morimoto – a veteran of ten internationals – who will be a player/coach at Futsal Clube Uniao. Another well-known name is Chihiro Tanaka, a futsal national team member. "The start of the new league means so much to women's futsal," Tanaka said. "It can accelerate the strengthening of Japanese women's futsal."
Seven teams will participate in the inaugural edition of the competition which will conclude in January 2018.
If you like the information provided, you can read more articles about global futsal by going to the top bar navigation or click here
If you like this article and would like to keep updated on Futsal news, developments, etc then please submit your email below in the Newsletter section or by clicking on the Subscribe to Futsal Focus option on the header.
Follow Futsal Focus by clicking on Facebook, Twitter or Instagram or on the social media buttons on the right sidebar.