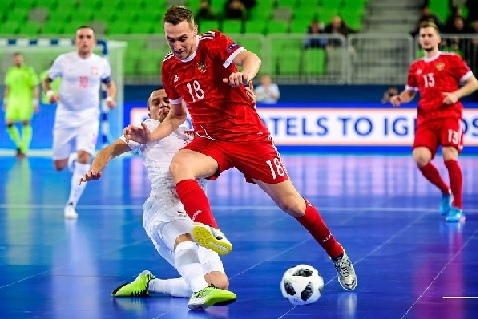 Estimated reading time:3 minutes, 19 seconds
Leading Jersey Football Association officials and coaches are set to meet at Springfield this Saturday for a course geared towards developing the fast-paced, small-sided form of the game, which has been credited with producing some of the greatest footballers on the planet.
If sufficient interest arises, those in charge of Jersey football are keen to investigate club leagues and national representation.
Both Lionel Messi and Cristiano Ronaldo have admitted they would not have achieved their success without the skills learned on a futsal court as youngsters. The sport is similar to five-a-side football, but is instead bound by touchlines, uses smaller, heavier balls and makes use of larger goals.
'We think this will catch the imagination of Jersey footballers at all ages,' said JFA chief executive Jean-Luc Desbois.
'It will bring a different approach to football here, which will hopefully re-invigorate a few people. Some of the best players to have ever graced a football pitch grew up on futsal. It's origins are street football, and now they've professionalized it.
'It develops younger and older players' decision making because they are playing in a more confined space and it's a game that the [England] FA are pushing hard to bolt on to football, not to replace it.'
Champions League tournaments and World Cups attract huge interest at the highest level, and the English FA is keen to make their nation the newest superpower.
Desbois added: 'The FA has a national competition which gives players a pathway into European futsal quite quickly. I would hope from next season Jersey will have representation in that, starting at county level before going on to play against Super League teams.
'If you were to pick the best players from the Premiership here, it's not a given they'd be good futsal players, but I'm fairly confident with the talented players we have in Jersey that we could put together a good futsal side.'
Island football's leading figure also discussed the impact it could have on the grassroots sport.
'Boys, girls, men, and women playing in the Combination leagues right now can go three or four weeks without playing, and we're in an age where people are saying that people are losing interest in football,' he explained. 'We need to keep people interested.
'We would like to introduce it to younger footballers and in my opinion, it will have a massive impact on female football. We only have four senior women's teams now, and to find another team you'd need at least 20 players whereas Futsal squads are smaller making the challenge of introducing the game to girls and women a lot easier.'
Desbois continued: 'At some point, we'd like to introduce a league and it'll be offered to clubs. So instead of a five-a-side league where you'll play with your mates, you'll play for Rozel Rovers or St Paul's against other league teams once a week or once every two weeks at least.'
'I went away for three days to scope futsal out and see if it would fit, and I watched England play Croatia at St George's Park. The England captain [Raoni Medina] only has about 800 followers on Facebook [930 on Twitter], which demonstrates to me it's still in embryonic stage, but I came back very excited about it and I'm hoping that on Saturday all the coaches here will give us a good reaction.'
Source: jerseyeveningpost.com
If you like the information provided, you can read more articles about grassroots and coaching by going to the top bar navigation or click here
If you like this article and would like to keep updated on Futsal news, developments, etc then please submit your email below in the Newsletter section or by clicking on the Subscribe to Futsal Focus option on the header.
Follow Futsal Focus by clicking on Facebook, Twitter or Instagram or on the social media buttons on the right sidebar.