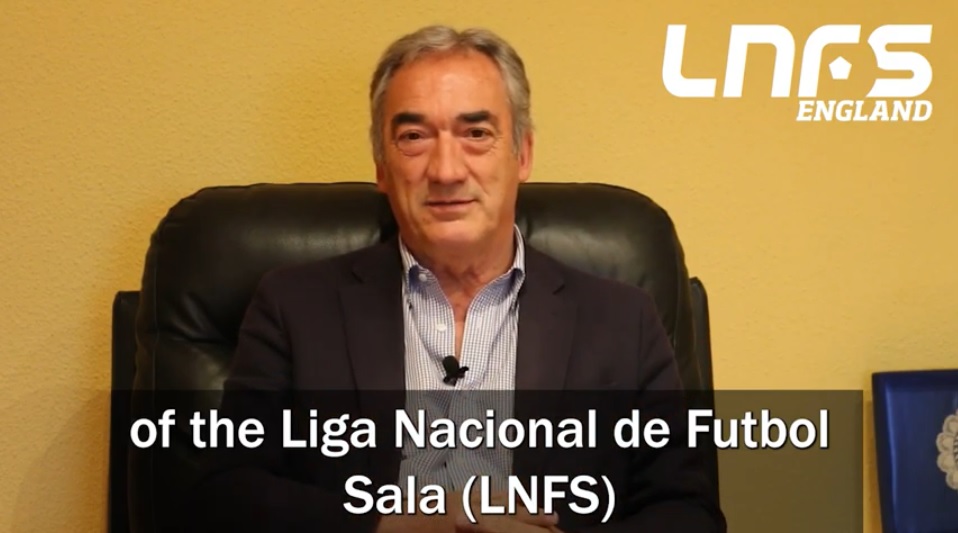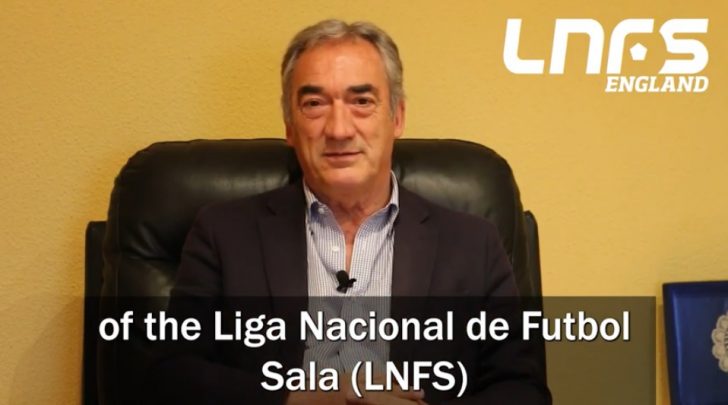 Estimated reading time:9 minutes, 26 seconds
Yesterday, LNFS England published an article featuring the President of the Liga Nacional de Futbol Sala (LNFS), Javier Lozano, who welcomed the English futsal community into the LNFS family with a video message. LNFS England clubs don't make up the whole of the English futsal community, but what he means is, the clubs involved and any club who wants to learn from their experience.
In the video, Javier outlines how the LNFS intends to assist LNFS England and its clubs to develop the sport of futsal from the grassroots up. However, in Futsal Focus' view, the most important point he made in the video is the following:
"Go little by little, and focus your efforts on the most urgent goals, and carefully develop an action plan. Nothing changes in 10 minutes and bear in mind that it took us over 32 years to get to where we are now!"
You can watch the full statement from Javier below:
With Javier's message in mind, Futsal Focus engages with world futsal, and in developing Futsal nations we are regularly asked by leagues and clubs 'how do we get to the level of Spain?' Many of these people want to achieve this goal in 5 years or 10 years, and at times they become frustrated when our reply is 'That goal is not realistic, unless you have wealthy investors ready to launch a franchise league and have the money to develop a market.' Many of these nations don't even have a recreational market yet or a high level of amateur delivery of the sport across the board.
The league and club development steps are the following:
Amateurism
Professional amateurism
Semi-professional
Professional
Each of these stages develop due to a growing market, and the collective development of the leagues and clubs so they rise together into each level. At each level clubs and leagues will start to know where they are in their development and where they want to stay.
Now for those wondering what is the difference between each level, here is a brief synopsis to give you a basic understanding:
Amateurism is when you have numerous competitions happening all year round from recreational fun to competitiveness, and a growing appreciation for the sport nationwide. This level would be a mix of clubs and teams, and to keep a competitive balance, no players or coaches are paid. Clubs are run by volunteers and the focus is on embedding your club in your community. Alongside developing coaches and players, developing an academy, reaching out to schools, Universities, community groups and engaging with as many people as possible to enjoy the game.
Professional amateurism is when clubs and leagues start to make large sums of money from the sport, but still no one gets paid. All the money generated goes into developing the league and clubs, and your community through outreach programmes to engage with them and continue the process of embedding your club in your community. You would also use the money to continue the development of your coaches and players, and to take part in foreign competitions or visiting foreign top clubs through trips to view their training or train with their coaches. Clubs would start to develop their own club house and build their own facilities for their  and community use but still the majority of their staff are volunteers, and coaches/ players are still not paid. Relationships have been built with local community, councils, sponsors, funding programmes and with the money you have raised you have built a history of programme delivery and trust . Once achieved, this is when you can start to approach wealthy investors to invest in your club as the clubs at this stage should be attracting regular fans between 250 and 500 each week as well.
Semi-professionalism is when the clubs are attracting regular fans from 500 to 1000 or slight more. You have your own facilities, sponsors and investors, money is also being received from TV revenue. Players and coaches start to make a living from the sport but still have a full-time job as well. Your club house staff and facility management start to be paid and the number of volunteers are reduced into paid workers but still at your academy staff and community outreach staff are volunteers. An example of this in the U.K is the NIFL Premiership, known as the Danske Bank Premiership in Northern Ireland.
Professionalism is when everyone involved with the club earns a living solely from the sport and the club is attracting 2,000 or more fans regularly and is making money from tv revenue, sponsors, online marketing, product sales, ticket sales etc.
Even from this brief breakdown, developing clubs and leagues can have an idea of where their development of futsal is at this time. Why clubs still at the amateur stage would pay any player or coach when the money could be used to develop their club is something that needs to be looked at by the leagues. In Europe, paying coaches and players at the amateur level is driven by this competitive desire to qualify for the UEFA Futsal Champions League. However, if you don't have the club infrastructure in place, or plans to have a club infrastructure in place at the amateur level then playing in the UEFA Futsal Champions League is not going to benefit your club.
Javier points out that it took the LNFS 32 years to get to were they are now as the league was founded in 1989, but what he doesn't discuss is the history of the sport's development prior to this. In brief, Futsal was introduced to Spain in the early 1970s and the sport boomed in the late 70s and early 80s, one of the reasons being facility/ court investment at schools and Universities across the country for community use and for children to play. By the time the LNFS launched in 1989 they had mass participation to market to, to build a fan base/ commercial market.
Many developing Futsal nations currently don't have the infrastructure needed, and the infrastructure they do have is not suited to futsal because these nations have had their own forms of 5 a-side with 3G pitches etc. Therefore, Futsal finds itself competing with these forms of the sport and as Benjamin Franklin (one of the founding fathers of the United States) once said 'old habits die hard'. To challenge old ways, the futsal product offering has to be different, and much more appealing even at the recreational fun level.
Going forward developing futsal nations have to have a rational and realistic outlook/ development plan, just like Javier said 'go little by little'. Understand your target market because if your club has a large social media following but it is mainly outside your local community, at this amateur level, how do you utilise that to benefit you? The question clubs need to ask themselves is 'If they were gone tomorrow, would anyone in their local community care' and if deep down you know the answer is no then you need to rethink your strategy and where you are placing your energy. There is no point in the 'world' knowing via social media who you are and what you do, when within a 5 to 10 mile radius of your club no one knows or few people know. At the amateur level, it is about this radius range that needs to value you and will be there for you through stormy waters.
Collaboration 
The whole futsal pyramid needs to work together that includes leagues and clubs. Knowledge sharing is vital to the sport's development because if a league or club disappears it is only damaging for the sport which is why we don't understand LNFS England's exclusion from the FA's pyramid structure especially when the league is still affiliated to the FA.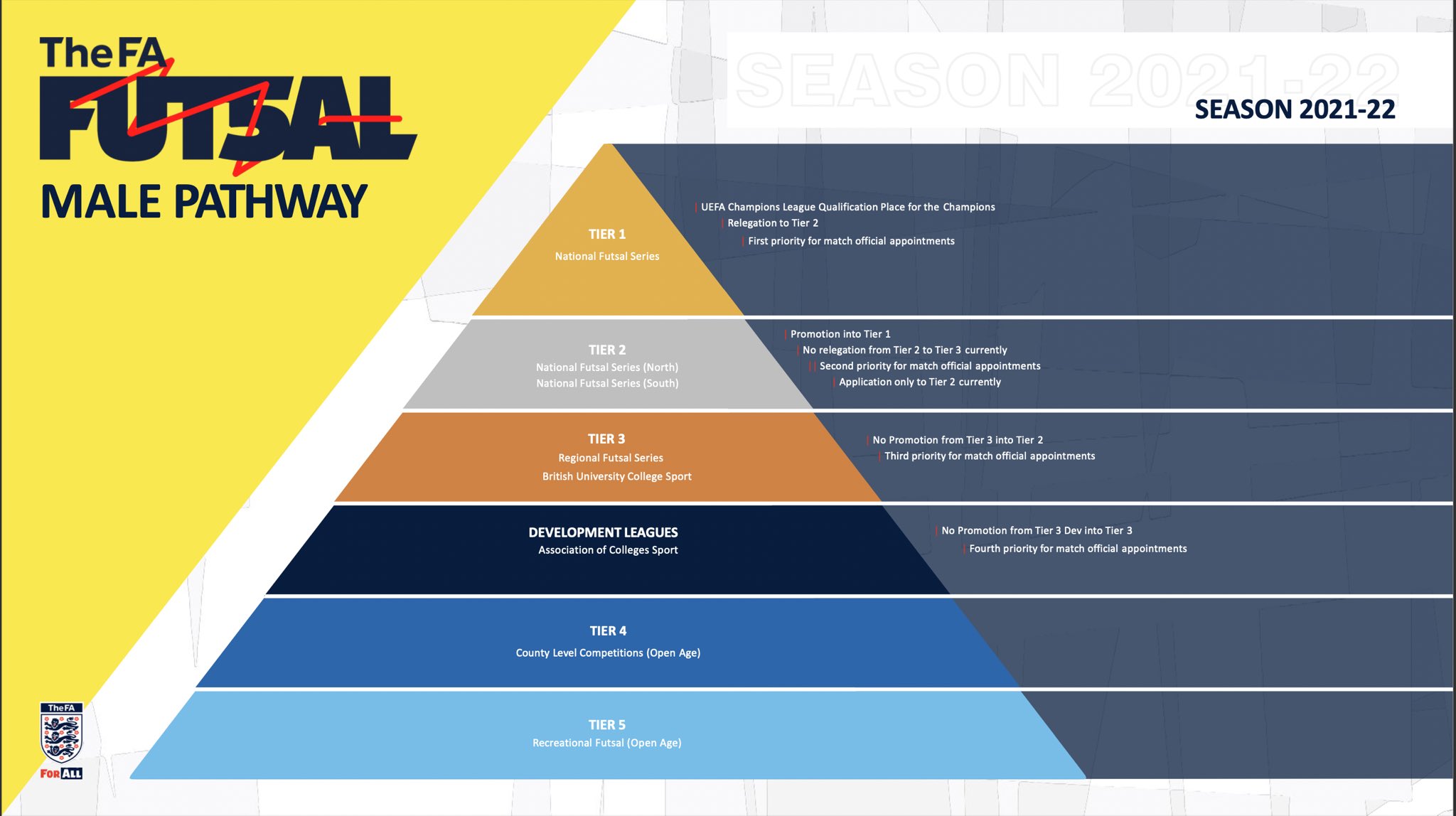 Only 3 years ago, Graeme Dell (the Futsal representative on the English FA Council) was talking about the need to collaborate due to his experience in Spain. I am not saying  LNFS England's exclusion from the pyramid was his decision, but if the FA were listening to him 3 years ago, the League would still be included. You can see his tweet about his experience in Spain below:
Having spent more than 2wks in the company of the LNFS President, learning @ its history, confirmed more than I have felt, that national futsal leagues require more than enthusiastic people, & must be collaboratively built from the base with shared vision to develop the product. https://t.co/TRNNBY2PSe

— Graeme Dell (@graeme_dell) October 28, 2018
Competitiveness
Competitiveness has to be left on the court, for too long clubs have brought what has happened on the court into the business end of the sport which has resulted in clubs refusing to collaborate, and bad blood building between them which does nothing for the sport's development. This occurs because many of these clubs are run by the senior team's coaches or a player. There needs to be a separation between club performance on the court/ coaching, and the business administration. Clubs who don't have this in place should work towards making this happen.
Value
Many clubs do different activities, but some clubs start to stray off and do things that are not club related, these actions are due to a lack of understanding of how a club operates, and provides value to their local community, coaches and players.  The same is for leagues, some leagues lack an understanding of what value they are supposed to bring to their clubs. Review and understand your target markets and put plans in place that add value to your league, club and your community. Constantly review and monitor these plans looking at risk analysis and quality assessments before and after everything you do.  Leagues and clubs have to understand that there is a certain value a league brings to their club members and the same in return, and how the league is marketed and developed to attract value will be different to the clubs. Strategies for both the league and the club have to be separate at times and also collaborative, but it will be the league's success that will drive money down to the clubs if the league is structured in that way. Amateur club leaders should look to educate themselves about project management with qualifications such as Prince 2, and Charted Management Institute courses on management and leadership will also help with this, especially if you don't come from this career background.
There is so much more that could be discussed, but as a starting point, we hope this article summary will help you when it comes to developing your league or club.
You can read more articles about global futsal by going to the top navigation bar or click here
If you like this article and would like to keep updated on Futsal news, developments, etc then you can now follow Futsal Focus via Google News by following our page which will send you an alert as soon as we publish an article so please click here and follow us on Google.
You can also keep updated on Futsal news, developments, etc then please submit your email below in the Subscribe to Futsal Focus option.
Follow Futsal Focus by clicking on Facebook, Twitter, or Instagram or on the social media buttons on the website.