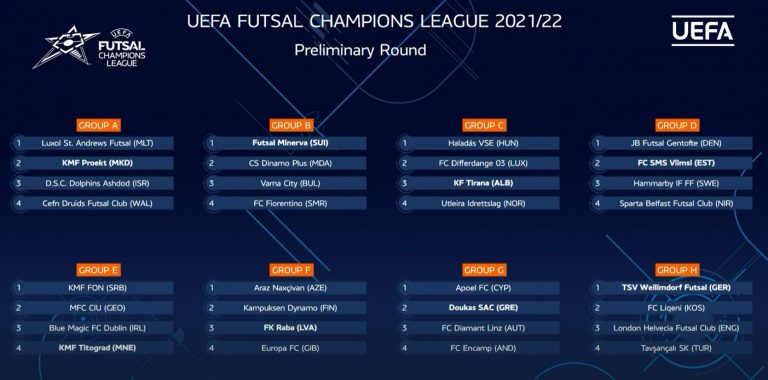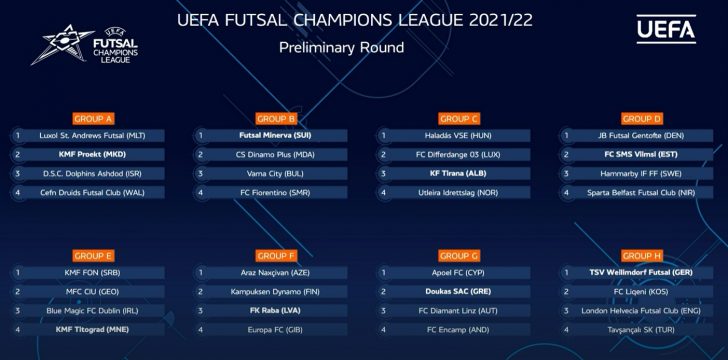 Estimated reading time:7 minutes, 39 seconds
Without a doubt the clubs will be happy to see the UEFA Futsal Champions League back to its original format. More games against various different types of playing styles is great for all the coaches and players at this level, as many of the clubs are amateur clubs.
There are 8 groups with four clubs each, taking them across Europe to their host nations. The host nations are:
Group A – Macedonia
Group B – Switzerland
Group C – Albania
Group D – Estonia
Group E – Montenegro
Group F – Latvia
Group G – Greece
Group H – Germany
The competition this year has a number of debutants competing. Proekt  are from Macedonia and are also a host, Tavşançalı will travel to Germany from Turkey, Cefn Druids come from Wales, Europa are from Gibraltar, Liqeni will fly to Germany from Kosovo, CIU are from Georgia, Haladás are Hungarian, and KMF FON are from Serbia.
The clubs representing the U.K are:
Sparta Belfast is from Northern Ireland, and a dominant club domestically who defeated Belfast United in their final
Cefn Druids  are a part of a semi-professional football club, they defeated FTSL Premier Futsal Club in the Football Association of Wales (FAW) Elite National Futsal League final
London Helvecia has been a dominant club in England for many years, and recently won the FA National Futsal Summer Showdown live in BT Sport 1 against ProFutsal London. The club has been to the preliminary round many times, and will be hoping to progress out of the preliminaries for the first time.
Sadly, Scotland will not have a representative club this season for the first time in a long time due to COVID restrictions. We hope this will not continue into next year and beyond.
The Groups
Sparta Belfast is led by Darius Dielininkaitis who is a passionate futsal coach with experience at the domestic and international level with Northern Ireland and Lithuania. He really wants to help futsal develop in Northern Ireland and is eager for more people to get involved, and with the Irish FA working towards setting up The Irish Futsal Federation, it will be interesting to see what they plan to do through this organisation. Darius' club were drawn in Group D which will be hosted in Estonia. In their group are JB Futsal Gentofte from Denmark and their squad has many Danish national futsal team players. They are champions for the fourth year in a row, and last season they went into the quarter finals facing the reign champs of Sporting Lisbon. The team has about 90 procent players who has a minimum of one cap under their belt and they are custom to bring in reinforcements upon playing Champions League. SMS Viimsi are the group hosts from Estonia and in the 2019-20 competition they did very well.  The club only lost out on progressing to the main round due to goal difference with Toulon Elite from France. Viimsi dominated Tirana (Albania) 7-2, defeated Kampuksen Dynamo (Finland) 3-1, and drew 5-5 with Toulon Elite. Last year, Hammarby (SWE) lost in the preliminary knock out match against FK Vytis Futsal 3-1. Though this will be a tough group for Sparta, with each club coming from an experienced futsal nation and are further in their development, it will no doubt be a great stepping stone for both the manager and his players.
Cefn Druids is led by Richie Jones and he has been in the sport for a long time. Supporting the sport's development in Wales and across the U.K, taking his former club Wrexham Futsal Club to Northern Ireland to compete in their first ever international tournament in 2016. His club players have been competing in both England and Wales and it was this preparation that helped them secure their place in this year's competition. Cefn Druids were drawn in Group A, hosted in North Macedonia and will find this a very tough group. Luxol St. Andrews Futsal from Malta have enjoyed success at the preliminary rounds for the last two years, progressing to the main round and last 32 at last year's adapted format, losing 2-3 to FK Dobovec who progressed to the final 8 tournament. Hosts Proekt are a relatively new club in the First Futsal League in Northern Macedonia. It was formed by a group of younger members, with a plan and ambition to become a well structured sustainable club in the next few years.
Dolphins Ashdod from Israel had a respectable defeat in last year's competition to United Galați from Romania losing 1-0. United Galați went on to reach the round of 16 losing to Kairit Almaty. For Cefn Druids and Richie, this is their first taste of European Futsal and it will interesting to see how they will do in their group.
London Helvecia' head coach is Enrique Guillen, who has been involved in English futsal for a long time. He took Oxford City FC Futsal to the UEFA Futsal Champions League and fought to keep the futsal section at the club alive, but unfortunately, it wasn't to be. He brought a weakened Oxford City FC Futsal squad to the UEFA Futsal Champions League (Known at that time as the UEFA Futsal Cup), and despite losing key players, his team performed really well. He definitely has the experience and a great group of players around him, but will this be Helvecia's year? You could call the club a semi-professional team because they pay their players, but they don't have a semi-professional set up yet in terms of their own facility and structure etc, but they are working on it. Renato Silva, the club's sport director, travelled to Brazil this year to form partnerships and learn from some of the best clubs in his native country, to bring that knowledge base back to England to help his club grow. Out of that trip they built relationships that have continued with one of Brazil's most successful club's Carlos Barbosa. Helvecia has dominated English futsal for a long time but has never progressed to the main round. English futsal got off to a bad start this year with the loss of their national team, but finished the season on a high with the Summer Showdown finals being broadcast on BT Sport 1. If Helvecia can progress to the main round, it would be the cherry on top for English futsal development this year, to see progress on the European club stage. Though, London Baku United previously reached the Elite round, that is an isolated case and not a true reflection of the current development of English futsal due to Baku having a full professional status at that time which didn't reflect the reality of their own development either.
Helvecia travel to Germany to compete against the German futsal champions TSV Weilimdorf who are from Stuttgart, a city that is considered a stronghold for the sport due to TSV Weilimdorf, and the newly established club Stuttgart Futsal Club securing their place in the new national futsal Bundesliga. In the 2019-20 season, TSV Weilimdorf fought in the preliminary round, winning the group which included Sparta Belfast. Progressing to the main round, they did incredibly well, finishing third in their group against Italservice Pesaro, Georgians Tbilisi and Uddevalla. FC Liqeni Drenas are from Kosovo, and they dominated their domestic competitions, winning the cup and league championship. Seeing as this was their first season in the top flight, it is a fantastic achievement. Konya Metropolitan Municipality Tavşançalı are from Turkey, and are a part of a football set up. Their futsal section however is 3 years old, and this is their first time in the UEFA Futsal Champions League. I think it is fair to say, especially when the runner up of the group could progress to the main round depending on ranking, this could potentially could be Helvecia's year to progress to the main round for the first time.
Futsal Focus supports the Donate4Dáithí campaign
To follow the Donate4Dáithí campaign, you can visit their website here: www.donate4daithi.org  or on Facebook at: https://www.facebook.com/Donate4Daithi you can also donate money to their campaign at: https://www.justgiving.com/crowdfunding/donate4daithi
You can read more articles about domestic futsal by going to the top navigation bar or click here
If you like this article and would like to keep updated on Futsal news, developments, etc then you can now follow Futsal Focus via Google News by following our page which will send you an alert as soon as we publish an article so please click here and follow us on Google.
You can also keep updated on Futsal news, developments, etc then please submit your email below in the Subscribe to Futsal Focus option.
Follow Futsal Focus by clicking on Facebook, Twitter, or Instagram or on the social media buttons on the website.