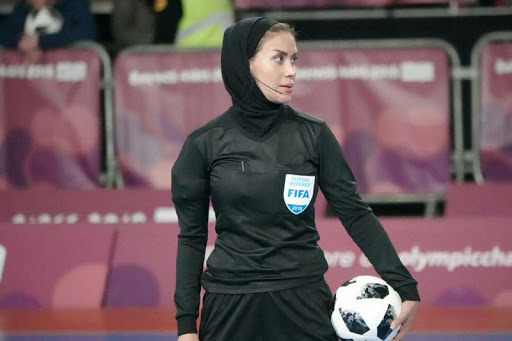 Estimated reading time:4 minutes, 19 seconds
Speaking with people who know Gelareh Nazemi very well they say she is shy, which stands in contrast to the confidence she demonstrates when dealing with matters on a futsal court.  Refereeing is a passion for Nazemi, who is the first Iranian to officiate at a FIFA-run futsal tournament.
A veritable trailblazer in her homeland, the 34-year-old is on the verge of reaping the rewards of choosing to break down barriers and exhibiting proficiency on the court: she refereed the final of the Women's Youth Olympic Futsal Tournament Buenos Aires 2018 between Portugal and Japan. She carved her name in the history books after being appointed as the Second Referee of the FIFA Futsal World Cup Lithuania 2021 Asian Playoff tie between Vietnam and Lebanon on Sunday, return leg, which saw the Southeast Asians clinch their spot for the global futsal showpiece. Nazemi has also officiated in the AFC Women's Futsal Championship as well as the UEFA Women's Futsal Euro 2019 semi-final contest between Spain and Russia in Portugal, and in the men's game in her home country.
In an interview with FIFA back in 2018, she was asked about her referring career and this is what she had to say:
Why did you want to become a referee?
About 15 years back, I was playing football in Iran when my brother, who was a referee in the SuperLiga, urged me to give it a try. He said, "You can do it, you can be one of the first". In Iran, the first group of female referees only got started 15 years ago.
Why did you choose futsal over football?
Because futsal in Iran is played to a really high standard, higher than football. To start off with, I refereed football matches, but it wasn't enough for me. In futsal, we're the number one team in the AFC; it's a very good level. It was a way of improving – futsal enabled me to develop my refereeing.
How difficult was it to break through?
At the beginning it was hard, but just like in any other country, if you want something enough, you can do it. People, especially men, have often said that women aren't good referees. But in order to stick with my decision, it was important to me to tell them and show them that I could do it. I used it as a motivating tool. And my brother and family were very supportive. That was very important.
Did you ever think about giving up?
Yes, it crossed my mind because I was worn out. I didn't have any support in my country, but it made me stronger. You can and should do what you want to do. And I wanted to demonstrate, particularly to men, that I was able to do it. I did it alone, but I tried and succeeded.
How did the careers of the women who started at the same time turn out?
There were seven or eight other female referees, but they all gave up because of how difficult it was. Their families or husbands didn't accept it, they didn't understand why they wanted to travel around just to referee. Today, things have changed, and there are three different futsal divisions just for women. There are 50 referees in the top division and about 100 across the whole country.
Do you feel like you're a pioneer?
I do see myself – and the other female referees back home – in that way, yes. There are a lot of them who are keen to develop. When I was called up to this tournament, perhaps at the beginning it wasn't looked upon as a positive thing, especially by men. But after this appointment, and others within the AFC, my countrymen saw the progress I was making and accepted it. Now they believe in me and trust me.
The other referees chosen for the world cup you can see by clicking here
Futsal Focus supports the Donate4Dáithí campaign
To follow the Donate4Dáithí campaign, you can visit their website here: www.donate4daithi.org  or on Facebook at: https://www.facebook.com/Donate4Daithi you can also donate money to their campaign at: https://www.justgiving.com/crowdfunding/donate4daithi
You can learn more about the Donate4Dáithí campaign by going to our article here
You can read more articles about international futsal by going to the top navigation bar or click here
If you like this article and would like to keep updated on Futsal news, developments, etc then you can now follow Futsal Focus via Google News by following our page which will send you an alert as soon as we publish an article so please click here and follow us on Google.
You can also keep updated on Futsal news, developments, etc then please submit your email below in the Subscribe to Futsal Focus option.
Follow Futsal Focus by clicking on Facebook, Twitter, or Instagram or on the social media buttons on the website.