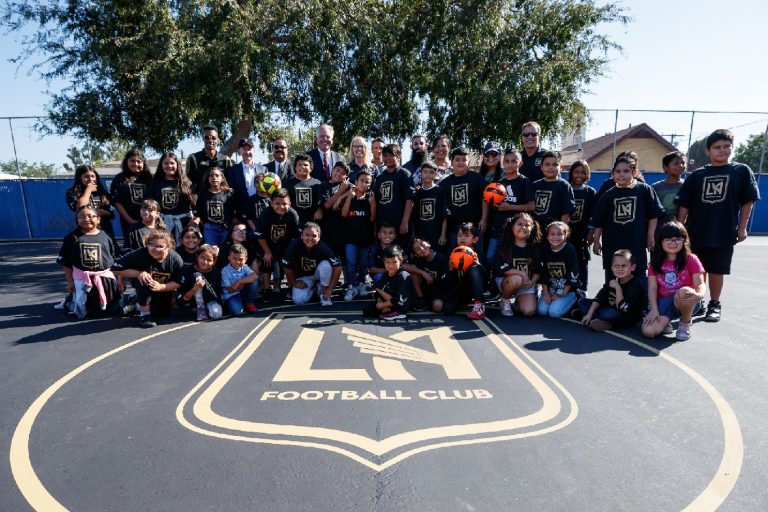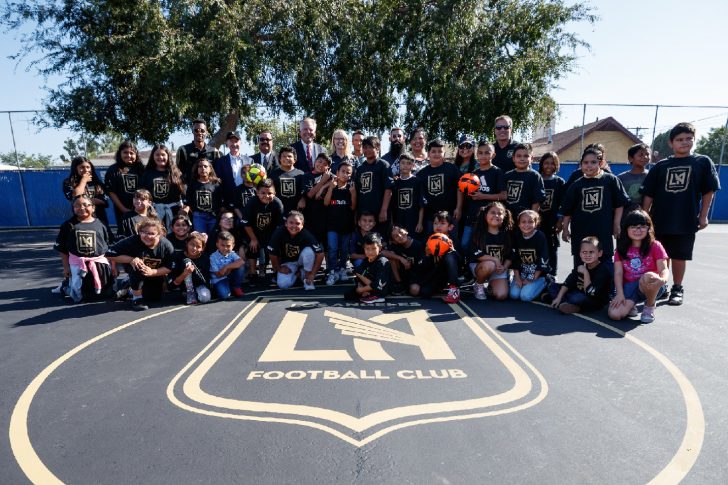 Estimated reading time:3 minutes, 32 seconds
Keep Building | LAFC & Kaiser Permanente Build New Futsal Courts In The Los Angeles Community
LAFC, LAFC Foundation, Kaiser Permanente, adidas and the U.S. Soccer Foundation have teamed up with the Los Angeles Unified School District (LAUSD) and Lynwood School District to create an additional five futsal courts throughout Los Angeles. The collaboration highlights each organization's mission and commitment to expanding access to fitness opportunities for students and providing opportunity to the world's game.
"We pledged, from day one, to be a force for good in our community," said LAFC Co-President Larry Freedman. "Our collaboration with Kaiser Permanente, adidas and the U.S. Soccer Foundation will create a lasting safe place to play for local youth in the Heart of Los Angeles."
LAFC and Kaiser Permanente have spent 2020 installing futsal courts at four of the five schools, including Hosler Middle School (Lynwood), Cimarron Elementary School (LAUSD), Stoner Elementary (LAUSD), and Sun Valley Middle School. Sun Valley Middle School is the first futsal court the partners have created using the innovative Musco Sports Lighting Mini-Pitch System™. This will allow youth and the community to use the court in the evening while ensuring the safety of students and their coaches. The installation at El Sereno Middle School (LAUSD) is scheduled for later this year.
"Play is essential to total health – mind, body, and spirit. We are proud to have made this multi-year futsal court commitment to provide youth with a fun way to exercise," said Julie Miller-Phipps, president, Kaiser Permanente Southern California and Hawaii, Health Plan and Hospitals. "Although COVID-19 has temporarily restricted how youth can safely play, we are investing in futsal courts now, so they are ready when it is safe for kids to play soccer again. Having strong community partners like LAFC, with a shared mission, makes this all possible."
Kaiser Permanente's roots run deep throughout Southern California with a long history of expanding access to communities, shaping health knowledge and improving environments. The collaboration with LAFC falls in line with its mission to improve the total health of its members as well as the communities it serves.
"Even though we can't be together to celebrate in person this year, we're thankful to still be able to carry out our work in Los Angeles and that we can continue to safely install mini-pitches with LAFC, adidas, Kaiser Permanente, and LAUSD," said Ed Foster-Simeon, president & CEO of the U.S. Soccer Foundation. "These mini-pitches are free and open to all members of the community and serve as a uniting force while strengthening community connections."
In an effort to make the newly installed court accessible after regular school hours to the larger surrounding community, Sun Valley Middle School's refurbishment will include a full Musco Sports Lighting Mini-Pitch System™. The state-of-the-art system comes complete with industry-leading LED lighting—greatly reducing glare and spill from affecting nearby homes—as well as fencing, goals, benches, and lockable storage.
"The LA Unified Beyond the Bell program is extremely grateful to have partners like LAFC and LAFC Foundation," LAUSD Regional Director Howard Serpas said. "These futsal pitches have given our students, their families, and our communities the amazing opportunity to play the beautiful game "soccer" before, during, and after school. The addition of Musco Lighting will create even more access to the courts, an enormous win for LA."
Since the Club's inaugural season in 2018, LAFC, the LAFC Foundation and Kaiser Permanente have refurbished a total of 11 courts and pitches, continuing their goal to unite the world's city through the world's game.
You can read more articles about global futsal by going to the top navigation bar or click here
If you like this article and would like to keep updated on Futsal news, developments, etc then you can now follow Futsal Focus via Google News by following our page which will send you an alert as soon as we publish an article so please click here and follow us on Google.
You can also keep updated on Futsal news, developments, etc then please submit your email below in the Subscribe to Futsal Focus option.
Follow Futsal Focus by clicking on Facebook, Twitter, or Instagram or on the social media buttons on the website.