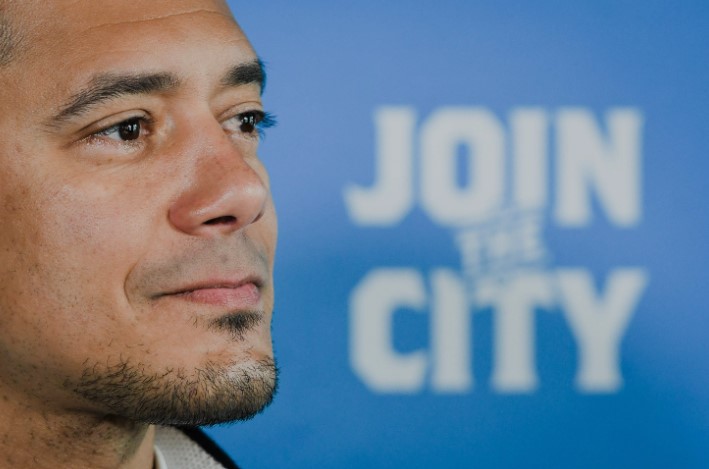 Estimated reading time:7 minutes, 9 seconds
US Futsal Gears Up for Transformation: Hewerton Moreira's Appointment Unveils New Era
U.S. Soccer has announced the appointment of Hewerton Moreira as the new head coach for the U.S. Men's Futsal National Team. Moreira is set to lead his first training camp from September 13-17 in Philadelphia, steering the team's preparations for the crucial 2024 Concacaf Futsal Championship, a pivotal qualifier for the 2024 FIFA Futsal World Cup in Uzbekistan.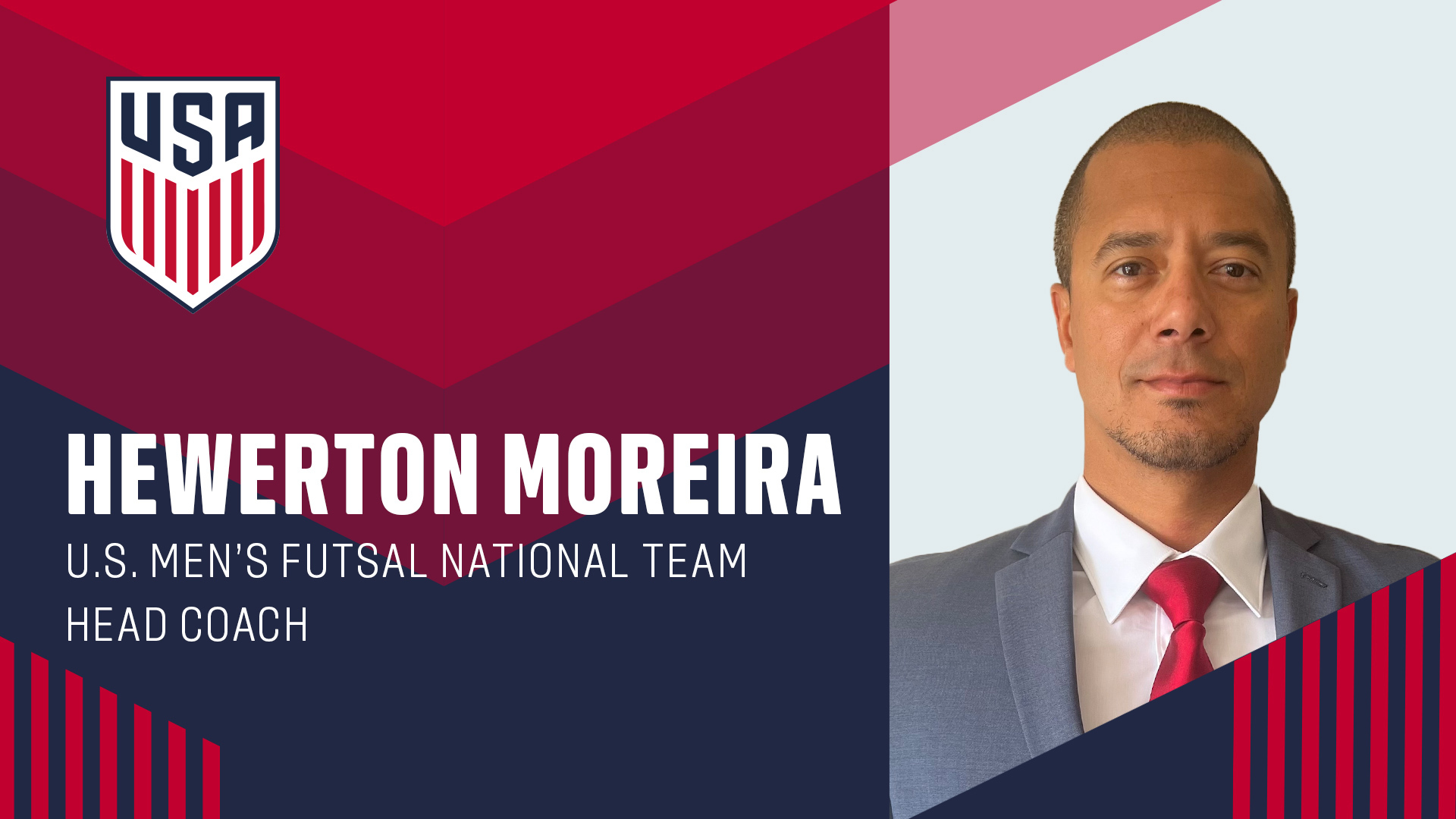 Moreira brings a diverse experience, encompassing 23 years as a player across futsal, indoor, and outdoor soccer, complemented by 17 years as a coach. Hailing from Santos, Brazil, Moreira's playing journey spans Brazilian clubs like Santos Futsal Clube, Saldanha da Gama, Osan Futebol Clube, A.A. Portuarios, and FEFIS-UNIMES FC. He secured an impressive nine consecutive futsal league championships from 1997 to 2004 and featured in the Brazil Futsal National Team player pool in 1995 and 1998.
Transitioning to the U.S. in 2004, Moreira embarked on a successful 16-year indoor soccer career, registering a remarkable 198 goals and 174 assists across 301 matches for various clubs in the Major Indoor Soccer League and Major Arena Soccer League. His most triumphant stint came with the Milwaukee Wave, contributing to three MISL championships in 2004-05, 2010-11, and 2011-12.
At 43 years of age, Moreira embarked on his coaching journey while still an active player in 2006. His evolution saw him take on the dual role of player and coach for the MASL's Cedar Rapids Rampage in 2016. This journey of leadership progressed as he ascended to the role of head coach for the St. Louis Ambush, a role he held for a rewarding four-season span. Notably, his recent endeavors encompassed serving as the Technical Director of Chicago Street Futsal in 2021. Subsequently, he secured the position of head coach for the MASL's Utica City FC in 2022, deftly managing this role alongside his responsibilities as the head coach of the U.S. Men's Futsal National Team.
In his inaugural season as the coach of Utica City FC, the team clinched a respectable third place; however, they fell short of securing a spot in the playoffs. The subsequent season marked a significant restructuring of the MASL into Eastern and Western conferences, announced on October 6, 2022. In this context, Moreira's leadership guided Utica City FC to secure the fourth position in the Eastern Conference, earning them a coveted spot in the playoffs. Their journey led them to the quarter-finals, where they faced a formidable challenge against Moreira's former club, the Milwaukee Wave, ultimately concluding their season.
(Below is an excerpt from Hewerton's introductory interview to the Utica City FC fans upon assuming the coaching role.)
Speaking to U.S. Soccer, he expressed his honor to lead the U.S. Men's Futsal National Team, Moreira underscored his affinity for futsal as the foundation of his sporting journey. His enthusiasm for steering a talented player pool towards the 2024 Futsal World Cup qualification is palpable.
"I'm incredibly honored to lead the U.S. Men's Futsal National Team," Moreira said. "Futsal was the first version of the sport that I played, so this opportunity takes me back to my roots. I'm thrilled to work with a strong pool of players that have developed together through this cycle as we work towards qualification for the 2024 Futsal World Cup."
Moreira inherits a team riding the momentum of finishing as runners-up in the 2021 Concacaf Futsal Championship and clinching a berth in the 2022 FIFA Futsal World Cup in Lithuania – marking the team's first World Cup appearance since 2008.
Holding a Brazilian CREF/CONFEF "A" Coaching License and a Bachelor of Science degree in Physical Education from FEFIS-UNIMES University in Santos, Brazil, Moreira is a seasoned expert in his field. His fluency in English, Portuguese, and Spanish augments his communication prowess.
U.S. Soccer Senior Technical Director of Extended National Teams, Stuart Sharp, lauded Moreira's dual American and Brazilian experiences, affirming his suitability to steer the U.S. Men's Futsal National Team. Sharp also commended Sascha Filippi, the interim head coach since May, and his continued involvement as an assistant coach.
"Hewerton's long-time futsal and indoor experience in both the United States and Brazil make him an excellent choice to lead the U.S. Men's Futsal National Team," said U.S. Soccer Senior Technical Director of Extended National Teams Stuart Sharp. "He is a great locker room leader whose knowledge of futsal and familiarity with our player pool will help us greatly as we look to qualify for our second consecutive FIFA Futsal World Cup next year. Additionally, we want to thank Sascha for his guidance of the Futsal National Team this year and we're thrilled that he will continue to work on the staff as an assistant coach."
Hewerton Moreira's appointment signals a new chapter for U.S. futsal, underlining the dynamic evolution underway as the team aspires to qualify for the FIFA Futsal World Cup in 2024.
The appointment of Hewerton Moreira as the new head coach of the U.S. Men's Futsal National Team sparks intrigue. Hewerton Moreira brings forth his professional insights from his playing days in Brazil and his involvement with the Brazilian National Futsal Team. Yet his substantial coaching tenure at a professional level is firmly grounded in the realm of Indoor Soccer in America. His most recent playing chapter has also been closely aligned with the landscape of Indoor American Soccer.  Nonetheless, his role as the technical director at Chicago Street Futsal constitutes his initial venture into futsal coaching and he continued to be involved in futsal when the opportunity presented itself. Here is a clip of Hewerton scoring in the CONCACAF Futsal Club Championship in 2017 for Elite Futsal who reached the Final of the competition (CONCACAF has blocked the video from being embedded in other websites so go to this link to view his amazing goal): https://www.youtube.com/watch?v=mcwJcKq34gs
Significantly, this fresh endeavor takes place on the global futsal stage – an ambitious aspiration and an exacting platform, even for coaches with extensive futsal-specific expertise. Transitioning from player to coach is a formidable feat, as seen in his MASL journey. Observing how he assimilates into international futsal will be intriguing. Adapting his past experiences to tackle this challenge is poised to be a compelling expedition for Hewerton. Similarly, his players must wholeheartedly embrace the task of assimilating and implementing his instructions, which will play a pivotal role in this transformative odyssey.
Beyond coaching, an intriguing perspective to explore is how his reputation could be harnessed to raise Futsal awareness among fans of Indoor American Soccer. His MASL club has already showcased his appointment as the head of the national futsal team on their official Instagram page.
View this post on Instagram
Additionally, MASL has recognized his appointment by sharing the aforementioned post from his club's page – a narrative laden with intriguing promise. His forthcoming journey and potential success might just serve as a catalyst for transformation, or perhaps I'm indulging in wishful thinking! Nonetheless, I have long contemplated the potential impact that MASL could wield on the sport by pivoting its emphasis from Indoor Soccer to Futsal. Imagine the possibilities of an MAFL materializing and the ripple effects it could have on the wider American sports scene.
As Moreira embarks on this pivotal journey, Futsal Focus extends our sincere well-wishes. We will follow not only his trajectory but also the expedition of the American Futsal team under his guidance. The narrative is set for an exciting chapter in American futsal, and we're eager to witness the narrative unfold.
Author of the Interview 
Stephen McGettigan was born in the Republic of Ireland but grew up in Belfast. He is the founder of Futsal Focus and a Football Industries MBA graduate from the University of Liverpool Management School. Stephen has worked in the Football and Futsal industries for 15 years.
Organ Donation
Futsal Focus is a supporter of Dáithí Mac Gabhann and his family's campaign to raise awareness of Organ Donation. We encourage our readers to learn more about Organ Donation: https://www.organdonation.nhs.uk/
Futsal Focus
You can read more articles about international futsal by going to the top navigation bar or by clicking here
If you like this article and would like to keep updated on Futsal news. You can now follow Futsal Focus via Google News. Follow our page which will send you an alert as soon as we publish an article. Please click here and follow us on Google.
You can also keep updated on Futsal news by submitting your email below in the Subscribe to Futsal Focus option.