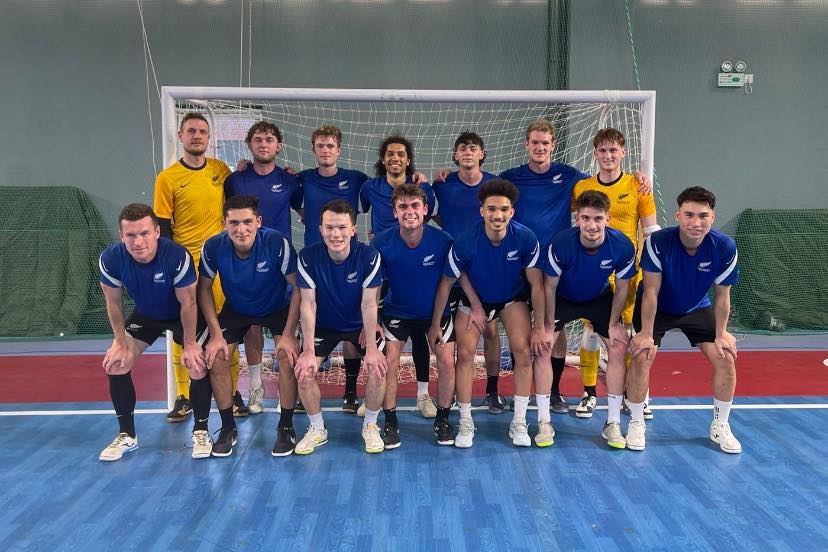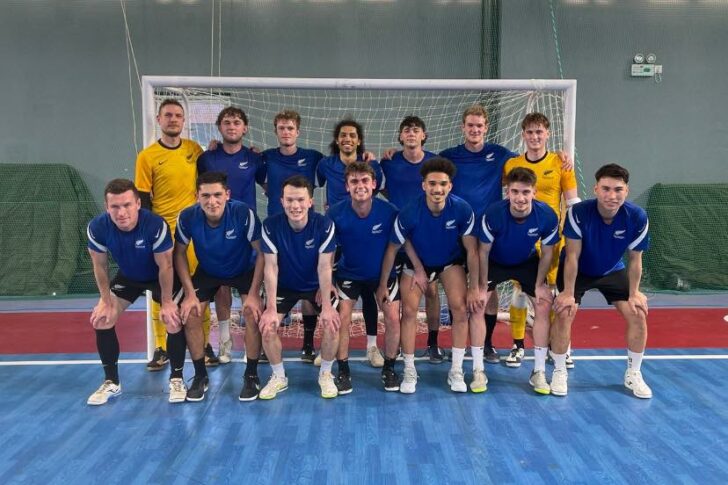 Estimated reading time:4 minutes, 20 seconds
New Zealand Prepares to Challenge in the OFC Futsal Nations Cup for a place in the 2024 FIFA Futsal World Cup
Futsal news so far this year from Oceania has been dominated by developments related to the Solomon Islands. They have hired a new head coach, Damon Shaw from England, and heavily invested in the team's preparation for the OFC Futsal Nation's Cup, which serves as the 2024 FIFA Futsal World Cup qualifier. While the Solomon Islands have historically dominated this competition since 2008, they faced a setback last year when they lost to New Zealand.
(Main picture – New Zealand Futsal Whites Facebook)
The Kurukuru, as they are known globally, embarked on a journey this year that took them to Fiji for the Extra SuperMarket Melanesian Futsal Cup, which they won. They then traveled to Vietnam, where they suffered two significant defeats. Subsequently, they participated in the PacificAus Sports Futsal Series in Australia, resulting from a partnership with the Australian Government and Australia's Department of Foreign Affairs through PacificAus Sports. The opening game ended in a historic 1-1 draw, but the following two games ended in defeat. The team also participated in the Continental Futsal Championship in Thailand, suffering heavy defeats to Thailand, Myanmar, and Mozambique. Despite these challenges and heavy defeats, these were fixtures that would be difficult for many nations.
During this time, however, questions arose about New Zealand's preparations. Futsal Focus reached out to Marvin Eakins, the national head coach, to inquire about their preparations, what qualifying for the World Cup and defending the OFC Futsal Cup meant to him, his players, his staff, New Zealand Football, and the Kiwi Futsal Community.
Marvin informed us that their journey began immediately after the last qualifiers, with the implementation of a rigorous national training program for local-based players. Some team members honed their skills abroad, gaining diverse experiences in England and at the World University Futsal Championship. Others played in the New Zealand national league, which was broadcast on Sky Sports in New Zealand.
However, their preparation process encountered challenges, including difficulties in securing international fixtures. Despite setbacks, the team remains focused and is determined to face whatever challenges lie ahead.
Excitement and anticipation permeate the squad. Eakins emphasizes the heightened competition in the region, with five or six teams having a real chance at victory. The upcoming qualifiers promise an enthralling challenge for all involved.
In a historic move, New Zealand will host the qualifiers for the first time, providing a unique opportunity to showcase top-tier futsal games to the local community. Eakins acknowledges the essential role played by fervent supporters, making the hosting rights even more special.
As the qualifying event approaches, Marvin Eakins and his team remain dedicated and determined to represent their nation with pride. The Kiwi futsal community eagerly awaits the outcome, cheering on their homegrown talents against their neighbors and Oceania's powerhouse, the Solomon Islands. With unwavering support and unity, New Zealand's futsal community is ready to witness history in the making.
In recent news, New Zealand Football announced that the Futsal Whites would play two matches against China this month, marking their first full international matches since winning the OFC Futsal Nations Cup 2022 in October.
The games will take place in China tomorrow and on the 17th, with both matches kicking off at 6:30 pm Beijing Time (10:30 pm NZT).
Head Coach Marvin Eakins eagerly anticipates the opportunity to work with the squad before competing in the OFC Futsal Nations Cup for a chance to qualify for next year's FIFA Futsal World Cup in Uzbekistan.
Eakins expressed his delight at having these international matches to further their preparations. He emphasized the goal of qualifying for New Zealand's first-ever Futsal World Cup, especially with the chance to do so on home soil in front of local fans.
Eakins's squad for the two games against China features players from clubs in New Zealand and around the world. These matches will help build chemistry within the team and assess their progress against strong opposition.
Both games will be played at the National Football Training Centre in Xianghe, but unfortunately, they will be closed to spectators. The games will be livestreamed by the Chinese Football Association and accessible for viewing in New Zealand.
For coverage of the matches, the Futsal Whites World Cup Qualification campaign, and all things futsal in New Zealand, follow NZF Futsal on Instagram and Facebook:
Instagram: https://www.instagram.com/nzffutsal/
Facebook: https://www.facebook.com/NZFFutsal
Organ Donation
Futsal Focus is a supporter of Dáithí Mac Gabhann and his family's campaign to raise awareness of Organ Donation. We encourage our readers to learn more about Organ Donation: https://www.organdonation.nhs.uk/
Futsal Focus
You can read more articles about international futsal by going to the top navigation bar or by clicking here
If you like this article and would like to keep updated on Futsal news. You can now follow Futsal Focus via Google News. Follow our page which will send you an alert as soon as we publish an article. Please click here and follow us on Google.
You can also keep updated on Futsal news by submitting your email below in the Subscribe to Futsal Focus option.