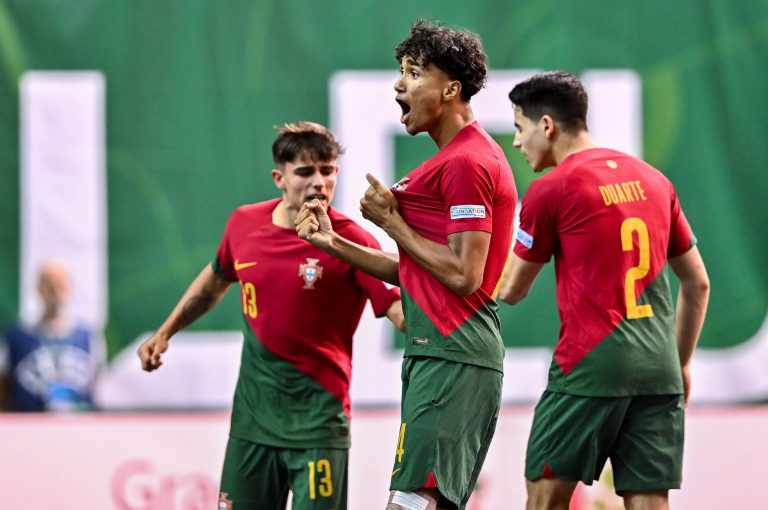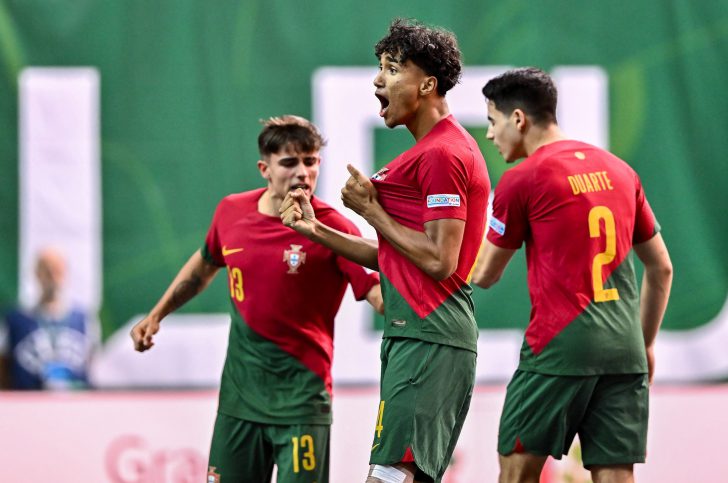 Estimated reading time:3 minutes, 26 seconds
Portugal's Sensational Comeback Seals U19 Futsal EURO Triumph, Ends Spain's Reign
In an exhilarating showdown at the UEFA European Under-19 Futsal Championship final in Poreč, Croatia, Portugal showcased their unwavering spirit by clawing their way back from a two-goal deficit to claim the coveted title. This epic encounter marked the third edition of the tournament and, significantly, the end of Spain's stranglehold on the championship. Portugal's remarkable journey to supremacy began with a fiery opening group encounter against Spain, where they initially trailed 2-0 before rallying to a triumphant 5-3 finish.
(Main picture source: UEFA)
From the outset of the final, Portugal displayed an impressive determination to dominate the match. However, less than five minutes into the contest, Pol Salas capitalized on a loose pass, launching an attack that ultimately led to the opening goal. Despite an initial save by the Portuguese goalkeeper Guilherme Cintra, Salas remained relentless and found the net with a follow-up strike.
Moments later, Cintra exhibited his prowess by denying a formidable Miguel Ángel Vicente strike. Nevertheless, Spain continued their relentless pursuit, with Javi Martínez expertly converting a corner pass from Salas, doubling their lead.
Portugal, unyielding in their pursuit of the championship, managed to reduce the deficit before the midway point of the half, thanks to a spectacular free-kick executed by their captain, Lúcio Rocha.
As the contest unfolded, Portugal's ascendancy became increasingly evident. Pau López, Spain's goalkeeper, thwarted an attempt by Andriy Dzyalochynskyy, displaying exceptional reflexes. Yet, just before halftime, Andriy found the equalizing goal, stretching to touch in Bruno Maier's powerful drive.
Spain's captain, Adrián Tapias, came tantalizingly close to restoring their lead early in the second period, striking the post before losing his footing while attempting to convert the rebound into an empty net. Victor Ramos and Pedro Santos also came agonizingly close to altering the scoreline.
Portugal seized the lead in the 27th minute, executing a precise corner move that culminated in Salas inadvertently turning Pedro Marques's delivery into his own net. An almost certain fourth goal was thwarted by Pau López, who miraculously denied Andriy's point-blank range effort.
Despite being the defending champions and relentlessly pushing to retain their trophy, Spain found themselves on the brink of a comeback. Guilherme Cintra embarked on a daring solo run, narrowly missing the target. In a pivotal moment, Tomás Colaço extended Portugal's lead with a ten-meter penalty, rendering the scoreline 4-2.
As Spain launched an all-out offensive in pursuit of an equalizer, Lúcio Jr, Portugal's standout performer, calmly rolled the ball into an unguarded net, solidifying not only his team's victory but also his claim to the Player of the Tournament accolade and the top scorer of the finals title. Pedro Santos sealed the triumph, ensuring that Portugal reversed the 6-2 scoreline by which Spain had triumphed in the 2022 final after extra time.
In a scintillating showcase of skill and determination, Portugal emerged as the new U19 Futsal EURO champions, marking a historic moment in the tournament's history and bringing an end to Spain's championship reign.
Author of the Interview 
Stephen McGettigan was born in the Republic of Ireland but grew up in Belfast. He is the founder of Futsal Focus and a Football Industries MBA graduate from the University of Liverpool Management School. Stephen has worked in the Football and Futsal industries for 15 years.
Organ Donation
Futsal Focus is a supporter of Dáithí Mac Gabhann and his family's campaign to raise awareness of Organ Donation. We encourage our readers to learn more about Organ Donation: https://www.organdonation.nhs.uk/
Futsal Focus
You can read more articles about international futsal by going to the top navigation bar or by clicking here
If you like this article and would like to keep updated on Futsal news. You can now follow Futsal Focus via Google News. Follow our page which will send you an alert as soon as we publish an article. Please click here and follow us on Google.
You can also keep updated on Futsal news by submitting your email below in the Subscribe to Futsal Focus option.