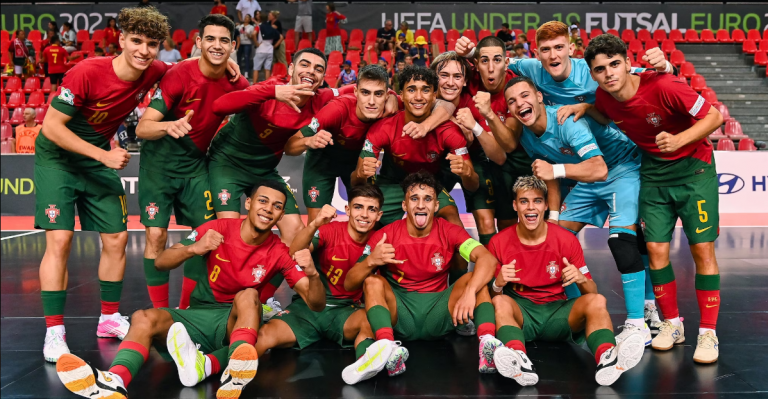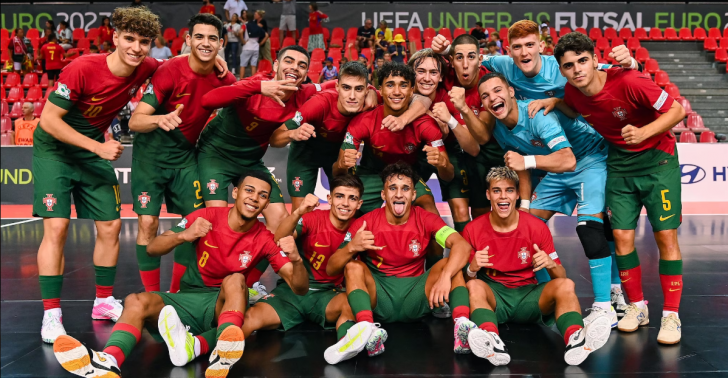 Estimated reading time:4 minutes, 0 seconds
Portugal and Spain Secure Thrilling Victories to Set Up UEFA Under-19 Futsal EURO 2023 Final Showdown
The UEFA European Under-19 Futsal Championship is heating up as Portugal and Spain claim hard-fought victories, setting the stage for an epic final showdown. With Spain aiming to maintain their stranglehold on the competition since 2019, much anticipation surrounds the final clash.
(Main picture: Portugal celebrate their late win against Slovenia – UEFA via Sportsfile)
Portugal's Journey to the Final
Portugal's journey to the final was sealed by captain Lúcio Rocha's last-minute heroics, securing a 3-2 victory against a resilient Slovenian side. Despite missing the influential Andraž Gregorič, Slovenia put up a valiant fight, spurred on by their passionate blue-clad supporters. Portugal, having breezed through the group stage with a perfect record, asserted their dominance with a solo strike by Tomás Colaço in the first half. However, Slovenia responded swiftly with Lovro Skrinjar converting a corner from Vid Kos.
The tide turned in Portugal's favor after halftime when Tiago Macedo delivered a cross from the right, only to see Anže Žlindra inadvertently deflect the ball into his own net under pressure from Pedro Santos. Slovenia, refusing to be outdone, leveled the score with a low finish from Luka Čop, almost taking the lead moments later. It was Portugal's Lúcio Jr. who played the role of the hero, finding the net late in the game to send his team to their second consecutive final.
Key Stat: Portugal now holds the record for the most all-time wins in this competition, boasting an impressive 20 victories.
Portugal's coach, José Luís Mendes, acknowledged the challenge posed by Slovenia, stating, "I think it was a fair result. Slovenia had a very strategic style of long balls every time. We had a very attacking game, a lot of shots on goal, it is a pity we couldn't score earlier." Rúben Carrilho, a player for Portugal, highlighted the unpredictable nature of futsal, saying, "That's what futsal is about, sometimes it's easy and sometimes it's hard."
Slovenia's coach, Tomislav Horvat, commended his team's effort and resilience, saying, "My guys gave everything and I am satisfied. OK, with one minute to go … but we gave everything we had and I am very, very proud of this team."
Spain's Dominance Continues
On the other side of the bracket, Spain got off to a flying start against Ukraine, securing a 3-2 victory. Spain's Adrián Tapias opened the scoring with a well-placed shot after intercepting a pass, while Juanico extended the lead, setting up Roger Panadès for a confident finish.
Ukraine, seeking redemption after their 2022 semi-final defeat to Portugal, pulled one back late in the first half through Dmytro Rybitskyi's conversion of Maksym Malynovskyi's corner. Ukraine had opportunities to level the score, with Rubén Rodó hitting the post and Roger's follow-up saved by Dmytro Diachenko.
In the early stages of the second half, Ukraine completed their comeback, with Andrii Yelishev assisting Denys Snitsarenko for a cool finish. However, Spain responded almost immediately, as Victor Ramos capitalized on a Javi Martínez corner to secure a 3-2 lead. This turned out to be the decisive goal, setting up a final clash against Portugal, reminiscent of last year's final.
Key Stat: Spain aims to continue their dominance by winning every edition of the tournament since 2019, mirroring their success in the UEFA Women's Futsal EURO earlier this year.
Spain's coach, Albert Canillas, acknowledged the importance of reaching the finals and looked ahead to the highly anticipated match against Portugal, stating, "The team is growing. Spain and Portugal, we know each other very well, we are like brothers." Victor Ramos, the goalscorer for Spain, expressed his pride in the team's performance, particularly their ability to bounce back from challenging moments, saying, "I'm very proud of the team because we've continued to come back throughout the tournament."
Ukraine's coach, Ihor Moskvychov, congratulated Spain on their victory and acknowledged that his team's initial game plan was disrupted by Spain's fast start. Nevertheless, he remained proud of their efforts.
Organ Donation
Futsal Focus is a supporter of Dáithí Mac Gabhann and his family's campaign to raise awareness of Organ Donation. We encourage our readers to learn more about Organ Donation: https://www.organdonation.nhs.uk/
Futsal Focus
You can read more articles about international futsal by going to the top navigation bar or by clicking here
If you like this article and would like to keep updated on Futsal news. You can now follow Futsal Focus via Google News. Follow our page which will send you an alert as soon as we publish an article. Please click here and follow us on Google.
You can also keep updated on Futsal news by submitting your email below in the Subscribe to Futsal Focus option.