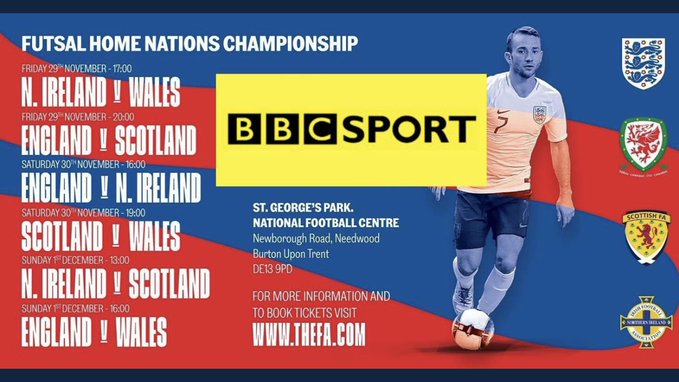 Estimated reading time:4 minutes, 11 seconds
At 5 pm today, the Home Nations Futsal Championships kicked off day one with Northern Ireland v Wales at St Georges Park in England.  It was a very interesting match in terms of how the game exposed the strengthens and weaknesses of both these developing nations.
Wales were effectively a nation of two teams, and how they were rotating them produced different outcomes. Wales' starting 5 were their strongest team featuring Connor Rodgers and Jordan Davies who both scored hat-tricks. Whereas the second team found themselves under pressure and Rico Zulkarnain was not on point to the talent level we know he can be so Northern Ireland were able to fight their way back into the match.
The experience on the international stage showed also as many of the players competing for Wales have been playing Futsal for  5 or more years and at the international level as well. On the other hand, Northern Ireland gave a number of players debuts for their nation. Furthermore, the Welsh players have been playing together for much longer and recently returned from a successful trip to Austria. The last 10 minutes started to show the difference in fitness levels between both squads, Northern Ireland began to run out of steam and Wales capitalized on this. Throughout the match, a major development point for Northern Ireland is to work on their passing. In football, you will have much more time to control the ball and compose yourself but in Futsal, you don't have the same amount of time or space which is why passing accuracy is vitally important along with staying calm especially under pressure from an opponent. Wales showed the ability to stay calm on the ball but if they want to challenge England for the Home Nations trophy, time on the ball will be different, their mental toughness will be crucial especially when the squad is rotated and under pressure. And, for Northern Ireland, they will want to stop another high scoring defeat, therefore, their passing and their ability to hold on to the ball and knowing how to slow the game down when their opposition is pressing them and in the lead, will have to improve as well.
Congratulations to Wales on winning the match but winning or losing this fixture shouldn't matter for either of these teams, both nations have a lot of work to do, they are here to learn and continue on their learning journeys. Northern Ireland will need to reflect on how they can control the game more on the ball especially when their next fixture is against hosts England. Wales may want to mix things up more in the next game against Scotland and Paul Jones could possibly give the younger players an opportunity to get experience at this level. It is nice to win the Home Nations but this competition should be more about development, an opportunity for game time, using your squad, trying different tactics out, having the confidence to use a technical skills, etc.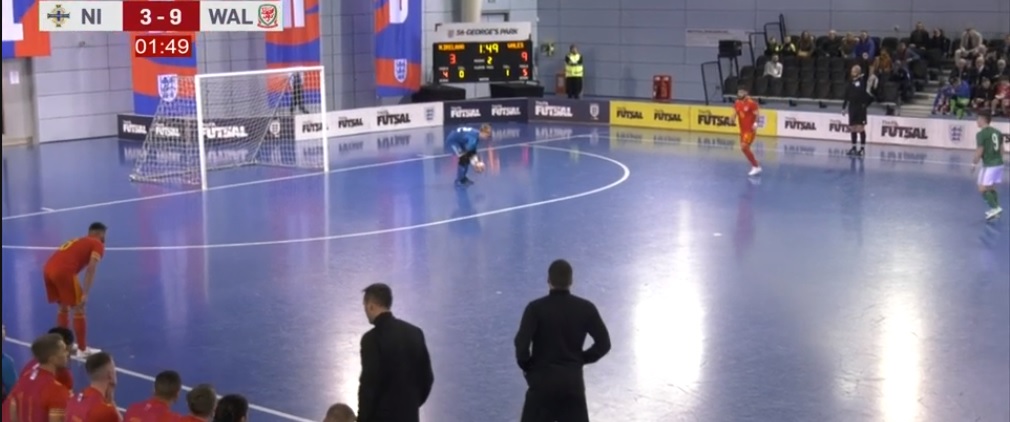 The scoreline shouldn't mean anything to the Northern Irish team when England was starting out they had more than a few friendly scorelines they moved on from and developed. The Northern Ireland squad has not played much together competitively and the country is ten years behind their rival nations in their development. However, this is actually the most experienced team they have brought to a Home Nations tournament. The squad has players playing in Scotland (Wattcell Futsal Club), Wales (Cardiff University Futsal Club), England (Baku United Futsal Club, Durham Futsal Club, Manchester Futsal Club, Bolton Futsal Club, and Reading Royals Futsal Club) and Spain ( E.D. Brunete Futbol Sala). These experiences playing together will be a golden opportunity and no doubt the domestic experience of these players will start to show in their game especially as they start to get used to playing together, we may see them perform better against England and Scotland. However, how Northern Ireland and Wales continue the development of their own national leagues will be important to the national team due to the players it can potentially produce to compete at the International level. England is a perfect example, the National Futsal Series launched this year is the product of many years of various league development stages. Northern Ireland has an opportunity to utilize an experienced coach in Martin Perciavalle from Uruguay who coaches Belfast Celtic Futsal. It would be a great opportunity for the association to use him with Jonathan Michael for coach education, league player development camps, etc.
You can watch the matches live on BBC Sport: https://bbc.in/2suwRoE
If you like the information provided, you can read more articles about International futsal by going to the top navigation bar or click here
If you like this article and would like to keep updated on Futsal news, developments, etc then please submit your email below in the Subscribe to Futsal Focus option.
Follow Futsal Focus by clicking on Facebook, Twitter or Instagram or on the social media buttons on the website.