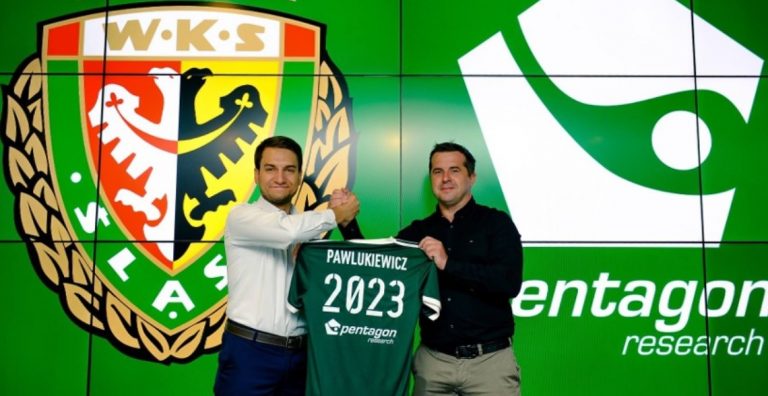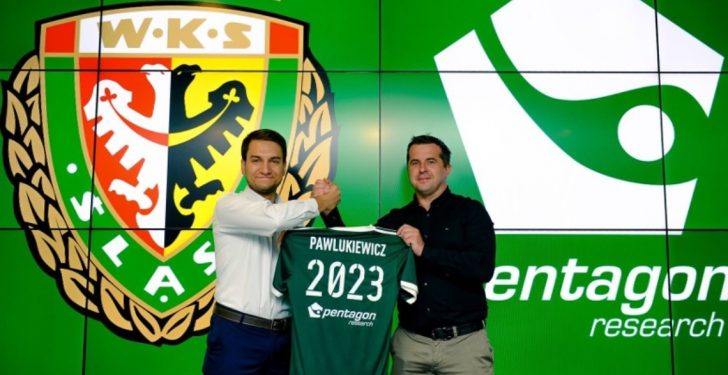 Estimated reading time:4 minutes, 35 seconds
WKS Śląsk Futsal Wrocław and Pentagon Research at the Wrocław Stadium announced their partnership. The contract, initialled on Monday, August 9, will continue until 2023. Pentagon Research, which has gained the status of a Gold Partner, will prepare reports on the effectiveness of media coverage for the club and research reports every six months for its sponsors and the City of Wrocław. The company's logotype will be on their match shirts.
"This is a great moment for WKS Śląska Futsal Wrocław . We join the group of Pentagon Research as business partners, which is a great reward and prestige for us. Together, we will build a club fighting for the highest goals," said Sebastian Bednarz , President of the club in Wrocław. "After many hours of talking about sports, marketing and business, I know that we have a lot in common, and this is a guarantee of success. Many thanks to Konrad Pudło and Adam Pawlukiewicz for their trust. I am convinced that we can do a lot together," he added.
In the 2021/22 season, WKS Śląsk will take part in the Second Futsal League, the Polish Cup, the Polish Youth Championship and other tournaments of international importance. The club is built by young people who already have experience, passion and commitment. The sports aspect is based on the best young players from Wrocław in the region.
"The club has a relatively short history. It was founded in November 2020. The idea of ​​a futsal team in green, white and red appeared ten years ago. Now, it has been possible to achieve thanks to a group of people who made it happen. We met, talked for a while and it sparked. Times are difficult, so we were struggling to start, but due to a  flow of good news, this motivated us, and we decided to start," recalls Sebastian Bednarz, who founded KS Orła Futsal Jelcz-Laskowice in 2015 and introduced him to the Futsal Ekstraklasa. The current president of WKS Śląska managed to bring Adriano Foglia who was recognised as the best player in the world in 2003, to Lower Silesia, among others.
One of the bases of the activity of WKS Śląska is to train children, and youth. From September 2011-2017 players will train in the Futsal Academy in Oleśnica, which is under the club's supervision. The mentioned facility is the only place of this type in Lower Silesia. The staff of Wrocław are also involved in international projects. In August, they co-organized in Wałbrzych the preparations of the Solomon Islands team for the FIFA Futsal World Cup, which will be held in Lithuania in September.
"At WKS Śląsk Futsal, we saw a project with great potential for development, both in terms of sports and organization. It is really exciting that Pentagon Research will be involved in building the brand of a professional futsal team almost from the very beginning. Cooperation with such sports enthusiast as Sebastian Bednarz is a great pleasure. I hope that our actions will translate into sports promotion, and futsal will become one of the disciplines most popular with fans in Wrocław," said Adam Pawlukiewicz , head of research and development departments at Pentagon Research.
Pentagon Research is a research company with 22 years of experience working with the largest entities on the sports market in Poland. He conducts research for state-owned companies and companies listed on the Stock Exchange. In addition, it cooperates with the largest sports unions, clubs, sportsmen and public benefit organizations.
Pentagon Research together with the Forbes magazine is co-organizing the Ranking of "50 Most Influential People in Polish Sport". He also runs the Sport Barometr – the most comprehensive sports marketing research in Poland. It allows you to track trends in changes in interest in particular sports events and their marketing potential. The company also works and has partners on the American, German, Italian, British and Ukrainian markets.
The new Gold Partner will regularly carry out reports on the effectiveness of media coverage for the club and research reports every six months for the sponsors of WKS Śląska Futsal and the City of Wrocław. The Pentagon Research logotype will appear, among others on match shirts, advertising bands or posters announcing individual games.
Futsal Focus supports the Donate4Dáithí campaign
To follow the Donate4Dáithí campaign, you can visit their website here: www.donate4daithi.org  or on Facebook at: https://www.facebook.com/Donate4Daithi you can also donate money to their campaign at: https://www.justgiving.com/crowdfunding/donate4daithi
You can learn more about the Donate4Dáithí campaign by going to our article here
You can read more articles about domestic futsal by going to the top navigation bar or click here
If you like this article and would like to keep updated on Futsal news, developments, etc then you can now follow Futsal Focus via Google News by following our page which will send you an alert as soon as we publish an article so please click here and follow us on Google.
You can also keep updated on Futsal news, developments, etc then please submit your email below in the Subscribe to Futsal Focus option.
Follow Futsal Focus by clicking on Facebook, Twitter, or Instagram or on the social media buttons on the website.