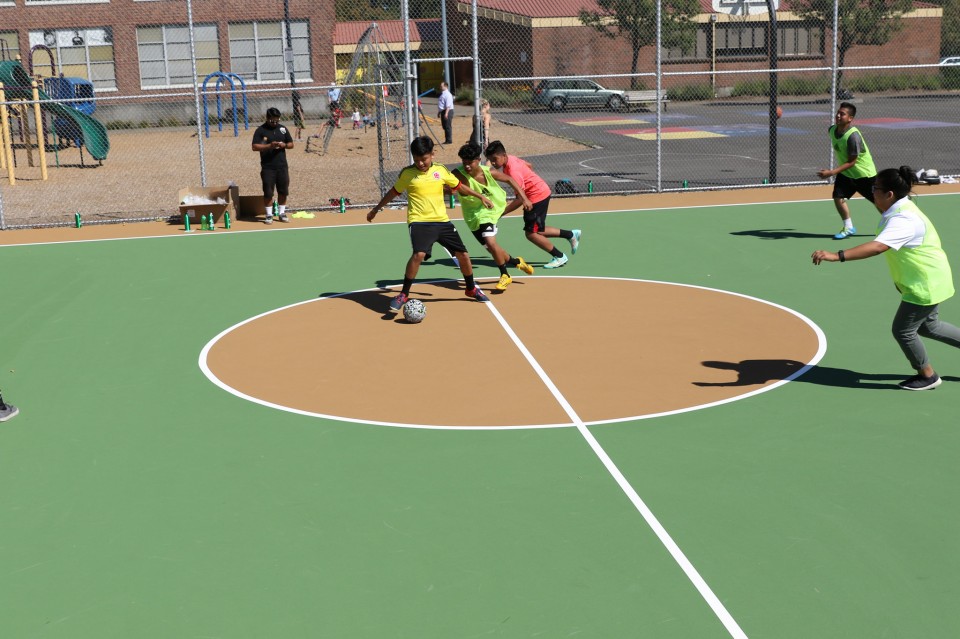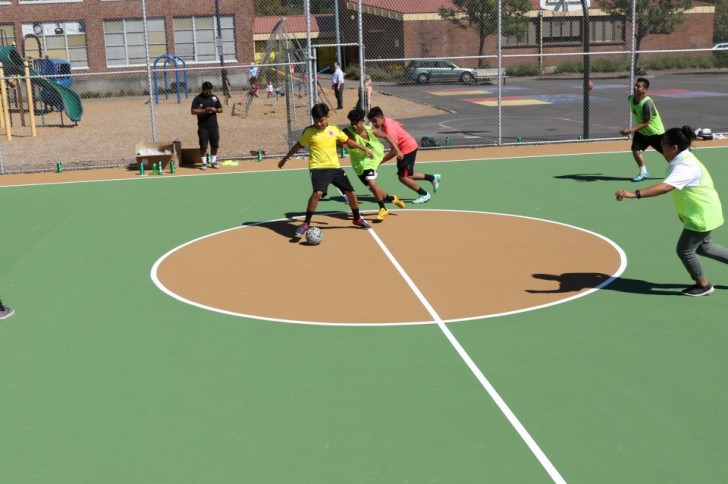 Estimated reading time:4 minutes, 20 seconds
Recently, we posted about Keith Tozer the Commissioner of the Professional Futsal League launching in the United States of America,  unveil a Futsal community stadium/ hub in Milwaukee, Wisconsin in his role as the President of the Wisconsin Sports Group. This week in Portland, Oregon another Futsal court was unveiled by Major League Soccer team the Portland Timbers and their partners, Operation Pitch Invasion.
The Portland Timbers and Operation Pitch Invasion unveiled new futsal courts at Martin Luther King Jr. Elementary School Wednesday. King's Court is the second set of futsal courts unveiled by the group, which partnered to also develop SNAKE Court at Vance Park in 2015.
The full release from the Timbers is below:
PORTLAND, Ore. – As part of the Fields For All partnership between the Portland Timbers' community initiative, Stand Together, and Operation Pitch Invasion (OPI), King's Court was unveiled today at Martin Luther King Jr. Elementary School. Additionally, Stand Together provided a $25,000 grant to Active Children Portland in May, helping to provide sustainable programming for the fields and futsal courts being developed.
The unveiling marked the second set of futsal courts presented by the Fields for All partnership, with Stand Together and Operation Pitch Invasion partnering on the development of SNAKE Court at Vance Park last year. Since 2011, the Timbers have contributed to 11 soccer fields and futsal courts, providing the greater Portland area with organized outlets for playing soccer.
The pair of new futsal courts at Martin Luther King Jr. Elementary School will support local youth programs, encourage children to live a healthy, active lifestyle and signifies the strong commitment the Timbers, OPI and fans have to supporting the surrounding community. Portland Mayor Charlie Hales joined Timbers players Fanendo Adi, Taylor Peay and Gbenga Arokoyo, club president of business Mike Golub, OPI members Shawn Levy and Josh Barrett and city officials and sponsors for a special dedication ceremony for King's Court on Wednesday.
King's Court was made possible through generous donations from the Portland Timbers' community sponsors, including adidas, JELD-WEN Windows & Doors, KeyBank, Providence Health & Services, Ross Electric, Uber and a partnership with Green King Neighborhood Association. Construction of the two courts took about six weeks, from start to finish.
Fields For All aims to identify 'recreation deserts' – communities underserved by recreational activities for kids – and fill them with safe, healthy and high-quality playing surfaces. Its work focuses on areas with open community access and neighborhood support. In addition, Fields For All targets locations in close proximity to schools, youth clubs and recreation centers, providing ongoing programming to support organized and structured play for local area youth.
Through their community outreach platform, Stand Together, the Timbers are committed to furthering their community mission to harness the power of sport to improve the lives of children and families in the region through targeted programs, deep partnerships and philanthropic giving. For more information on the Timbers community outreach programs and partners, visit timbers.com/stand-together.
OPI is a local, grassroots organization that builds, revitalizes and maintains soccer fields and futsal courts throughout the Portland metro area so that players of all ages and skill levels have high quality and safe playing surfaces to enjoy the beautiful game. OPI is an Oregon 501(c)(3) corporation. For more information visit www.pitch-invasion.org.
If you like the information provided, you can read more articles about grassroots and coaching by going to the top bar navigation or click here
If you like this article and would like to keep updated on Futsal news, developments etc then please submit your email below in the Newsletter section or by clicking on the Subscribe to Futsal Focus option on the header.
Follow Futsal Focus by clicking on Facebook, Twitter or Instagram or on the social media buttons on the right sidebar.