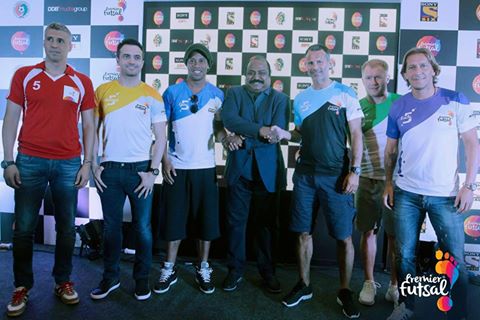 Estimated reading time:2 minutes, 12 seconds
Today Premier Futsal will kick off in India, an event which will be a wonderful occasion for Futsal awareness in India but in Bangkok, the AFC Futsal Club Championships kicked off between Vietnamese club, Sanna Khanh HOA FC and Taipei club, Taipower FC.
The positive impact that the Premier Futsal exhibition tournament in India has had already  is the All India Football Federation announcing their plans to develop a national futsal league which had not been publicly discussed at all until the Premier Futsal India venture was launched.
There has been positive and negative reactions to the inclusion of football stars such as Ryan Giggs and Paul Scholes taking part in the Premier Futsal tournament but at the same time this is not the soccerization of Futsal, this is using world football stars profiles who appreciate the sport to increase its awareness globally and within India. Furthermore, in countries where Futsal is established there is already an understanding that Futsal has contributed to the development of the world's best Football stars, therefore until Futsal can compete with Football to some level financially and provide those involved with global media attention, Futsal will lose talent to Football. However, there will also be players who are just more suited to the sport than Football and won't crossover. And, as the game grows around the world and more people start to enjoy it, you will find people watching Futsal in preference to Football. 
Hopefully, in the 2018 AFC Futsal Club Championships, we will have a new addition to the competition, an Indian national league champion and when this happens and more people across India, Bangladesh, Pakistan, Sri Lanka, Bhutan, Maldives and Nepal  are aware of Futsal and playing Futsal then we will see the beneficial impact of Premier Futsal, helping to grow the game in that region of the world. 
Below you can watch the Sanna Khanh HOA FC v Taipower FC match, the other fixtures kicking off today are NAFIT Al- Wasat (Iraq) v Dibba Al Hissin SCC (United Arab Emirates) and Chonburi Bluewave (Thailand) v Vic Vipers (Australia).
If you like the information provided, you can read more articles about global futsal by going to the top bar navigation or click here
If you like this article and would like to keep updated on Futsal news, developments etc then please submit your email below in the Newsletter section or by clicking on the Subscribe to Futsal Focus option on the header.
Follow Futsal Focus by clicking on Facebook, Twitter or Instagram or on the social media buttons on the right sidebar.