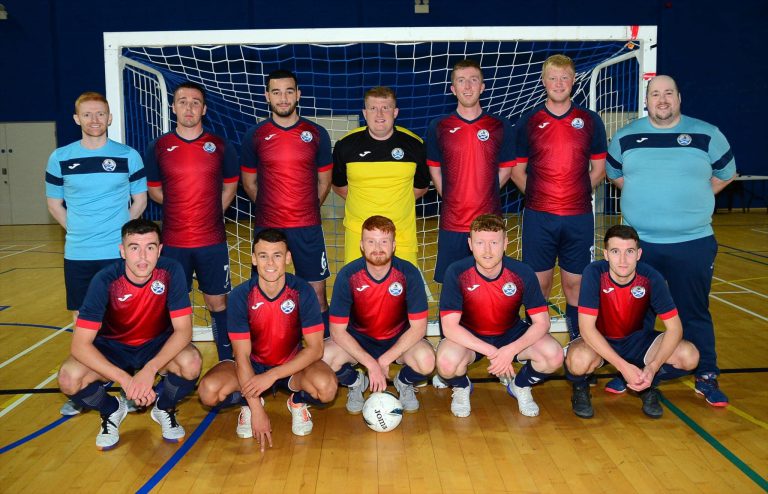 Estimated reading time:10 minutes, 13 seconds
From Scottish Glory to European Aspirations: PYF Saltires' Journey to the UEFA Futsal Champions League Preliminary Round
In an impressive feat, PYF Saltires has secured the title of Scottish Futsal League champions, guaranteeing their spot in this year's UEFA Futsal Champions League preliminary round. The team's exceptional journey to this stage has been marked by rigorous preparation, international matches, and an unwavering spirit.
As champions of the Scottish Futsal League, PYF Saltires has showcased their prowess on the domestic stage, earning them the honor of representing Scotland in the esteemed UEFA Futsal Champions League preliminary round. With their sights set on making a statement on the European platform, the club's dedication and hard work are evident in their meticulous preparations for this exhilarating challenge.
As the club gears up for the UEFA Futsal Champions League preliminary round, they have embarked on an all-encompassing training regimen to ensure peak performance. While details about any new signings remain undisclosed, the club's primary focus appears to be on amplifying their existing strengths.
International Showdowns: Friendly Matches Across Borders Sharpen PYF Saltires' Competitive Edge
In their pursuit of excellence, PYF Saltires embarked on international journeys to Ireland and England for friendly matches against formidable opponents. Their clashes in Ireland pitted them against Blue Magic Futsal Dublin and Sparta Belfast from Northern Ireland, affording them invaluable exposure to diverse playing styles and strategies. Crossing the English Channel, the club tested their mettle against Bloomsbury Futsal, the FA National Futsal Series champions, and Manchester Futsal Club, the league final runners-up. These friendly matches served as pivotal benchmarks for gauging their preparedness on the European stage.
Home Turf Advantage: Hampden Sports Clinic Ensures Optimal Physical Condition
Back on home soil, the club continued its rigorous training regimen. Notably, they underwent comprehensive medical examinations at Hampden Park, a testament to their unwavering commitment to peak physical condition. The medical assessments were conducted with the support of Hampden Sports Clinic, an entity dedicated to ensuring the players' fitness and well-being.
Group of Destiny: A Glimpse into PYF Saltires' UEFA Futsal Champions League Opponents
The draw for the preliminary round of the UEFA Futsal Champions League placed PYF Saltires in Group E. This formidable group includes opponents from various countries, such as Slovakia's Futsal Klub Lučenec, FC Cosmos Tallinn from Estonia, and FC Encamp from Andorra. This group promises intense competition and offers an opportunity for PYF Saltires to showcase their skills on the international stage.
With their domestic triumph, rigorous preparation, and exposure to high-caliber opponents through friendly matches, PYF Saltires stands poised to embrace the challenges of the UEFA Futsal Champions League preliminary round. Their journey epitomizes dedication and determination, and despite their amateur status, the club has seized opportunities to excel.
To gain deeper insights into PYF Saltires' journey and aspirations as they enter the UEFA Futsal Champions League preliminary round, we had the privilege of sitting down with Kyle Ballingall, a key figure from the club. In an exclusive interview, we delved into their experiences, strategies, and outlook as they embark on this significant European endeavour:
FF: Can you share your emotions after clinching the title of the Scottish Futsal League champions and securing a spot in the UEFA Futsal Champions League preliminary round?
KB: It was a very proud moment for us to win the league once again. As a club and individuals, it is something we have never taken for granted and we know we always must keep improving to remain there. Our aim at the start of the season was to win the league again, we were happy to do this with a 100%-win record while adding more youth academy players to the first team. The focus since then has been preparing for the UEFA Futsal Champions League.
FF: What has been the driving force behind your club's meticulous preparation for the European competition?
KB: Last year we played Blue Magic Dublin and felt this was a very worthwhile exercise for us. As part of this year's preparations, we wanted to take our players out of their comfort zone by providing different challenges along the way. We managed to play three clubs competing in the UEFA Futsal Champions League (Blue Magic Dublin, Bloomsbury, and Sparta Belfast) as well as Manchester who were close to qualifying themselves. These matches have proved invaluable to the preparations as well as facing Futsal Club 33 and Futsal Escocia who both play in Scotland with high aspirations of their own. We are aware that when we go away, we will be underdogs, so we must make sure we are prepared correctly and ready to face higher-quality teams in our group.
FF: Friendly matches against teams from Ireland and England offered diverse challenges. How do you believe these encounters have contributed to the team's readiness for the continental stage?
KB: The games have thrown up some important learnings ahead of this week's matches. In hindsight, playing two intense full games back-to-back in Dublin was too much with players picking up injuries keeping them out of the second match and the trip to Manchester. However, the players that got court time will be closer to the level and intensity required for UEFA. We have taken the learnings from these games and aimed to put them right in the last two friendlies. There are areas we would like to improve on this Wednesday, it is now about the players putting in a performance that we know we can.
FF: Could you shed light on the training regimen that has been put in place to ensure your players are in top physical and mental shape for the tournament?
KB: Our main priority has been to get as much court time as possible for all the players. Most of our players play football and have had an intense pre-season at their clubs, we have been focussed on ensuring players have had plenty of court time and we all know our jobs to contribute to the team's objectives. The players have been responsible for going to the gym and getting themselves in peak physical condition. We want to create a positive environment to ensure there is a belief throughout the squad. We believe we have a squad capable of competing in the matches in Slovakia. Last year, our defensive record was very good in the tournament. This year, we must maintain our defensive standards and pose more of a threat to the opposition and play on the front foot. We will be able to achieve this if we play with the same mentality that we play within the Scottish Futsal Super League.
FF: Hampden Sports Clinic has helped to maintain your players' health. How does working with them reflect your commitment to the well-being of the team?
KB: Hampden Sports Clinic carried out our annual health checks including a doctor's health check-up and an ECG by their Sports Scientist. They have carried these checks for us for three years now and we'd like to thank them for their support.
FF: Group E presents formidable opponents from across Europe. How do you approach the dynamic and varied challenges that this group offers?
KB: The coaching staff has looked at the footage available to have a slight insight into what to expect from our opponents. It is down to us to impose our style of play on the matches and make sure we equip ourselves well. All three opponents will offer different challenges of high quality, we must make sure we are ready and up to the challenge.
FF: As you step onto the European stage, representing Scotland, what message do you hope to convey through your performance?
KB: We have now played in two qualification group stages picking up points in both campaigns. This gives us huge confidence to go and do this again. We want to be organised in defence while taking the game to our opponents when the moment arises. We have focussed on ways to impose ourselves on the game more than we have in previous years. The aim of this campaign is to play in a positive manner and gain results that the club can be proud of.
FF: What role do you see PYF Saltires playing in the larger context of promoting futsal's growth and popularity in Scotland?
KB: As a club, we aim to maintain our own standards from within to ensure we increase our own levels. Futsal is growing in Scotland, we are aware the league will be very competitive next season with the clubs that have gained promotion. These experiences in the UEFA Futsal Champions League do not come around often and we want to enjoy the matches and hope that this inspires players of all ages in Perth & Kinross and across the country to watch the games and then get involved in futsal with their local clubs.
FF: Beyond this preliminary round, what are your club's aspirations for the future, both domestically and internationally?
KB: Our aim is to win the league title every year, next year will be a lot tougher than previous years due to the depth of quality teams added to the league so we will need to keep our standards high. We would like to increase the number of youth players coming through our academy participating in senior futsal and giving them the opportunities to play competitive futsal. This year we will have 9 of the 14 squad players come through our youth academy sessions competing in the UEFA Futsal Champions League and all our players will be eligible to represent Scotland. The club's foundations are built on giving young players experiences and this will remain Perth Youth Futsal's priority.
FF: How can fans and supporters get behind PYF Saltires as you venture into the UEFA Futsal Champions League?
KB: The games will be free to watch and streamed live on Florena TV via YouTube. The first game kicks off at 3 pm UK time on Wednesday against FC Cosmos Tallinn from Estonia. The club will have live tweets on Twitter via @pyfsaltires.
As our interview concluded, it became evident that PYF Saltires is not only determined to make their mark on the UEFA Futsal Champions League but also to inspire a new wave of enthusiasm for the sport across Scotland. Their journey embodies dedication, teamwork, and a spirit of competition that will undoubtedly capture the hearts of fans and enthusiasts alike.
Author of the Interview
Stephen McGettigan was born in the Republic of Ireland but grew up in Belfast. He is the founder of Futsal Focus, a Football Industries MBA graduate from the University of Liverpool Management School, and he has worked in the Football and Futsal industries for 15 years.
Organ Donation
Futsal Focus is a supporter of Dáithí Mac Gabhann and his family's campaign to raise awareness of Organ Donation. We encourage our readers to learn more about Organ Donation: https://www.organdonation.nhs.uk/
Futsal Focus
You can read more articles about domestic futsal by going to the top navigation bar or by clicking here
If you like this article and would like to keep updated on Futsal news, developments, etc then you can now follow Futsal Focus via Google News by following our page which will send you an alert as soon as we publish an article so please click here and follow us on Google.
You can also keep updated on Futsal news, developments, etc then please submit your email below in the Subscribe to Futsal Focus option.
Follow Futsal Focus by clicking on Facebook, Twitter, or Instagram or on the social media buttons on the website.