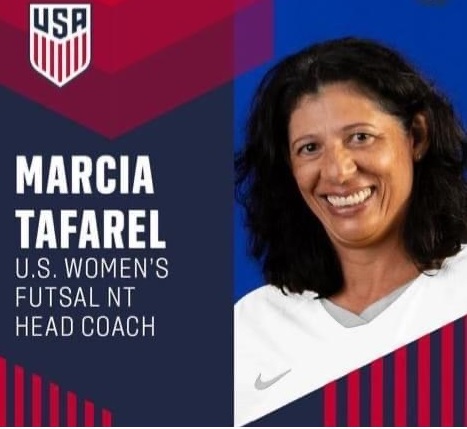 Estimated reading time:9 minutes, 39 seconds
Building the Future: Marcia Tafarel's Vision for U.S. Women's Futsal National Team and the Road Ahead
In March of this year, Marcia Tafarel was named as the inaugural head coach of the U.S. Women's Futsal National Team, a momentous step forward for the program launched under U.S. Soccer's Extended National Teams department. The team held its inaugural international identification camp from March 23-26 in Walnut Creek, Calif., marking the emergence of the Federation's ninth Extended National Team.
(Source of the main picture: U.S. Soccer's Website
U.S. Soccer unveiled plans for the team's formation during its 2022 Annual General Meeting. In December 2022, FIFA endorsed a FIFA Futsal Women's World Cup, enhancing its roster of global competitions. Yet, a specific timeline for the inaugural FIFA Futsal Women's World Cup remained pending. Meanwhile, UEFA has successfully conducted the European Women's Futsal Championship since 2019.
Tafarel's experience bridges international playing and coaching in both soccer and Futsal. A prominent figure in the Brazil Women's National Team, she participated in two Women's World Cups (1991, 1995), and the 1996 Olympic Games. Since 2004, Tafarel has been actively involved in Futsal coaching in the United States, with a U.S. Soccer "B" Coaching License to her name.
Reflecting on her role, Tafarel shared her excitement about spearheading the U.S. Women's Futsal National Team's launch, saying, "I've played and coached the sport my entire life, so to have a chance to build a team and eventually face international competition in the years ahead is a wonderful opportunity. We will be looking for players from all corners of the country to establish our player pool in the coming year."
U.S. Soccer has set in motion a series of Identification Camps this year to expand the team's talent pool, targeting its inaugural international competition anticipated in 2024.
Tafarel's endeavors are complemented by the appointment of Sascha Filippi as the team's assistant coach. With an impressive history in international Futsal club coaching, spanning France, Catalonia, and the United States, Filippi also serves as the current interim coach of the Men's national futsal team.
Filippi expressed his fervor for women's Futsal and the opportunity to contribute to the program's inception. "I'm extremely passionate about the sport of women's Futsal. I'm looking forward to being part of the technical staff that gets to build this program from the beginning."
The collaborative efforts of Tafarel and Filippi revolve around player identification, camp scheduling, and guiding the team toward future international endeavors.
Given the limited information available since the announcement, Futsal Focus reached out to both U.S. Soccer and Marcia Tafarel for insights. Delightfully, they engaged in a conversation, shedding light on developments shaping the U.S. Futsal landscape.
A New Era Begins: Marcia Tafarel Leads the Charge for U.S. Women's Futsal National Team
In an exclusive interview, Marcia Tafarel shares her perspective on her appointment, her responsibilities, the support system in place, her initiatives for women's Futsal advancement in the U.S., and plans for international friendlies and competitions.
FF: Marcia, to start the interview, let's give readers an insight into your background specifically in futsal. Please talk about your futsal playing and coaching experience, your futsal coach education, and how you intend to progress your own personal development in order to continue supporting the growth and success of your team?
MT: I've had a strong connection to futsal since the 80s when I began playing competitive soccer and futsal in Brazil. My journey shifted to coaching in 1997 with Sabesp Association Futsal U16 and U18 teams. My coaching journey includes multiple courses in Brazil and obtaining Futsal Coach credentials. Even after moving to the US, I've continued my involvement in playing and coaching futsal, further enhancing my skills through courses with professionals like Marquinhos Xavier, the Brazilian Men's Futsal NT coach.
FF: How did you hear about the head coach position, why were you interested and what have you been told is your development goals to make the national team a success?
MT: I learned about the role from my friend Ricardo da Silva, who encouraged me to apply due to my deep passion for futsal. Applying for this position aligns with my commitment to the sport. The primary goal is to establish a strong pool of Futsal National Team players within the first year. Once this pool is developed, the focus will shift to preparing these players for upcoming competitions.
FF: In 5 years' time if you were no longer the head coach of the U.S. national team, looking back, how would you view your time in the position as a success, what is it exactly that you want to achieve?
MT: Looking ahead five years, if I'm not in the position of US WFNT coach, I hope to reflect proudly on the initial strides taken to launch and nurture the US Women's futsal program. This includes progress with both the National Senior team and Youth National teams, contributing to the program's growth and development.
FF: Since starting your position, please tell us what your work schedule has been. What exactly are you working on at this time to advance the development of your team and to get them ready for competing?
MT: Since becoming the US Women's Futsal Head Coach, I've proactively pursued professional growth through various courses, increased involvement in futsal games, attending tournaments to scout players, and organizing ID camps to identify potential talent. My role, while part-time, necessitates a flexible schedule due to tournaments, practices, and my additional role as a Technical Director at Girls Unite.
FF: Going forward, what camps, friendlies, etc are U.S Soccer working on to get your team ready to compete and when are these taking place?
MT: Our immediate objective is to continue identifying players through 2023 and likely most of 2024. We aim to incorporate international games in 2024, with the schedule influenced by FIFA's announcement about the Futsal Women's World Cup start date.
FF: Has FIFA or CONCACAF given U.S Soccer any indication when women's international competitions may take place in your region and to prepare for the first women's world cup?
MT: Not yet, but we're excited about FIFA's plans for a Women's World Cup in futsal. Once the timeline is confirmed, we'll better tailor our approach and potentially explore other tournament opportunities as well.
FF: Looking forward, the Youth Olympic Games in Senegal in 2026 offers a prime chance for young talents to shine and advance to the senior team. Are talks happening between U.S. Soccer and the Olympic Committee? If not, could you highlight the importance and potential by raising the idea?
MT: We're aware of the competition, but no decisions have been made about USA's participation. Currently, our main focus is forming a strong U.S. Women's Futsal National Team in the short term. While we recognize the importance of youth development for the program's long-term success, my immediate goal in the next 2 to 3 years is to identify premier futsal talent and build a competitive Women's National Team.
FF: Lastly, could you share your thoughts on the exciting developments in women's futsal beyond U.S. Soccer in the United States? Additionally, how can U.S. Soccer contribute to fostering the growth of the sport at the university level? This support could significantly aid in broadening your talent pool for prospective players.
MT: I'm enthusiastic about the increasing year-round futsal programs within soccer clubs across the US. This approach promises better player development and an improved talent pool. However, at the university level, we're lagging behind in integrating futsal programs that could potentially offer scholarships. Establishing a Futsal Professional League could provide the necessary context for colleges and universities to see the value of having a futsal program for drafting players, though this is a gradual process.
Charting a Vision: Marcia Tafarel's Leadership and the Future of U.S. Women's Futsal
As we conclude this interview, the appointment of Marcia Tafarel as the first-ever head coach of the U.S. Women's Futsal National Team signals a significant turning point for women's futsal in the United States. Tafarel's background, encompassing years of both futsal and soccer involvement, underscores her inherent understanding of the game.
With a clear sense of purpose, Tafarel is dedicated to carving out a future for the U.S. Women's Futsal National Team that extends beyond immediate victories. Her strategic focus on player identification, her own professional growth, and thoughtful planning underscores her commitment to long-term progress.
Tafarel's leadership is expected to play a pivotal role as U.S. Soccer adapts to the evolving landscape and FIFA's intentions for a Women's Futsal World Cup gain traction. Alongside Sascha Filippi, the team's assistant coach, and with the backing of U.S. Soccer, Tafarel is steering the team towards a path of international competition.
Beyond the team's progress, the broader developments within women's futsal across the nation are equally noteworthy. The proliferation of year-round programs aimed at nurturing player skills showcases the growing ecosystem. Tafarel also brings attention to the potential of establishing a Futsal Professional league. In her view, such a league could gradually encourage colleges and universities to recognize the value of incorporating futsal programs, eventually leading to a stronger talent pool for drafting players.
Marcia Tafarel's journey in steering the U.S. Women's Futsal National Team stands as a testament to unwavering commitment and determination. However, her aspirations, no matter how lofty, hinge significantly on robust support from U.S. Soccer. While her leadership holds immense potential to shape the landscape of women's futsal in the United States, it's crucial that U.S. Soccer fully backs her efforts. Without their unwavering support, her ambitions could remain unrealized. The synergy between Tafarel's dedication and U.S. Soccer's endorsement is paramount, serving as the driving force behind the team's journey toward a promising future.
Author of the Interview 
Stephen McGettigan was born in the Republic of Ireland but grew up in Belfast. He is the founder of Futsal Focus and a Football Industries MBA graduate from the University of Liverpool Management School. Stephen has worked in the Football and Futsal industries for 15 years.
Organ Donation
Futsal Focus is a supporter of Dáithí Mac Gabhann and his family's campaign to raise awareness of Organ Donation. We encourage our readers to learn more about Organ Donation: https://www.organdonation.nhs.uk/
Futsal Focus
You can read more articles about international futsal by going to the top navigation bar or by clicking here
If you like this article and would like to keep updated on Futsal news. You can now follow Futsal Focus via Google News. Follow our page which will send you an alert as soon as we publish an article. Please click here and follow us on Google.
You can also keep updated on Futsal news by submitting your email below in the Subscribe to Futsal Focus option.