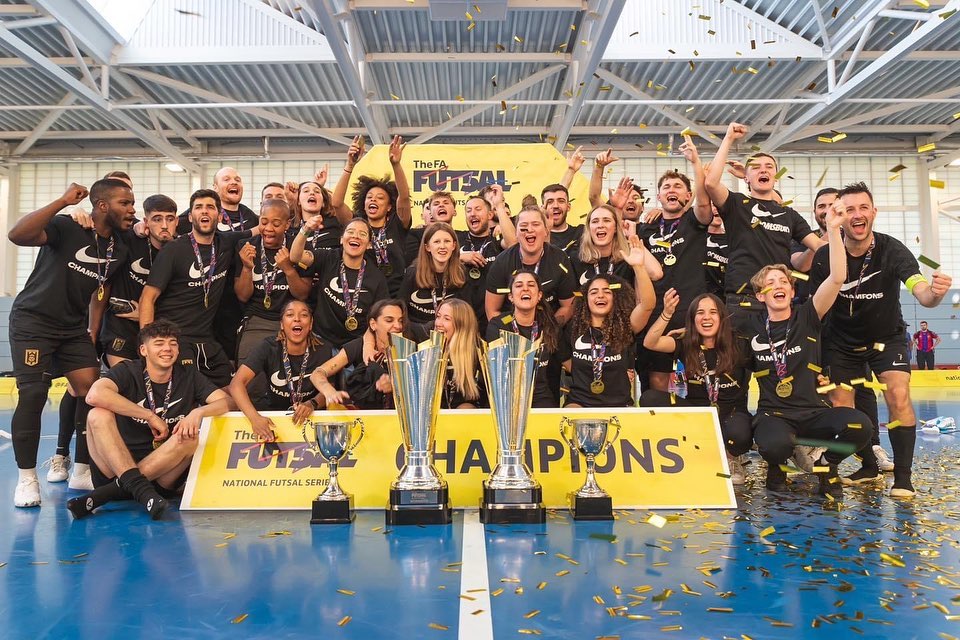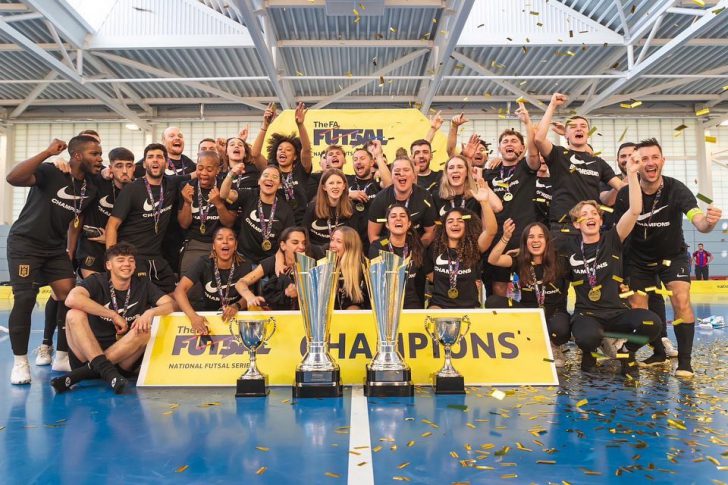 Estimated reading time:5 minutes, 33 seconds
From Local Arenas to European Glory: Bloomsbury Futsal's prepare for the UEFA Futsal Champions League
Bloomsbury Futsal dominated English Futsal across the top tier National Divisions of the FA National Futsal Series and the National Futsal League. Whilst also assisting Herefordshire University to secure their first-ever British Universities & College Sport (BUCS) Futsal Championship title, this is the largest futsal competition in the British Isles. Contributors to this success include coach Mary Pacitti in the National Futsal League but in the National Futsal Series Tier One and in the BUCS competition, Head Coach Juan Tapia-Owens led the way. 2022-23 will forever live in the clubs history as an historically achievement as success in the Tier One League Play-Off Final secured Bloomsbury a slot in the UEFA Futsal Champions League where they will represent England for the very first time.
Futsal Focus reached out to Juan to provide an exclusive glimpse into his experience attending the inaugural UEFA Futsal Champions League preliminary round draw. Moreover, Juan sheds light on the preparations underway in anticipation of the upcoming competition:
It was an exhilarating venture to the UEFA headquarters in Nyon, where the welcoming ambiance resonated from both UEFA and representatives of fellow teams. The impeccable setup, combined with an engaging lunch with personnel from each club, offered a unique platform to discuss the challenges faced in their respective countries and their innovative approaches to the game.
UEFA Futsal Champions League Draw: Nerve-Wracking Anticipation and New Challenges
The UEFA Futsal Champions League draw, though beyond one's control, remained a nail-biting experience. The caliber of the preliminary round has consistently elevated, with historic main round teams adding an exciting dimension. Anticipating the draw as fourth seeds, the inevitability of tough competition was both nerve-wracking, but joyous once we found out who we would be playing, as history was made again for our club.
Initial reactions centered around the destinations and the possibility of family involvement. However, the overarching sentiment was excitement, as the prospect of confronting various playing styles across Europe promised intriguing clashes. The allure of matches against home nations and the desire to steer clear of top-seeded opponents also played a role in shaping the initial thoughts.
The opposition teams boast extensive experience in the tournament, highlighting the novelty of this journey for us. Notably, from a personal perspective, facing Blue Magic once again, this time as a coach and not player, underscores their enduring excellence over the years. With commendable past performances and their unwavering investment to reach the Champions League, each team possesses a distinct level of competition. We look forward to travelling to Greece and facing our hosts Doukas SAC, along with BSC Nistru Chişinău (Moldova), and Blue Magic Futsal Dublin (Ireland) as mentioned.
Preparation Timeline: Strategic Approach and Balancing Focus
Preparation commenced immediately, involving in-depth analysis of rivals and identification of potential areas of advantage. Following a brief respite post-final, players underwent individual training before reuniting to build a cohesive strategy. The ongoing process encompasses transitioning from player reintegration to intensive opposition analysis, all vital components for the approaching tournament.
The paramount goal is victory and advancement, a formidable task in light of the challenges faced by English teams. However, the emphasis remains on performing at peak levels, competing with resilience, and adhering to our distinct identity. The season-long dialogue with players about creating history remains a driving force, culminating in three pivotal finals where we aim to secure triumph and ultimately transcend the outcome.
Match Preparations and player recruitment
The training block has been demanding and resulted in a shorter break than usual for everyone involved which does mean we are further ahead in our preparation than previous seasons. We've been fortunate to play 5 friendlies ahead of going out to the tournament against a variety of styles which has allowed us to try and test different strategies whilst gelling the new players into the team.
We are always looking at strengthening every summer to improve where we are at and believe the players we have brought in; Camilo Restrepo, Liam Palfreeman, and Vitor Lima, are going to do that. They offer us a different dynamic and qualities which will help us both short and long term.
Our main aim is to play our game and see what happens. If we aren't able to pass beyond this round we will take the learnings with us and use them to build on for the rest of the season. It's important we take everything we can from the week away so it can help us evolve moving forward as individuals and as a collective.
Forging Ahead with Confidence
The UEFA Futsal Champions League draw experience showcases the dedication and strategic planning necessary to navigate the complexities of top-tier competition. From welcoming interactions to in-depth preparation, the journey exemplifies the essence of competitive sports. The road ahead promises battles that test both skill and character, underscoring the relentless pursuit of success while embracing the broader vision of creating history.
Author of the Interview
Stephen McGettigan was born in the Republic of Ireland but grew up in Belfast. He is the founder of Futsal Focus, a Football Industries MBA graduate from the University of Liverpool Management School, and he has worked in the Football and Futsal industries for 15 years.
Organ Donation
Futsal Focus is a supporter of Dáithí Mac Gabhann and his family's campaign to raise awareness of Organ Donation. We encourage our readers to learn more about Organ Donation: https://www.organdonation.nhs.uk/
Futsal Focus
You can read more articles about domestic futsal by going to the top navigation bar or by clicking here
If you like this article and would like to keep updated on Futsal news, developments, etc then you can now follow Futsal Focus via Google News by following our page which will send you an alert as soon as we publish an article so please click here and follow us on Google.
You can also keep updated on Futsal news, developments, etc then please submit your email below in the Subscribe to Futsal Focus option.
Follow Futsal Focus by clicking on Facebook, Twitter, or Instagram or on the social media buttons on the website.