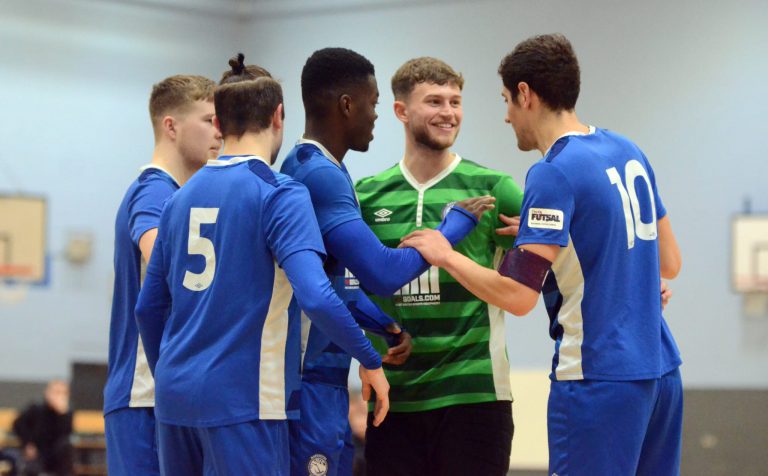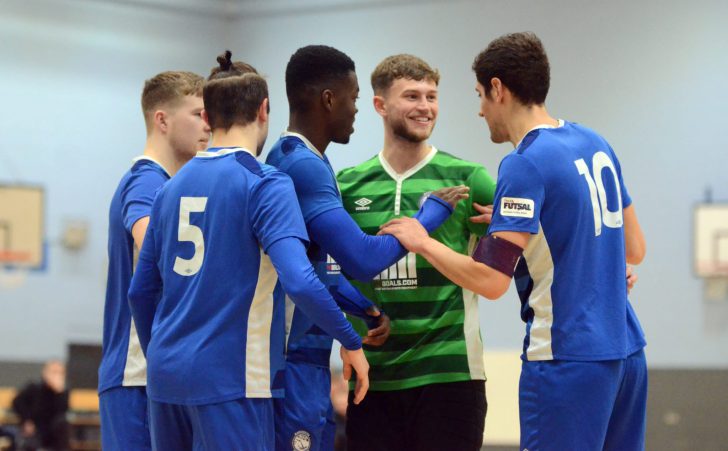 Estimated reading time:13 minutes, 24 seconds
Simon Wright co-founded Manchester Futsal Club before there was an FA National Futsal League in England. He and his co-founder Ilya Ovechkin understood the entertainment value of the sport. In addition to the player development need in England in order to improve the technical development of players, whilst also offering an alternative pathway for players and coaches who were more suited to futsal or preferred it.
Manchester Futsal Club, 2 years after its establishment became a founding member of the FA National Futsal League and the club was the first FA Charter Standard Futsal Club in England. In the Men's division, their team won the FA Futsal Cup in 2011/12 and were Finalists in 2013/14, and in 2014/15, they were also finalists at the National League Grand Finals in the 2013/14 season. In 2012, the club established a women's department at their club, their team currently competes in the FA Women's Futsal Super Series (National League). The program is currently headed by their new Head Coach Neil Lucas (you can read our recent interview with Neil in the related article link) but in the 2018-2019 season, the Women's team made history by winning both the National FA Futsal league and the FA Futsal Cup, the first women's team in English futsal history to do so.
Related article: Futsal advocate and coach Neil Lucas is the new Women's head coach at Manchester Futsal Club
Outside of competition, Manchester Futsal Club has supported and tried to help educate the English market about the opportunities within futsal and the needs of the sport, to grow further. Helping former England Futsal International Doug Reed organise the Futsal Insights Seminars in 2017 and 2018 which featured business professionals from futsal, and different sports, discussing futsal, and presenting examples of best practices, which could aid futsal's growth and development. Recently, Simon, assisted by Doug Reed, visited Abu Dhabi where they delivered a futsal development programme for international and local teachers on behalf of the Department of Education and Knowledge – ADEK and Seth Amoafo at Pass Soccer Abu Dhabi. Over 60 teachers were educated on how to deliver futsal practices for young school children, and at the same time supporting them on how to establish a school's futsal competition, a starting point for futsal growth in the coming years. Speaking with Doug Reed about the trip, he said,
"It was a privilege to help teachers in Abu Dhabi discover why futsal is such a fantastic sport and educate them on how to deliver sessions to their students. We knew how important this responsibility was as the education system is a key area to promote futsal development in any country."
"The focus was on how to create a fun environment whilst maximising learning. Over the programme we saw the teachers develop a huge enthusiasm for the game and experience the joy of coaching futsal. I am looking forward to following the growth of futsal in the region and delivering similar programmes in other parts of the world."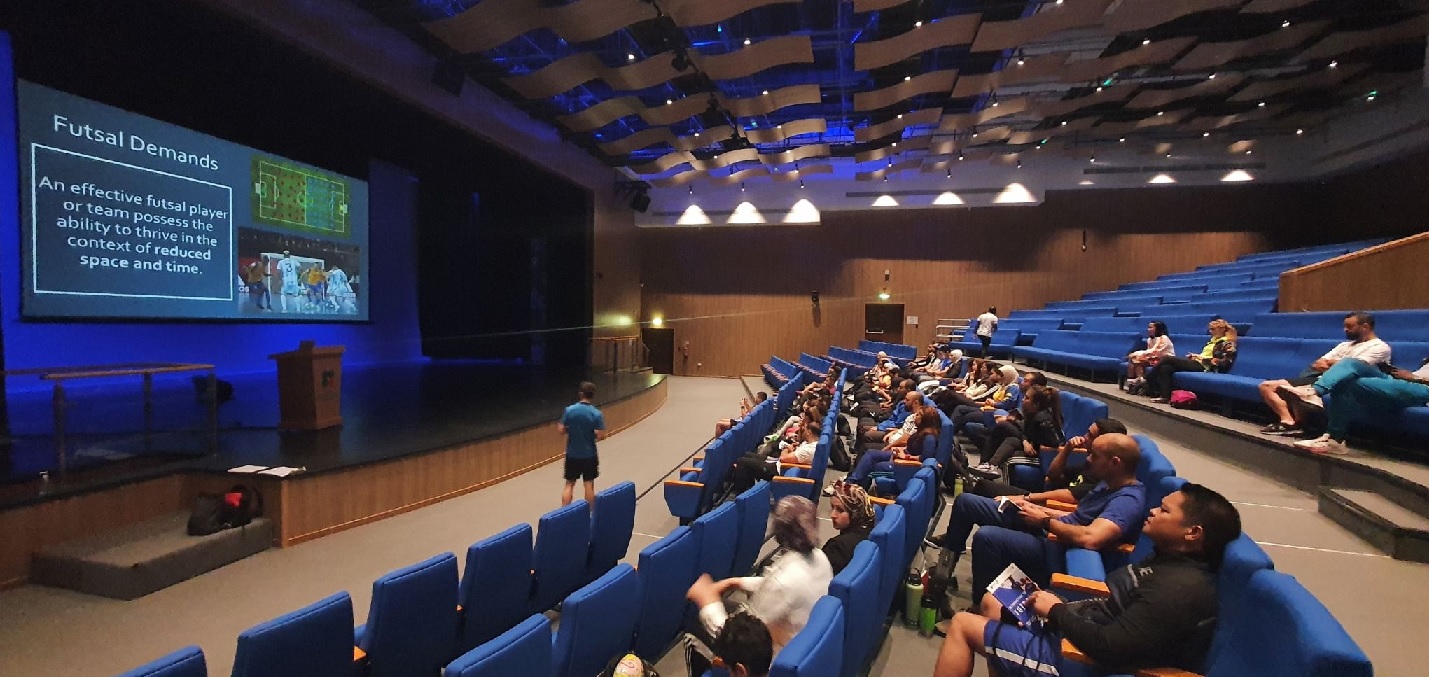 We got in contact with Simon, interested to learn more about this trip including his views on how futsal is developing in England. His thoughts on club development, and his views on the successes and failures of his club. In addition to getting an insight into how he hopes to aid futsal's development in Manchester, England, and beyond.
Simon, it's great to chat with you, it has been a while. I hope you are well.
FF: Simon, to begin the interview, can you tell our readers a bit about your background and experience outside of Futsal? And, how you became aware of the sport?
SW: Thanks for the chance to speak again to FF. Away from Manchester Futsal, my early career began in football development with the Liverpool County Football Association. It was there that I discovered the Football Association's initial desire to pilot local futsal leagues and establish a national competition when futsal was under the remit of Dermot Collins. At the time, I was also coaching and worked as a GoalKeeper coach with the England Women's U17 and U19 programme, experiencing training camps and UEFA competitions. I then moved into the FA's National Football Development Team as a Small Sided Football Project Manager. Here, I worked in a brilliant team that included Simon Walker and Stephen Brown. We all pushed very hard to take futsal forwards at the FA, during that period of the sport's development. More recently, I worked as a Project Manager on the FIFA Football World Cup in Brazil in 2014 and in Russia in 2018. I now lead a Business Development Team at The Prince's Trust securing transformational partnerships to drive social mobility for young people. Futsal development and Manchester Futsal Club has always been my passion project and after all these committed years, it still is. The sport has connected me to so many brilliant futsal people but it was a simple introductory conversation with Ilya Ovechkin which helped plant the seed firmly in my mind. It triggered the mission to form Manchester Futsal Club, to really go for it, and in all fairness, we haven't looked back since – probably because we have been so busy! Ourselves, along with Sam Richardson, and Doug Reed just came together to drive everything, we have all worked tirelessly for many years within the sport and behind the scenes. I think we have learned a lot, but we have also shown what is possible.
FF: Why did you decide to set up Manchester Futsal Club, and for those thinking to get involved in English futsal by developing a club, what advice would you give to them?
SW: I don't think there is a simple answer to this question. I guess at the time I was really intrigued about the sport, there wasn't a specific plan in my mind at first. I was looking for something to get involved in as 11 a-side Football was starting to lose its appeal. Futsal didn't exist in Manchester, and I was prepared to step into that space and take on something that hadn't been done before.
I think it comes down to being ambitious and being prepared to throw myself into it. I also think at the time I had been really inspired by my experience working at the 2002 Commonwealth Games in Manchester. It changed the city. I had seen up close the power of sport for social and economic development. I realised Manchester was positioning itself as a global sporting city. Developing the club and the sport just became a bit of an ongoing obsession. I enjoy it immensely and still thrive off pushing it to new places and influencing stakeholders.
I have some brilliant memories of those early years – we were literally prepared to do anything! My advice today to anyone involved in running or establishing a futsal club is just don't take no for an answer – we didn't! It can be hard negotiating your way through accessing a venue, and setting all these things up so you start to feel like you are moving forward. Now we have a whole landscape of futsal clubs across the UK which is brilliant to see as clubs are firmly the main driver of futsal development. Each club will have to find their own model that works for them and for their community and all I can encourage them to do is talk to each other, find collective ways through the problems, and build that strong club network that we need going forwards.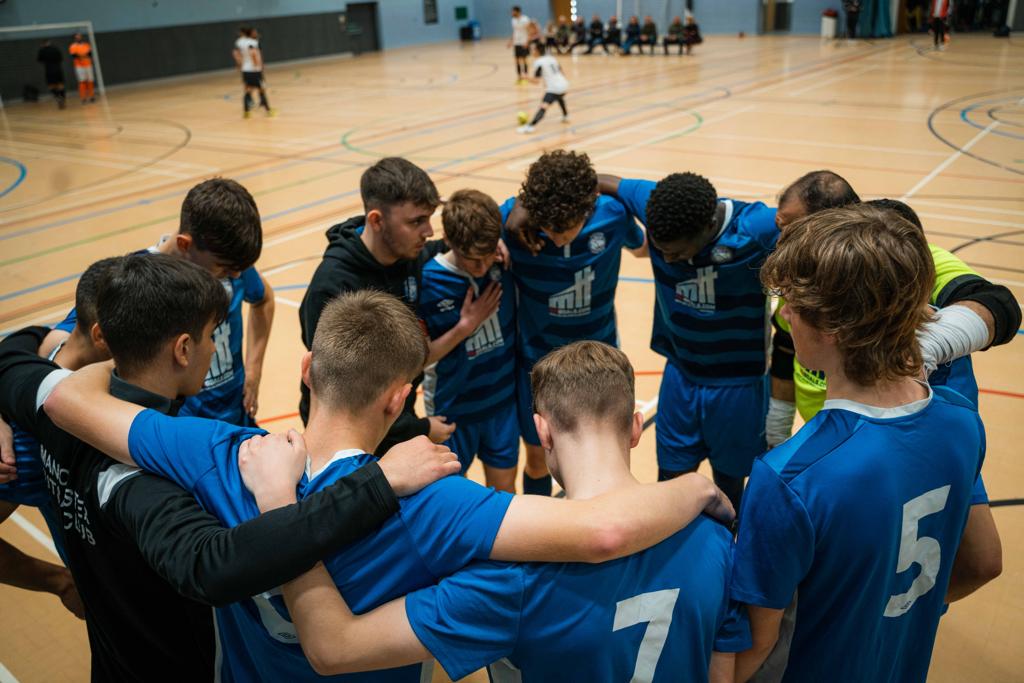 FF: You have been involved in English futsal from the very start, going back as far as 2004. After 19 years involved in the sport's development, can you tell us what drives you and your ambitions for this sport, your club, futsal in England, and beyond?
SW: I don't think I'm any different from others currently involved in English Futsal – I just want to see the sport fulfill its amazing potential in the coming years. Over the last 10-15 years, we have seen positive progression, new eras, and painful disappointments. English Futsal has been dramatic and just like any emerging sport the journey is never straightforward – a positive force for good, and mixed with periods of division and broken trust. I'm also aware we can be a challenging community at times. We now have a new era with the positive launch of England Futsal, and we will have to give this time to see what their plans are and how they bring the English Futsal community together, so we move forward with all stakeholders purposefully aligned.
For Manchester Futsal, I don't think there are any real limitations on our ambitions. We need to remain a sustainable club that delivers a positive environment for our youth and senior players. We want to win titles. We want to play in the UEFA Futsal Champions League. We want to build our brand and reputation around the world. That's my overall focus – I'll just keep giving my time and energy for making a difference in our sport at a club level for now, that's where I feel I am most effective.
FF: Over the years, what have been the recurrent themes which you feel have helped or hindered futsal development in England? Which you feel the English futsal community needs to be conscious of and address so English futsal can be successful.
SW: I think when you're still a young sport fighting for exposure and recognition there will always be some positive and negative decisions taken by those accountable for governing the sport. Most of this is intrinsically tied to funding. Has the funding available at the time been carefully and strategically directed to the right area of the sport that will assist development and progression? I think all cases could be argued positively or negatively, it just depends on what lens or measures you're using to assess the intended impact.
Right now, Futsal must fight for any resources whether at NGB or club level – that's not unique to English Futsal. Hopefully, this situation can improve but in order for that to happen we need to connect all stakeholders on a joined-up mission. I feel we're not there on that level yet, more needs to be done. The biggest and most powerful community, who turn up every day to every session to grow the sport are the clubs, yet we're not always brought into the discussion or decision-making forums that currently exist. I find that bizarre and always disappointing – you're effectively saying that clubs are not welcome, or your voice doesn't matter.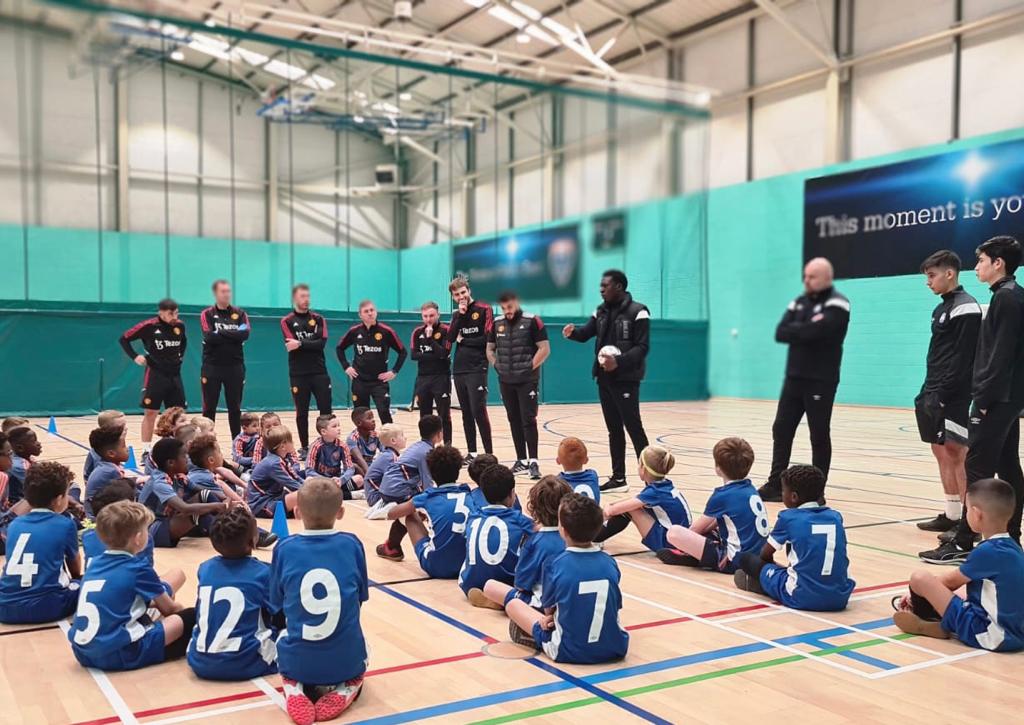 FF: Should the National Futsal Series' BT Sport deal not be renewed after the 3-year agreement, what direction do you feel English futsal needs to take domestically, in order to continue, develop and thrive? Do you think going back to regional leagues with a final's tournament should be considered and would be more cost-effective?
SW: At Manchester Futsal, we adopted and joined the FA National Futsal Series as we wanted to compete at the highest level of English Futsal – the level the club has always maintained through all competitions that have gone before FANFS. We had our reservations about the central venue format. We knew we stood to risk eroding our fan base in Manchester, players were going to be required to travel much more and be on the road to play 1 game of futsal. BT Sports has given exposure, but have we really maximised that opportunity, and again how is that measured? I've never seen any detailed viewing figures, but has there been enough to convince the powers that be at BT Sport? The bar was raised, and clubs were asked to step up, and rightly so. However, we now seem to be facing a funding issue again. Who is going to pay for this competition going forwards? No recognisable sponsors have stepped up and the clubs continue to pay significant sums. It's starting to look like the model doesn't work, but I am happy to be challenged on that. So, I think at this moment in time sensible decisions need to be taken that can ensure clubs can realistically ensure a return on their investment and hopefully not collapse under financial pressure. I feel strongly that clubs belong in their own communities, rebuilding their fan bases, and getting venues busy again. The game will still deliver an entertaining product that can be nurtured and then spotlighted accordingly with feature games or an all-encompassing finals event.
FF: England Futsal was recently launched, the U19s international team is on a 2-year trial basis, and the players have been successful in the preliminary round, winning each of their 3 fixtures. What is your view of the FA's approach to international futsal? Especially now that we await a women's team and FIFA's recent announcement, that they will create a women's world cup.
SW: Firstly, full credit to those young players for reaching the Main Round of a UEFA Futsal U19 Euros – that was excellent, and a deserved achievement. They have worked so hard in their clubs to keep this opportunity alive and stepped up when their country asked them to. I think we are all awaiting the answer to the 'what next?' question with regards to the FA's and England Futsal's remit on international futsal. We must remain optimistic and given clubs want to provide that opportunity to progress to international futsal for their players, I hope we can all benefit from what is to come. England needs to be on the international futsal stage, it's as simple as that. The talent in our sport needs to be shown to the rest of the world and we need to have the ambition to be a part of all major competitions for men's, women's, and disability futsal if we are really inclusive, and a 'for all' sport.
FF: You recently visited Abu Dhabi, UAE, to deliver a futsal programme for school teachers, how was that experience, what exactly did the participants learn and how would you like to continue assisting futsal development abroad?
SW: It was a pleasure to be asked to support and collaborate on this project on behalf of the Department of Education and Knowledge (ADEK) and Seth Amoafo at Pass Soccer. Doug Reed and I saw first-hand the passion and engagement of a diverse group of teachers – their desire to embrace and adopt futsal as coaches was clear to see. We can only hope their enthusiasm spreads into the schools across Abu Dhabi because I really feel futsal can thrive in the region. There is no better place to start than getting young players in schools engaged and that was the key objective of the programme. The teachers were supported in coaching and understanding the key considerations when setting up a school futsal competition.
Going forwards I think both myself, the club, and Doug all have a great deal we can share within futsal development at every level. We enjoy passing on our knowledge and passion and we were privileged to do so with this project. Let's see where the next opportunity abroad will take us – I feel we have a lot to offer and the success of this work in Abu Dhabi showed that.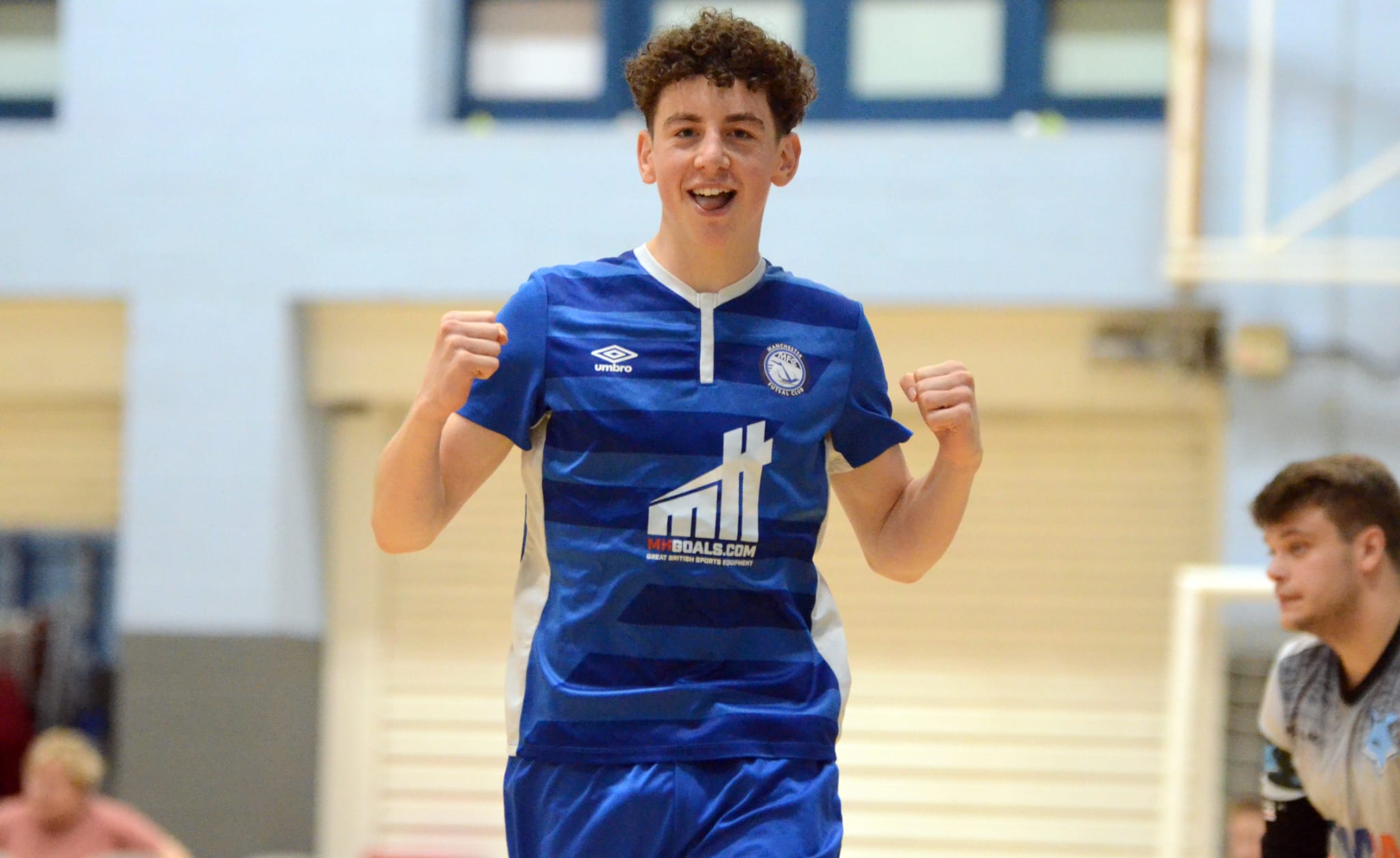 Futsal Focus
You can read more articles about domestic futsal by going to the top navigation bar or by clicking here
If you like this article and would like to keep updated on Futsal news, developments, etc then you can now follow Futsal Focus via Google News by following our page which will send you an alert as soon as we publish an article so please click here and follow us on Google.
You can also keep updated on Futsal news, developments, etc then please submit your email below in the Subscribe to Futsal Focus option.
Follow Futsal Focus by clicking on Facebook, Twitter, or Instagram or on the social media buttons on the website.