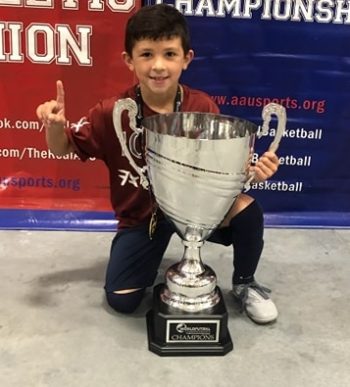 Estimated reading time:4 minutes, 31 seconds
Today, we are interviewing the father of social media sensation Hudson Hogsett, Ron Hogsett, to discuss the skill, confidence, joy, and freedom his son enjoys on the court when he is playing Futsal.
The video footage that we shared of Hudson went viral, and in the first 3 days, it was watched by over 2 million people, after one week it was watched by over 4 million and continues to increase every day. In addition to over 50,000 shares, over 250,000 likes, over 5,000 comments, and reaching over 12.5 million people organically across Facebook hence the title social media sensation.
The short footage was a work of art, the understanding that he at 7-years-old (Hudson is now 9) displayed was mesmerizing for any fan, any player, and any coaching hoping to transfer their knowledge in the hope that their players can replicate it on the court.
Futsal Focus had hundreds of messages from followers asking who is this kid, where is he from, who coached him, etc, etc, therefore we reached who to Federico from City Futsal in Texas, U.S.A where the young boy is playing who has kindly put us in contact with Ron.
Ron, thank you for accepting this interview, we are delighted to speak with you and introduce you and your son to Futsal Focus readers.
Please start this interview by telling us how your son got involved in Futsal? Why did you decide to enter him into this sport? Where you a fan of the sport beforehand or just impressed with the fantastic facilities that City Futsal have?
Hudson first got involved when his Forms Academy team (AlphaForms'11), we were looking for more game opportunities to train and improve the technique of the players.  We decided on futsal specifically because we were looking for higher-level, faster-paced games that would identify and expose where his and his teammates' techniques were lacking.
Do you coach your son? Or if not you, who does? How long has he been playing Futsal and why do you think your son has taken to Futsal like a duck to water?
Yes, I do train Hudson and he has been playing futsal for about two years now.  Our focus at Forms Academy is directly related to Hudson's success in futsal along with the progress we see in all our players.  Honestly, his outdoor play and futsal play are similar, though futsal carries a quicker speed game which allows him to showcase his technical abilities at a faster pace.
What, in your opinion is needed for kids to progress like your son has from a coach? And, how often does he play?
For players to progress like Hudson they need the right environment, they need complete freedom to experiment, create, fail, and succeed.  Hudson plays every day in some capacity even on days when there is no training you will find him with a ball at his foot.
Why do you think your son is so confident on the ball and is he a team player as well as a creative one?
His confidence comes from the freedom he has grown up with on the pitch.  He is able to read the game and knows to make the decision that is best for the situation, whether that means maintaining possession or team possession, to taking players on and capitalizing on positive expected value situations.  Hudson is definitely a creative player and as well as a team player, he loves his team, they are his best friends and they all work together well.
Do you see your son continuing with Futsal or do you plan to move him into Football?
He currently plays both and we plan on continuing that, though his primary focus will continue to be football, depending on how the sport develops in the U.S.A, in the end, it will be up to him. If he loves this sport then it is futsal, if he loves football and wants to continue with that then it is football. I will support him all the same. It's about his happiness at the end of the day, my joy comes from watching him enjoying himself and developing as a player.
How do you wish to continue challenging your son's abilities so that he can maintain this level of play as he gets older?
We are always looking for the next level, trying to surround him with the highest level of players possible as well as looking for high-level competition and opportunities.  I encourage anyone who reads this to get in touch if you want to play our club, invite us to a competition, explore ideas and potential partnerships, invite us to train with your club, we are delighted to hear from you. My email is Director@formsacademy.com .
Now, you can watch an extended video of the footage that went viral of Facebook below:
Thank you Futsal Focus for sharing my son's video and for this interview, keep up the needed work promoting this beautiful sport.
If you like the information provided, you can read more articles about grassroots and coaching futsal by going to the top navigation bar or click here
If you like this article and would like to keep updated on Futsal news, developments, etc then please submit your email below in the Subscribe to Futsal Focus option.
Follow Futsal Focus by clicking on Facebook, Twitter, or Instagram or on the social media buttons on the website.