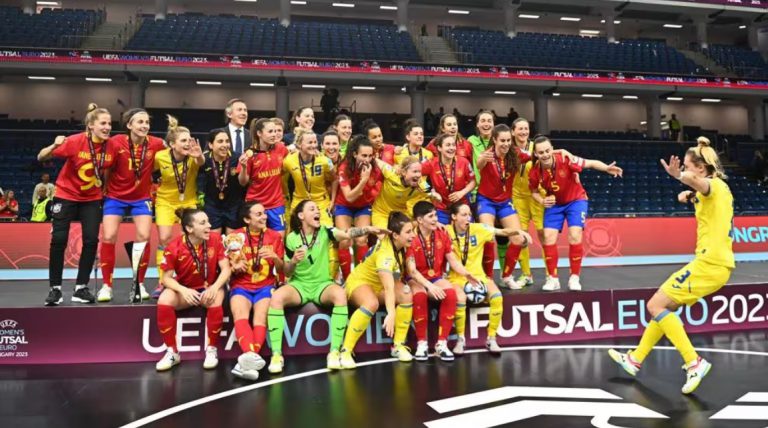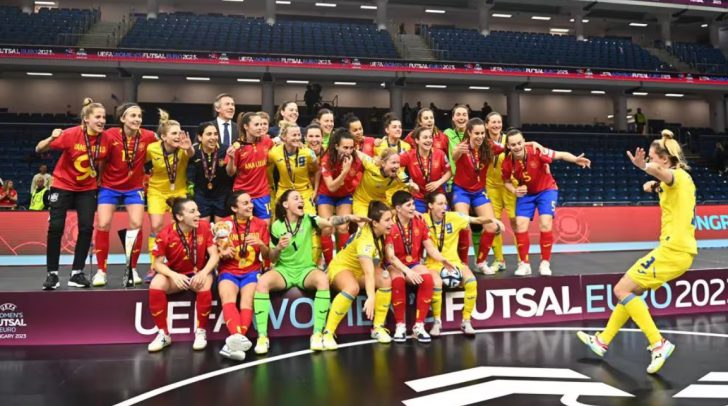 Estimated reading time:3 minutes, 8 seconds
They did it again! Spain's lifted the UEFA Women's Futsal Euro trophy for the third time in Debrecen. Spanish women's futsal continues its dominance in Europe.
Spain has enjoyed glory in three European Championships that have been held: two in Gondomar, Portugal and yesterday in Debrecen, Hungary.
The Spanish were favourites to retain their title from the beginning and they eased to a 5-1 final victory against Ukraine keeping their monopoly of the UEFA Women's Futsal EURO title.
While Spain had beaten their 2019 and 2022 final opponents Portugal in Friday's semis, Ukraine edged out hosts Hungary to make the final for the first time. But they were behind almost instantly and Spain seldom looked like giving up their crown. Spain beat Ukraine 9-0 during the 2022 semis in Gondomar and although the score was not as heavy this time around, whether Ukraine has improved or not is open to your interpretation on the match.
At the end of the final, Clàudia Pons told the media, "thank you. It's time to enjoy yourself after having gone through difficult circumstances, preparing for one European Championship practically at the end of another, and with injuries".
The work has paid off. "We have a very competitive league, with a lot of work behind it, from the clubs, from the players. We must continue working with the same ambition", acknowledged Clàudia Pons.
After the final, I was left with a 'what next feeling' for the women's game in Europe. This competition is important for women's futsal but I question its format and whether or not it currently adds enough value to the development of the women's game.  Players in Portugal and Spain make a living from futsal but the majority of the leagues across Europe are amateur and Portugal's 0-12 third-place victory over Hungary is a clear example of the gulf in development. If Spain and Portugal continue to dominate and it is the same outcome in the coming first-ever FIFA Women's Futsal World Cup with Brazil and Iran being the exceptions with the ability to challenge these nations, then the development and entertainment value of these competitions will start to be questioned. The last thing the women's game needs are token competitions for the sake of it, especially if they start to devalue their product. Wherever FIFA decides to have the women's futsal world cup, we hope to see an effective investment and development legacy strategy, something we haven't seen yet, even for the Men's game. In relation to UEFA, I think it is definitely time for a UEFA Women's Futsal Champions League to assist with player and club development across the continent.
Teams:
UKRAINE: Vyka Kyslova; Julia Forsiuk, Dubytska (Yellow 1′), Shulha and Hrytsenko. They also played: Tytova, Babenko, Skybina (Yellow, 26′), Volovenko, Kyrylchuk, Terekh (ps), Diatel, Drozd, and Mytrofanska (ps).
Coach: Oleg Shaytanov
SPAIN: Silvia; Mayte Mateo, Irene Samper, Little and Dany. They also played: María Sanz, Luci, Laura Córdoba (Yellow 13′), Irene Córdoba, Ale de Paz, Melli, Noelia, Antía and Marta Balbuena.
Coach: Clàudia Pons
Main picture source: UEFA
Futsal Focus
You can read more articles about international futsal by going to the top navigation bar or by clicking here
If you like this article and would like to keep updated on Futsal news, developments, etc then you can now follow Futsal Focus via Google News by following our page which will send you an alert as soon as we publish an article so please click here and follow us on Google.
You can also keep updated on Futsal news, developments, etc then please submit your email below in the Subscribe to Futsal Focus option.
Follow Futsal Focus by clicking on Facebook, Twitter, or Instagram or on the social media buttons on the website.