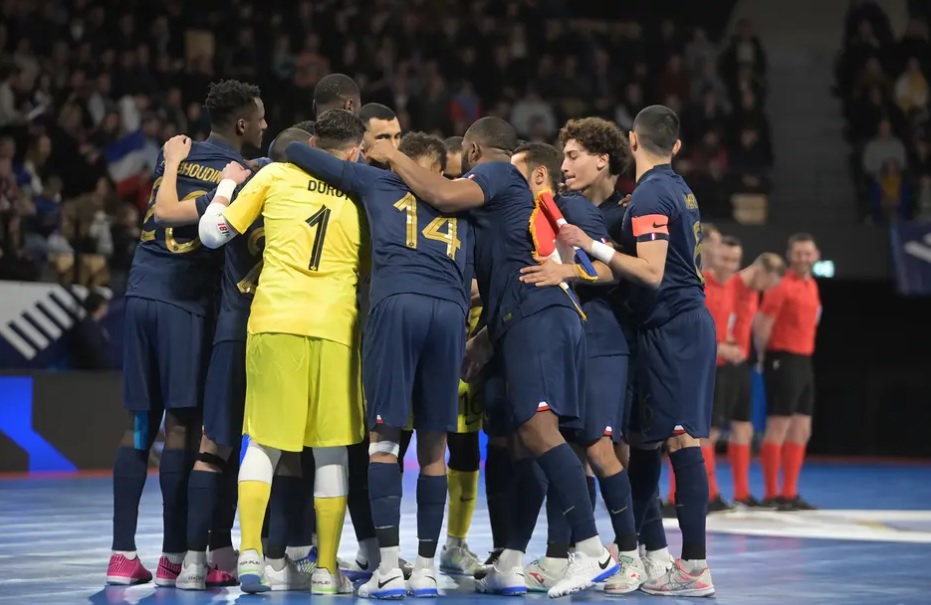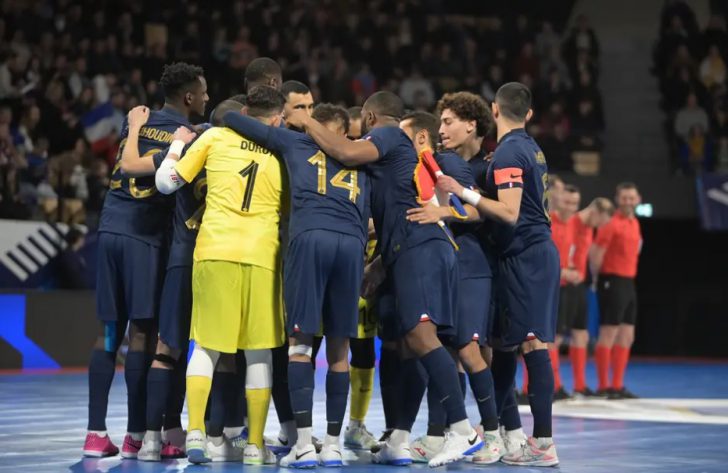 Estimated reading time:2 minutes, 21 seconds
The French Football Federation has confirmed on their website that the France National Futsal Team will travel to Morocco to play in an international tournament against their hosts, Croatia, and Japan, from April 13 to 18 in Rabat.
Already qualified for the Elite Round of qualifying for the World Cup, awaiting the draw scheduled for July 5 in Nyon at UEFA headquarters, and while other European nations will have to go through a play-off round, the Blues will have the opportunity to confront, next month, high-level nations from different continents in accordance with the wishes of coach Raphaël Reynaud.
Main picture source: FFF
Undefeated since the start of the season (7 wins, 1 draw), the French team responded favorably to the invitation of the Moroccan Federation. During this international tournament organized in the capital Rabat, Kévin Ramirez's teammates will find Croatia, which they had beaten by a wide margin (4-0) in September in Laval and which they have just overtaken in the world rankings (France is currently 15th, best ranking in its history, Croatia 16th). The match is scheduled for Thursday, April 13.
The second opponent, on Saturday, April 15 will be Japan, triple Asian champion in 2006, 2012, and 2014, which the Blues had crossed in 2018 in Aix-en-Provence (4-1 and 1-1). The French team will finish by facing, on Tuesday, April 18, Morocco (8th in the world), double African champions in 2016 and 2020 and quarter-finalists of the last World Cup. The two confrontations to date between France and Morocco ended in September 2012 in Rabat, with a 1-1 draw and a 4-2 Moroccan victory.
Many futsal enthusiasts also expect Morocco to be confirmed as the host of the FIFA Futsal World Cup this week at FIFA's 73rd Congress which is taking place in Rwanda. Should this happen, it would be amazing for Futsal development in Africa as Futsal will also feature in the 2026 Youth Olympics in Senegal, two major competitions helping to increase awareness of futsal across the continent. And, hopefully, followed by news from Angola that their professional futsal league will launch in 2025.
If Morocco is given the competition, it is disappointing, however, that they were the only bidding nation. Why was there no bidding war for International Futsal's pinnacle competition and the 10 edition of the World Cup? Why did no other nation bid?
Futsal Focus
You can read more articles about international futsal by going to the top navigation bar or by clicking here
If you like this article and would like to keep updated on Futsal news, developments, etc then you can now follow Futsal Focus via Google News by following our page which will send you an alert as soon as we publish an article so please click here and follow us on Google.
You can also keep updated on Futsal news, developments, etc then please submit your email below in the Subscribe to Futsal Focus option.