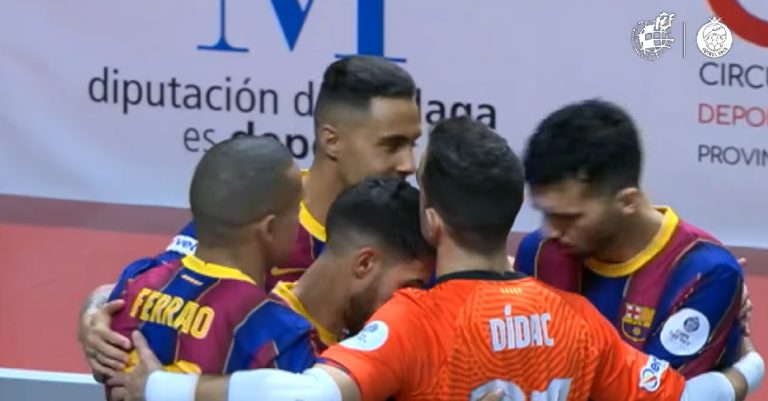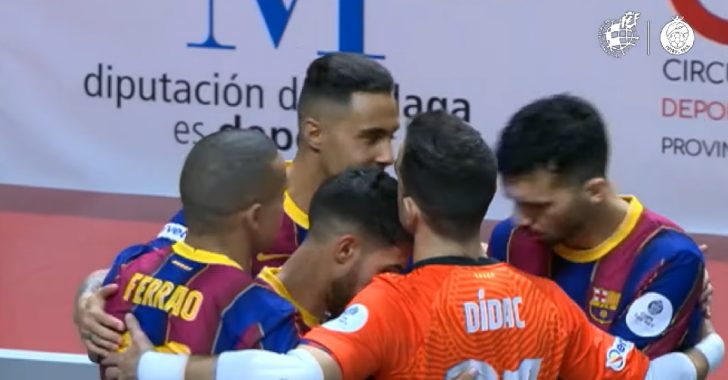 Estimated reading time:2 minutes, 40 seconds
For the third consecutive year, Barça and Jaén Paraíso Interior will play for the Copa del Rey title. The previous two fell on the side of the Catalans, who have win six of the nine championships played and who aspire to put the finishing touch on the 2019-20 season with what would be their fourth title. Only the League escaped them to conclude a dominant season.
Season 2011, the finals have been:
Barcelona v Inter Movistar – 4-3
Barcelona v ElPozo Murcia – 6-3
Barcelona v ElPozo Murcia – 6-3
Barcelona v ElPozo Murcia -4-3
Inter Movistar v Marfil Santa Coloma – 3-0
ElPozo Murcia v Palma Futsal – 3-2
ElPozo Murcia v Magna Gurpea – 3-2
Barcelona v Jaén Paraíso Interior – 4-3
Barcelona v Jaén Paraíso Interior – 5-2
It will be a new opportunity for a cup team like the Andalusian. In 2015, Dani Rodríguez's men broke into the fight for the titles precisely against Barça, winning a Spanish Cup that has gone down in history. Since then they have managed excellently in the knockout tournaments. In 2018, they won the Spanish Cup again and this will be the third Copa del Rey final, a title that is very elusive.
Jaén will try to make good that the third time is the charm. In front, her executioner for the last two years and who has soared after an irregular start to the season. After having travelled several days through relegation places, they now have five victories in a row, one of them precisely against the Andalusians at the Palau (3-1). Andreu Plaza, Barça coach, talking to Marca said: "Titles are always important. No "It is an obligation, but it is always a goal. For the club, it would be important due to the whole situation. Jaén have reached the finals and won them, so I have the utmost respect."
Believe until the end
The team from Jaén forced extra time in the last second after a throw-in by their captain Mauricio. "This is Jaén, believing until the end. We play against the best squad in the world, but surely we have our options," he said. For his part, coach Dani Rodríguez said: "It's a final. This game will take its toll on us, but with the adrenaline of a new final we must be with all our senses, it is not an excuse. We are very happy to play another final in a row ".
You can read more articles about domestic futsal by going to the top navigation bar or click here
If you like this article and would like to keep updated on Futsal news, developments, etc then you can now follow Futsal Focus via Google News by following our page which will send you an alert as soon as we publish an article so please click here and follow us on Google.
You can also keep updated on Futsal news, developments, etc then please submit your email below in the Subscribe to Futsal Focus option.
Follow Futsal Focus by clicking on Facebook, Twitter, or Instagram or on the social media buttons on the website.