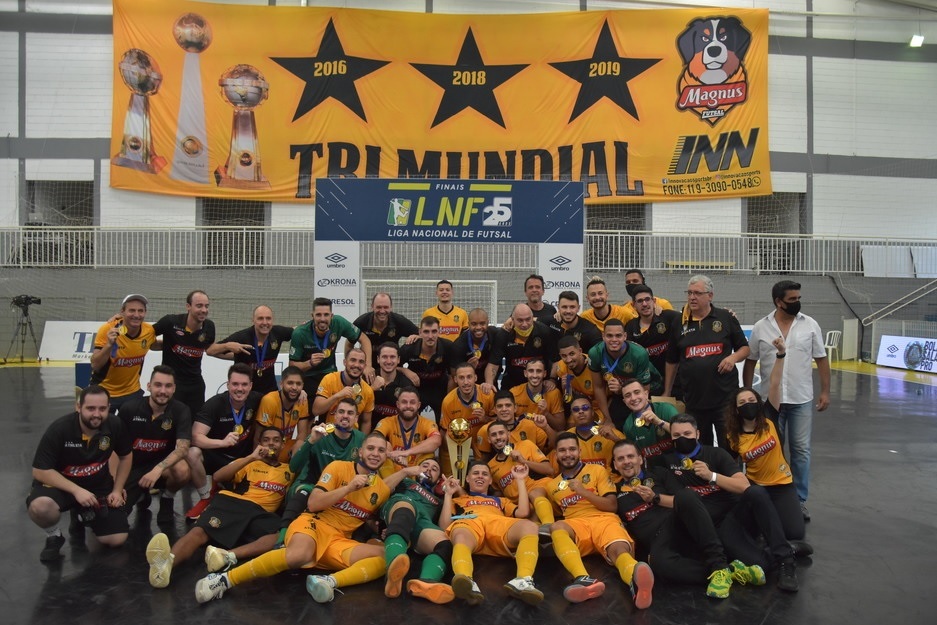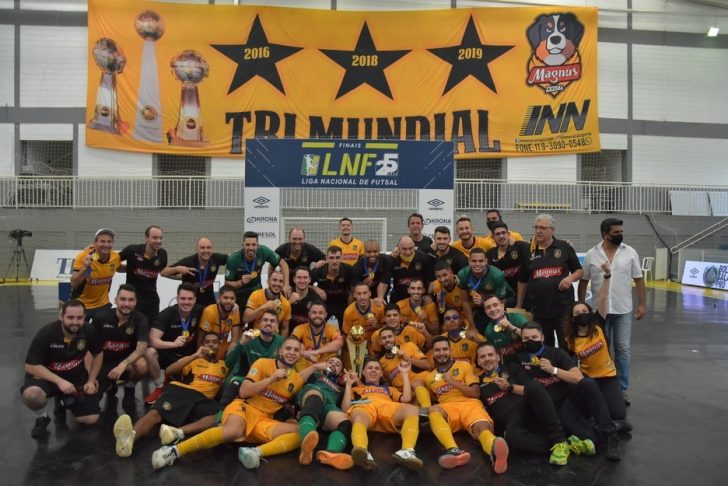 Estimated reading time:2 minutes, 15 seconds
On Sunday, Corinthians entered the court to decide the title of the National Futsal League. After a 1-1 draw at home, however, the team lost 3-0 to Magnus Futsal and took the runner-up spot.
Magnus Futsal are undefeated National League champions
This is the first time that a team has lifted the cup without losing any matches during the competition. Altogether, there were 17 wins and only 3 draws, also they have the most goals of the championship with 75.
The match started with the visitors putting Lucas Oliveira's goal in danger. The answer came in through Leandro Lino and Rodrigo's mid-range shots. With strong marking and fast movement, the home team attacked the goal of Careca. Corinthians played with long balls to their pivot and strong shots by Jackson. Taking advantage of a sixth foul, Rodrigo kicked in the corner and opened the scoring.
In the second stage, needing the victory, the team from the capital went on the attack and pressed. On several occasions, who stood out was goalkeeper Lucas Oliveira, closing the goal and giving tranquillity to the squad. With half the period left, Murilo ended up receiving the second yellow card and was sent off. The numerical advantage on the court gave Magnus freedom.
In a fast move attack, Rodrigo ended up knocked down in the area. In the penalty kick, the captain himself extended the advantage. Corinthians started to use goalkeepers with less than six minutes to go. After holding off the Corinthians attack, and with less than two minutes left for the final whistle, Marinho received on the ball on the wing and kicked it into the open goal, closing the scoreboard and guaranteeing the second championship for Magnus Futsal.
In addition to the second National League title, the Sorocaba team also shone in individual achievements. Rodrigo was the league's top scorer with 15 goals, and he was also elected the LNF star in a popular vote. Coach Ricardinho won the Best Coach award and winger Leozinho won the Best Left Wing.
Main picture: Magnus Futsal website
You can read more articles about domestic futsal by going to the top navigation bar or click here
If you like this article and would like to keep updated on Futsal news, developments, etc then you can now follow Futsal Focus via Google News by following our page which will send you an alert as soon as we publish an article so please click here and follow us on Google. You can also keep updated on Futsal news, developments, etc then please submit your email below in the Subscribe to Futsal Focus option.
Follow Futsal Focus by clicking on Facebook, Twitter, or Instagram or on the social media buttons on the website.