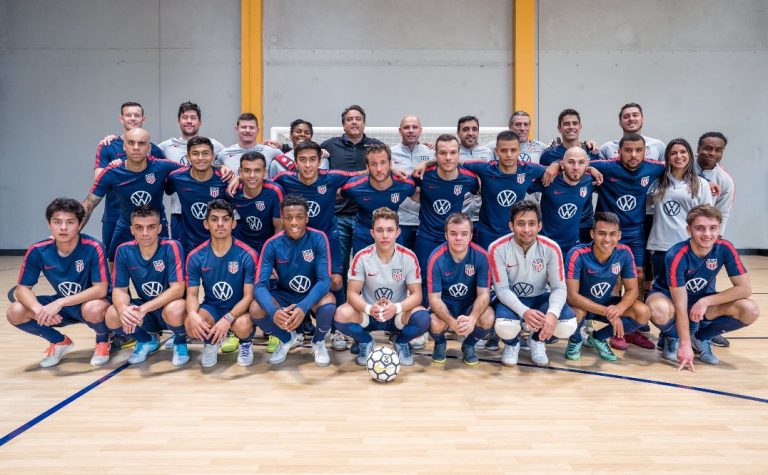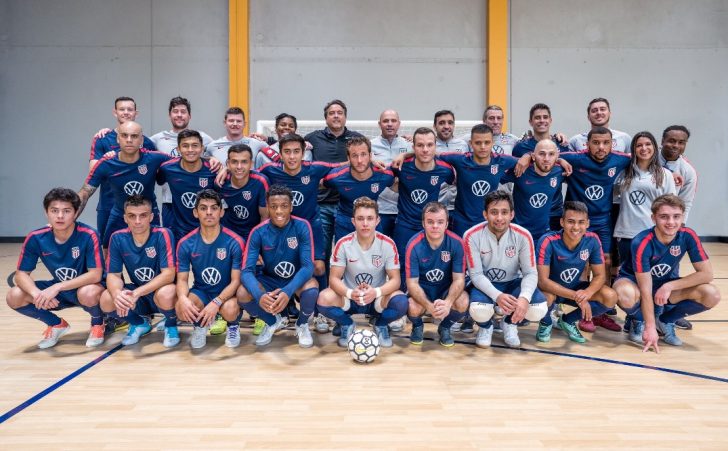 Estimated reading time:4 minutes, 17 seconds
USA SCHEDULE SET FOR 2020 CONCACAF FUTSAL CHAMPIONSHIP. COMPETITION FROM MAY 1-10 IN GUATEMALA CITY, GUATEMALA SERVES AS REGION'S QUALIFICATION TOURNAMENT FOR 2020 FIFA FUTSAL WORLD CUP; USA TO ATTEND FUTSAL WEEK WINTER CUP IN CROATIA TO DETERMINE SQUAD MEMBERS FOR ITS QUALIFYING TEAM.
The U.S. Futsal Men's National Team will face Cuba, El Salvador and either Nicaragua or Puerto Rico in Group D play at the 2020 Concacaf Futsal Championship from May 1-10 in Guatemala City, Guatemala. Concacaf (Confederation of North, Central American and Caribbean Association Football) conducted the draw for its futsal championship tournament that will send four teams to the 2020 FIFA Futsal World Cup today at its headquarters in Miami.
Ahead of Concacaf's qualifying championship, the U.S. Futsal MNT will travel to Porec, Croatia from Feb. 25-March 8 for a pair of friendlies against Slovenia on Feb. 28 and 29 and to participate in the Futsal Week Winter Cup. The friendlies and tournament will help U.S. Futsal MNT head coach Dusan Jakica and his staff determine the members of the squad that will attempt to qualify for the USA's first Futsal World Cup since 2008.
"The international games in Croatia are going to be critical for us in preparing our final roster for World Cup qualifying," Jakica said. "In the past six months we've had three domestic camps and seven identification training events, and we've looked at more than 500 players. We are excited about the dedicated group of players we have selected for this important test."
U.S. Futsal Men's National Team – Futsal Week Winter Cup Roster by Position:
GOALKEEPERS (3): Eduardo Macias (Dallas, Texas), Diego Moretti (Ancona, Italy), Estevan Vasquez (Fortworth, Texas)
ALAS (9): Alan Acevedo (Hicksville, N.Y.), Diego Bobadilla-Mireles (Holland, Mich.), Nik Djokic (Brighton, Mich.), Jonathan Navarro (San Francisco, Calif.), Billy O'Dwyer (Dallas, Texas), Jonathon Orlando (Cheverly, Md.), Tomas Pondeca (Dallas, Texas), Ryan Russell (Waldorf, Md.), Joey Tavernese Jr. (Garden City, N.Y.)
FIXOS (3): Eduardo Buenfil (San Jose, Calif.), Julian Escobar (Hicksville, N.Y.), Lee Mitchell (Martinez, Calif.)
PIVOS (4): Raphael Araujo (Bound Brook, N.J.), Daniel Mattos (Chicago, Ill.), Luis Pinto (Kansas City, Kan.), Gabe Silveira (San Francisco, Calif.)
The U.S. will kick off the Concacaf Futsal Championship against El Salvador on Monday, May 4, face the Qualifying Round winner, either Nicaragua or Puerto Rico, on May 5 and wrap up group play versus Cuba on May 6. Kickoff times and broadcast information for all matches will be announced by Concacaf at a later date.
2020 Concacaf Futsal Championship – Guatemala City, Guatemala
USA – Group D Schedule
| | | |
| --- | --- | --- |
| Date | Opponent | Venue |
| May 4 | El Salvador | Teodoro Palacios Flores Gymnasium |
| May 5 | Nicaragua vs. Puerto Rico winner | Teodoro Palacios Flores Gymnasium |
| May 6 | Cuba | Teodoro Palacios Flores Gymnasium |
Guatemala, Panama, Costa Rica, and Cuba were placed in Pot 1 for the draw as the competition's four highest-ranked teams as of February's Concacaf Futsal Rankings, while Trinidad & Tobago, Mexico, Canada, and the USA were seeded in Pot 2.
| | | | |
| --- | --- | --- | --- |
| Group A | Group B | Group C | Group D |
| Guatemala | Panama | Costa Rica | Cuba |
| Trinidad & Tobago | Mexico | Canada | U.S.A |
| Guadeloupe | Curacao | Haiti | El Salvador |
| Winner Matchup 1 | Winner Matchup 2 | Winner Matchup 3 | Winner Matchup 4 |
The 10-day competition will be played in two stages, beginning with a Qualifying Stage that will be followed by a Championship Stage – group stage and knockout stage. The Qualifying Stage will consist of four matchups played on May 1 and 2 between the lowest ranked eight participating teams, according to the Concacaf Futsal Ranking as of February 2020. The four matchups are:
Matchup 1: Sint Maarten vs Martinique
Matchup 2: Suriname vs French Guiana
Matchup 3: Saint Kitts and Nevis vs Dominican Republic
Matchup 4: Nicaragua vs Puerto Rico
After a two-game series, the four Qualifying Stage winners will advance to the group stage of the Championship, joining the 12 top ranked teams.
At the conclusion of group play, the top two teams from each of the four groups will advance to the pivotal tournament quarterfinals that will determine the four nations that will represent Concacaf at September's Futsal World Cup in Lithuania. Group D, in which the USA was drawn, will cross over with Group A to determine two of the pivotal quarterfinal matchups, while groups B and C will crossover for the other two quarterfinal games.
Thirteen teams have already qualified for the 2020 FIFA Beach Soccer World Cup: host Lithuania, along with Kazakhstan, Portugal, Russia, and Spain from Europe via UEFA's 2020 FIFA Futsal World Cup qualification tournament, which will also admit two more nations after a playoff stage in April. Additionally, Solomon Islands qualified via the 2019 OFC Futsal Nations Cup; Argentina, Brazil, Paraguay, and Venezuela qualified via CONMEBOL's 2020 FIFA Futsal World Cup qualifying tournament; and Angola, Egypt and Morocco qualified via the 2020 Africa Futsal Cup of Nations.
If you like the information provided, you can read more articles about International futsal by going to the top navigation bar or click here
If you like this article and would like to keep updated on Futsal news, developments, etc then please submit your email below in the Subscribe to Futsal Focus option.
Follow Futsal Focus by clicking on Facebook, Twitter or Instagram or on the social media buttons on the website.