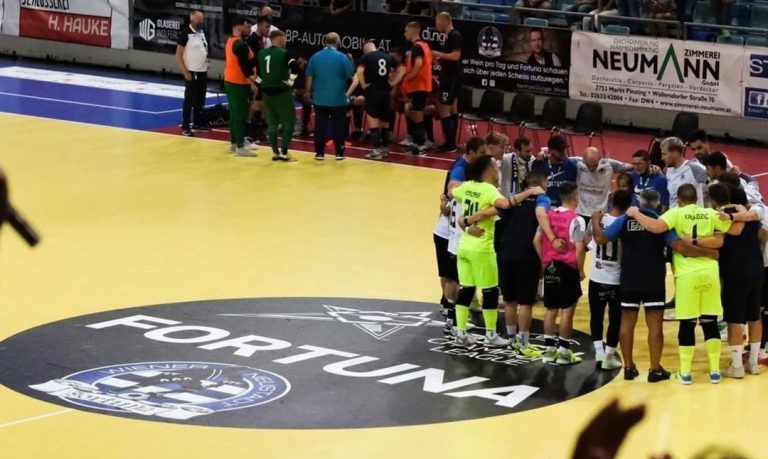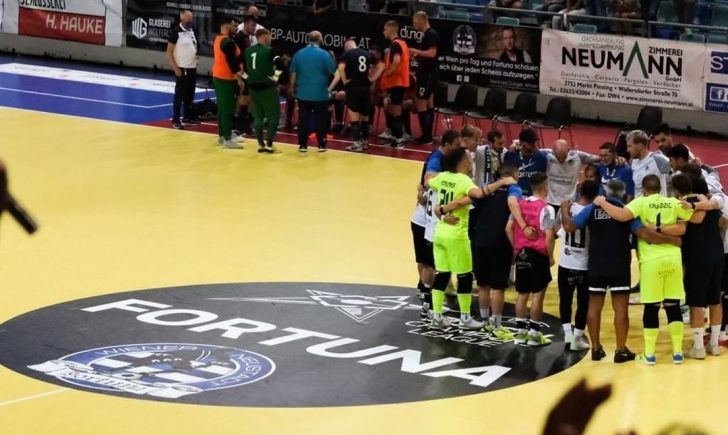 Estimated reading time:12 minutes, 41 seconds
The UEFA Futsal Champions League is the competition that every futsal team wants to play in, but very few manage to achieve. Few are the lucky ones who get to compete in the top continental competition, and many teams fall by the wayside. The teams have to navigate a long and complex road of fixtures, full of team obstacles on and off the court, before reaching the glory of playing in this tournament.
(Main picture – Fortuna Wiener Neustadt celebrating their first victory in the Preliminary Round. Source: Fortuna Wiener Neustadt)
The first and most difficult part of the path is the sporting one. The UEFA Futsal Champions League map is made up of 52 countries, whose respective national futsal leagues will dictate who is the representative club competing in the European competition. The teams that want to access the Futsal Champions League will first have to overcome their national rivalries and show that they are the best in their country. In some cases, this doesn't pose a great deal of difficulty for certain teams who have the budgets which allow them to exercise overwhelming hegemony over their national rivals. This is the case, for example for Kazakhstan's Kairat Almaty who has already participated in nineteen editions of the competition, and for Azerbaijan club, Araz Naxçivan as this season is their seventeenth appearance. But, for most, it is not like this, the normal result is that the league titles tend to be a lot more closely contested, and it is more difficult to rise as a champion of a league, and each year that passes it is becoming more complicated given the increase in inequality. But, this part of the road is what gives meaning to this type of competition, which, as its name suggests, is a competition for the champions. For so many teams to fall by the wayside is within the normality of the league championship, but for the clubs who do qualify, the first problems show themselves later in relation to the non-sporting problems. The non-sporting problems deprive teams of playing in the Futsal Champions League on an equal footing with others such as hosting a group at the entry-level (preliminary round) despite having earned the right in the sporting field to do so. Outside of this, comes down to competitive disadvantage due to some clubs competing at the preliminary round who have budgets beyond the majority of their opposition even though they are deemed as amateur clubs at this stage when they are not, as many clubs find ways around this to pay players which causes competitive balance issues even in their own countries as well.
Being champions of a league does not guarantee competing in the UEFA Futsal Champions League, there are still many other obstacles to overcome such as financial or even political obstacles which may cause a club to pull out though this is rare in recent times, though was more prevalent at the early stages of the competition's development. UEFA thought about these financial problems since the vast majority of the clubs could not afford the costs of flights, hotels, transport or the conditions needed to host a group. To solve this, UEFA chose to give a grant to the participating clubs which is distributed as follows: €10,000 for the flights of those teams that travel to the host city and for the host clubs a larger amount is allocated, up to €55,000, it seems like a lot but how much this can cover depends on the costs of the country's market. With this last amount, the host club must cover the accommodation and transport costs for the three teams that they host in the city, as well as prepare a venue for a competition of such magnitude and the events marketing and promotion in their local market.
You might argue that these amounts are quite generous on the part of UEFA especially as futsal still depends heavily on money from football and is not generating enough itself to cover these costs. And, the clubs are aware of this, but it doesn't cover all the costs needed, therefore, clubs are forced to seek help from other institutions, private companies, and sponsorship. "We think the clubs who reach the Futsal Champions League should have more financial help from their own countries' federations towards this competition, for example, funding medical exams or the transport for the team to the airport. Those expenses are not covered by UEFA", stated Augin Gevrie, the President of Örebro SK Futsal with whom Futsal Focus had the opportunity to speak with. Augin goes on to argue that "for small teams, these costs are big and should not be a problem for the federation to help with. Also, the support from the federation could be more in terms of "hands-on" and not only through email or telephone calls. The guides sent from UEFA are not that simple and present many things to think about and it's not easy to know what to focus on and how to interpret and to apply all these things". The president of the Swedish club concludes by stating that "of course, if the federation helps the teams financially, there must be some regulations on how they do that, so the money goes to the correct areas, and not to salaries for players, etc… to prevent any kind of fraud from occurring".
Another problem is the times established by UEFA to announce the hosts and to give these amounts of money to the clubs. Philipp Brandecker, President of Fortuna Wiener Neustadt from Austria explains: "It's very difficult because such a big event usually takes a long time to prepare everything. In the case of the Futsal Champions League, the tournament starts two months after the draw, and a few days before the draw they informed us that we were hosts, so many things we would have liked to have done were not possible in this short time". On the other hand, he also states that "the amount of money given by UEFA is not received by the club until the end of September, which means the club needs to have this amount beforehand, in order, to not fall into debt, and this is not always the case". On many occasions, for this reason, some teams have had to give up their host status because they don't have the finances. Furthermore, they are not supported by their association to be able to host, as you would expect the association to be just as enthusiastic as the club to host this prestige competition, but unfortunately at this time, that is not the case.
Philipp explained another problem to us at the amateur level for many clubs that play in the Preliminary Round, which also includes his club: "For us the Main Round, would be a much bigger problem because we would have to play away, and most of our players also play football and it would be difficult for them to combine this with their club football". He goes on to comment that he believes "this is also a reason why his club lost against Gentofte Futsal. All their players could focus on only futsal on the week of the preliminaries, but ours couldn't as most of them had a football game the day before". And this serves to link with another of the problems that arise once inside the UEFA Futsal Champions League. However, this is also a club problem, the club's recruitment policy should change to focus on only players who want to compete in futsal, but finding such players as well in a nation considered a developing futsal nation, at an amateur level, is difficult. Years of futsal coaching at an early age would be needed so children who grow up to prefer the sport are the target recruitment group.
The designed format of the competition gives rise to inequalities. Amateur clubs playing against other teams with professional/ international players shouldn't be the case at this stage as most clubs are supposed to be amateur. We found examples of this in this year's preliminary round such as the match between Northern Ireland's Belfast United and FC Differdange 03 Futsal from Luxemburg which ended with a score of 13-0 in favor of the Luxembourg team. It was a match between a team of amateur players against another that had three Paraguayan internationals such as Damián Mareco, Hugo Martínez, and Richard Rejala, and other professional players from Argentina or Brazil. This difference in level is given by the economic difference between some clubs. Despite this inequality, the teams competed in the same round, making the inequality clear and preventing many teams from advancing to the next round as they have to face many superior teams.
Both clubs which Futsal Focus spoke to agree that a change of format is needed to solve these problems, although when choosing a new format this is where the disparity of opinions arises. Augin from Örebro SK Futsal states "making groups based on regions would bring costs down. We think that could be a good idea. About the format and structure, maybe shape it more like the football Champions League which has Play-offs, then a first-round group stage could be introduced before the main round, elite round and final four". Philipp, however, from Fortuna Wiener Neustadt believes that "groups in regional splits are not necessary and also thinks that the system with Paths A and B in the Main Round should be canceled so smaller clubs can have the chance to play against the big clubs. In football, for example, even Red Bull Salzburg can play against Barcelona". However, what he is not taking into account here is the financial differences between the sports, the club's know-how to take advantage of hosting big teams, the competitive disadvantages, the lack of media attention, etc. An example of this happened in last year's Futsal Champions League main round competition in Group 3, Kauno Žalgiris from Lithuania hosted Viten Orsha from Belarus, and two major clubs from Spain, FC Barcelona, and Levante. To host the group, they hired the professional Basketball club BC Žalgiris' Žalgiris Arena, in Kaunas which has a 12.3000 capacity for sporting events. But, even on the back of the 2021 FIFA Futsal World cup which took place in Kaunas just 3 weeks before, the majority of the Futsal Champions League matches had an attendance of 200 people, and only one fixture had 800 but how many paid for their tickets is another question. The majority of clubs don't have the infrastructure or the finances in order to promote and attract fans/ ticket sales to cover their costs at these stages.
All this clearly shows the need for a new UEFA Futsal Champions League entry-level format, where the competitive balance on and off the court is taken into consideration, where stages are based on competitive balance, benchmarking, and encouraging club development. Using this year's preliminary round clubs, we present an example. Below are the lowest ranking 16 clubs:
Apoel FC (Cyprus)
Örebro SK (Sweden)
FC Cosmos (Estonia)
Petro-w (Latvia)
Tianna Futsal (Albania)
PYF Saltires (Scotland)
FC Encamp (Andorra)
Vesterålen Futsal (Norway)
Istanbul Şişli SK (Turkey)
Futsal Club Cardiff (Wales)
ASA Technion Haifa (Israel)
Amigo Northwest (Bulgaria)
Europa FC (Gibraltar)
S.S Folgore (San Marino)
Belfast United (Northern Ireland)
Ísbjörninn (Iceland)
These clubs could have played each other in a preliminary round playoff match which would have made a more competitive balanced and entertaining round. After this entry round, the 8 winners would play each other in a first-round qualification match, keeping the competitive balance, and providing clubs the opportunity to benchmark their development on and off the court, making it more enjoyable for the clubs. The second round would be against the next group of top-ranked preliminary clubs who competed in this year's preliminary round, with the four winners of the first round joining the 15 clubs below. However, you would have to change the format where the highest ranked club listed below wouldn't be in this round, making it 18 clubs instead of 19. So, in this example, Kampuksen Dynamo from Finland wouldn't be in this round. The club would be in the main round especially when the Finnish National Futsal team made it to UEFA Futsal EURO 2022 quarterfinals. The nation competed against Portugal and just missed out on a semi-final place, losing 3-2. In addition, this club in this year's preliminary round won their games, 17-0, 10-1, and 2-3. To be beaten so heavily does nothing for clubs like Ísbjörninn from Iceland and FC Encamp from Andorra. Ísbjörninn should be travelling to Northern Ireland to play Belfast United as an example. The 15 clubs mentioned are:
Kampuksen Dynamo (Finland)
Georgians Tbilisi (Georgia)
Futsal Minerva (Switzerland)
JB Futsal Gentofte (Denmark)
Piast Gliwice Futsal (Poland)
Futsal Klub Lučenec (Slovakia)
FC Differdange 03 (Luxembourg)
Yerevan Futsal Club (Armenia)
Doukas SAC (Greece)
Stuttgarter Futsal Club (Germany)
London Helvecia (England)
KMF Loznica-Grad 2018 (Serbia)
Fortuna Wiener Neustadt (Austria)
KMF Titograd (Montenegro)
Blue Magic Futsal Club Dublin (Ireland)
The 9 winners of this second round would then go through to the main round of the UEFA Futsal Champions League and only in the main round would there be groups. Though looking at the clubs in Path B at this year's main round, it asks the question if there should be a third round of qualification games before the main round. But, keeping with the format breakdown provided, this format described provides a route that is competitively balanced, and less expensive for most amateur clubs as most will be knocked out in the first round. The games can be regionalized as much as possible to bring down the cost of flights etc.., and the format provides clubs with the opportunity to benchmark their player and club development at each stage.
Author of the interview
My name is Alejandro Méndez and I was born in Cartagena. I discovered futsal in 2017 and it fascinated me. Since then, I immersed myself in this amazing and beautiful sport. I support Jimbee Cartagena, and I write and talk about futsal in Efesista.es, and Futsal Focus.
You can read more articles about Spanish futsal in the domestic section by going to the top navigation bar or by clicking here
If you like this article and would like to keep updated on Futsal news, developments, etc then you can now follow Futsal Focus via Google News by following our page which will send you an alert as soon as we publish an article so please click here and follow us on Google.
You can also keep updated on Futsal news, developments, etc then please submit your email below in the Subscribe to Futsal Focus option.
Follow Futsal Focus by clicking on Facebook, Twitter, or Instagram or on the social media buttons on the website.