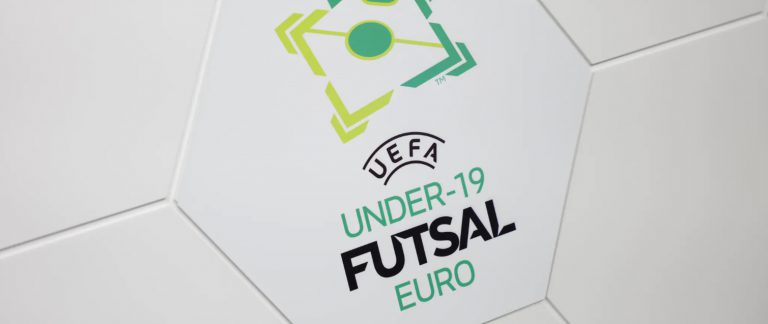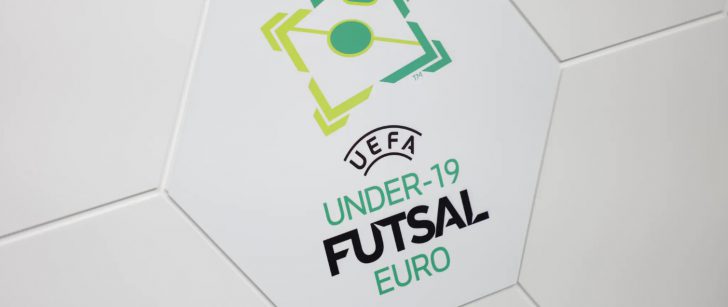 Estimated reading time:9 minutes, 8 seconds
The Under-19 Futsal EURO is a crucial step in player development according to Spain and Portugal coaches Albert Canillas and José Luís Mendes. Hence, why every year, Futsal Focus looks forward to seeing who is taking part in the competition.  UEFA has 55 member associations, and in all, 36 teams have entered the third edition, with 35 competing to join hosts Croatia in the finals at Žatika Arena in Poreč, scheduled from 3–10 September 2023. The nations who will compete in the preliminary round or main round are:
England
Lithuania
Estonia
Malta
Montenegro
San Marino
Gibraltar
North Macedonia
Kosovo
Germany
Poland
Slovenia
Moldova
Kazakhstan
Ukraine
Romania
Serbia
Portugal
Slovakia
Belarus
Belgium
Finland
Latvia
Georgia
France
Bosnia and Herzegovina
Greece
Azerbaijan
Spain
Netherlands
Hungary
Andorra
Italy
Turkey
Czech Republic
Seeing who is taking part gives you a somewhat understanding of who is looking to develop the sport and provides opportunities for young people to excel. The nations not taking part in the competition are:
Northern Ireland
Wales
Scotland
Republic of Ireland
Norway
Denmark
Faroe Islands
Iceland
Russia (banned from UEFA domestic and international competitions)
Israel
Armenia
Albania
Austra
Bulgaria
Cyprus
Liechtenstein
Luxembourg
Moldova
Slovakia
Switzerland
From the UK, the only nation to enter a team in the competition is England. Northern Ireland doesn't have an U19s team yet but they do have a Men's and a Women's national team. The Irish FA has launched primary and secondary national school futsal competitions. However, the national futsal league clubs have yet to develop academies across the board, and the coaching infrastructure is not in place for the U16, U17, and U18 age groups in order to enter a team from a pool of players who have had futsal coaching pathways and experience. Scotland has had a Men's national team for a long time; why they have yet to develop a U19s team or a women's pathway yet when the pool of talent is available to them, is not known.  The last time Wales competed on the international stage was in the preliminary rounds of the UEFA U19 Futsal EURO in 2021. It was a celebrated development, the FA didn't announce the team's entry so it was a surprise to many in the Welsh futsal community when they saw that Wales were taking part. But, shortly after the event, the Football Association of Wales announced they were cancelling their international pathway for the U19s, and their senior Men's team and no news concerning when they plan to return has been announced or is known by our sources.  England returns to the international stage after a nearly 3-year absence. When COVID broke out, the FA decided to cancel their international futsal pathways. Since the FA announced their plans to return to international futsal through the set-up of England Futsal (an independent body), starting with a Men's and a Women's U19 team, the Women's team has yet to be created and we haven't seen or heard any further news either. However, England Futsal did announce their Men's U19 team shortly before the preliminary rounds for this competition and their coaching staff: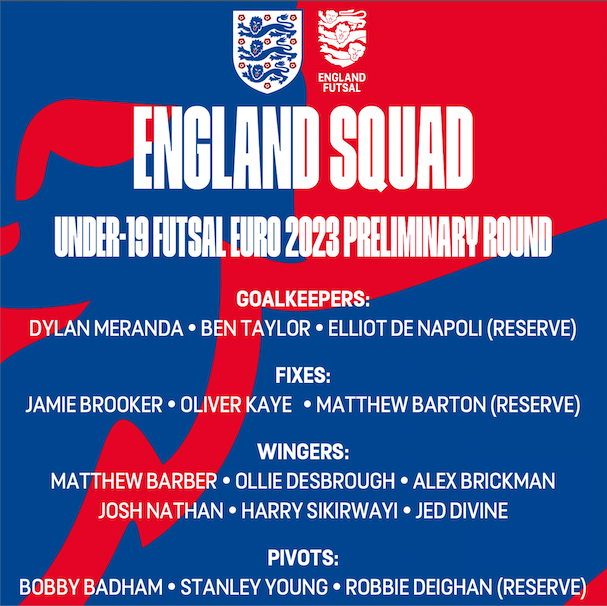 England Futsal provided a profile breakdown of their coaching staff for the England U19s on their website:
Ben Tadmor, Team Manager: Ben is a former Assistant Coach to the Men's Senior Futsal Team, U19 Men's pathway lead, and an FA Futsal Coach Educator.  He was introduced to Futsal in 2004, and has evolved with the development of the game in England, and has experience in the National League, FA Futsal Cup & UEFA Futsal Champions League campaigns with domestic teams.
Sion Kitson, interim Head Coach: Sion has been involved in futsal since 2004. As a player, he represented Great Britain at two World University Games and played International futsal for Wales for 5 years. Captaining his country and scoring at an international level. He has also had the honour of coaching the England & Wales U19s as well as the England U21s and being the assistant coach for the Men's senior team over the last 5 years.
Pete Vallance, Assistant Coach: Pete's proudest achievement was representing his country in the Senior England Futsal Squad from 2008-2012. Since then, he has been heavily involved in the development of the England Futsal Performance Programme over the last ten years, first as Head Coach of the Midlands Centre of Excellence, then as National Manager of the FA Regional Talent Centres, followed by Head Coach of the England U19's Futsal Squad and Assistant Coach of the U23's between 2016-2020. During his time as Head Coach of the England U19s, he managed the squad for the inaugural 2019 UEFA European Championships in Croatia, achieving a record win against Italy.
Stuart Cook, Assistant Coach: Stuart started playing Futsal for England in 2009 and immediately became hooked on the sport. Playing 80 international games across several successful qualification campaigns, as a player he loved the physical and mental aspects of the sport and, in transitioning to coaching, has really enjoyed the tactical element of futsal. His proudest moments within Futsal are qualifying for the Main round for the first time in both European Championships and World Cups. As a player, he also enjoyed success in the National League, FA Cup and UEFA Champions league. He currently plays a big part in the running of Bolton Futsal Club, where he is Head Coach of the senior and Development teams and Coach to the U14s-16s academy age groups.
The players have been playing in either the B teams or the senior teams of their clubs, and many have been playing futsal for a long time. They are also backed by an experienced coaching staff, so it will be interesting to see how they perform. We don't know how much training they have had or if they had the opportunity to play any friendlies but this may be the deciding factor concerning qualification or not. The team has been drawn into Group A along with Lithuania, Malta (Debut) and Estonia, a group, the players and coaching staff may fancy their chances in. Should they be successful, they will enter Group 7 with Italy, Turkey and the Czech Republic. They have defeated Italy before, but this new group of players, along with Turkey and the Czech Republic, will present a tough test for the new setup. The other preliminary and main groups are:
Preliminary (18 – 21 January):
Group A (18–21 January): England, Lithuania (hosts), Estonia, and Malta
Group B (19–21 January): Montenegro, San Marino, and Gibraltar (hosts)
Group C (19– 21 January): North Macedonia (hosts), Kosovo, and Germany (Debut)
Main round (21 – 26 March):
Group 1: Poland, Slovenia, Moldova (hosts), Kazakhstan
Group 2: Ukraine, Romania, Serbia (hosts), Winners preliminary round Group B
Group 3: Portugal (hosts), Slovakia, Belarus, Winners preliminary round Group C
Group 4: Belgium, Finland, Latvia (hosts), Georgia
Group 5: France, Bosnia and Herzegovina (hosts), Greece, Azerbaijan
Group 6: Spain (holders), Netherlands (hosts), Hungary, Andorra
Group 7: Italy (hosts), Türkiye, Czechia, Winners preliminary round Group A
Group winners join hosts Croatia in the finals, provisionally scheduled from 3 to 10 September.
The England U19 team's existence is on a 2-year trial basis, why this is the case, we don't know. It is potentially down to funding, the FA may have provided England Futsal with a certain amount of resources in order to get things started. But, future participation must be based on England Futsal securing its own revenue streams over this time, to cover costs, but that is only our guess.
Futsal is a young sport, but even as the discipline matures, new talents need to be brought through and fresh stars minted. Hence the launch of UEFA's first full youth championship.
The first tournament three years ago in Riga did not take long to produce its first star graduate. Tomás Paçó helped Portugal to the semi-finals, and since then has won the senior FIFA Futsal World Cup and UEFA Futsal EURO alongside Zicky, who played in qualifying in 2019 but missed the finals through injury. Portugal coach José Luís Mendes, who also happens to be one of the assistants for the senior team under Jorge Braz, certainly sees the U19 competition as a vital addition to the path to futsal professionalism for top players, speaking with UEFA.com he said:
"This is key, as it is the final step for young sportsmen, and really a stepping stone to the seniors," he said. "At this level, they are going through a phase of specialisation in terms of their performances, and already have acquired the fundamentals necessary to play at a higher level. This step is also very important, because it is at this age that the vast majority of youngsters decide on their academic path, which can also interfere with this stage of their careers."
Albert Canillas, who led Spain to victory in 2019 and hopes to do so again this time around, sees it also as a finishing school, giving each nation the chance to mould the players they want for the senior squads of the future. "For us, the U19 team is very important because our players begin to learn the philosophy of the Spanish national team, acquire the right values, such as effort, commitment, humility and discipline, and begin to adapt to our model," he said to UEFA.com.
This does not just go for the traditional futsal forces. Teams like Wales and San Marino have been able to taste victory in the preliminary round, where Andorra went one better, getting through a round of UEFA national-team qualifying for the first time at any level, football or futsal, and beating Moldova and only just losing to Belgium in the main round. Andorra player Guillem Jeansou summed up the aim, saying: "Little by little we are climbing the steps with the aim of trying to reach the seniors."
The U19 EURO is not the only way UEFA is aiming to develop futsal and future players. The HatTrick programme, for which European football's governing body committed €775.5 million between 2020 and 2024, and an earmarked €935m for the next four-year cycle, includes incentive payments for associations to enter all the UEFA futsal competitions, with some choosing to dedicate funds towards specific futsal projects including pitches and promotion of the sport, ensuring more young people get the chance to play.
(Main picture: Source – UEFA)
Futsal Focus
You can read more articles about international futsal by going to the top navigation bar or by clicking here
If you like this article and would like to keep updated on Futsal news, developments, etc then you can now follow Futsal Focus via Google News by following our page which will send you an alert as soon as we publish an article so please click here and follow us on Google.
You can also keep updated on Futsal news, developments, etc then please submit your email below in the Subscribe to Futsal Focus option.
Follow Futsal Focus by clicking on Facebook, Twitter, or Instagram or on the social media buttons on the website.