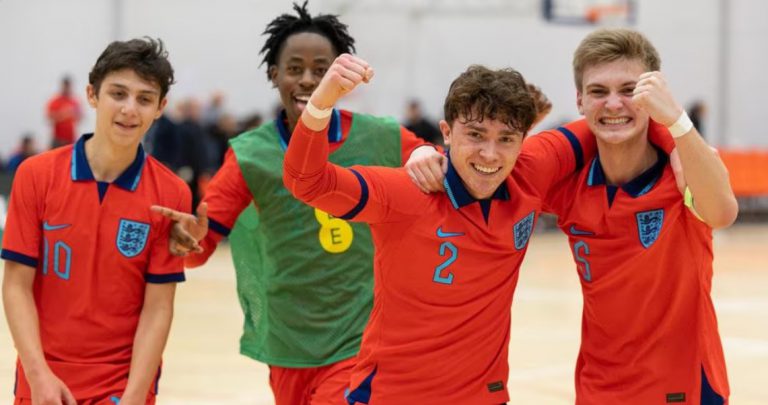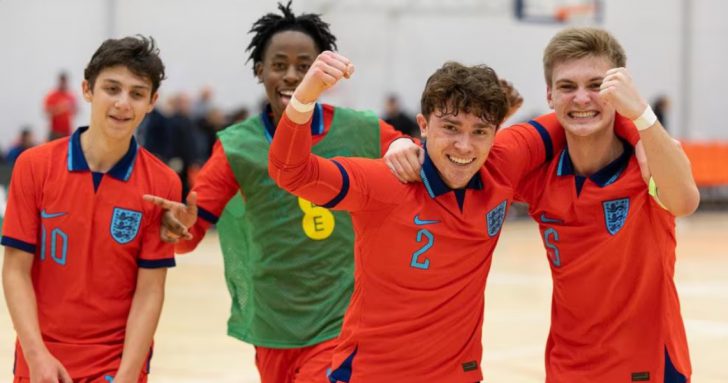 Estimated reading time:5 minutes, 0 seconds
In 2019, the first edition of the UEFA Futsal U19 EURO took place, England avoided the preliminary round and qualified directly for the main round qualifier, facing Italy, Croatia, and Slovakia. The team started the round with a historic victory, defeating Italy, 1-2. England took the lead through Jordan Deer, but Italy levelled minutes later through Simone Achilli. A hard-fought fixture looked like it was ending in a draw until Jared Rand scored in the last minute, securing their first 3 points. After a promising start, England fell to two defeats in their last fixtures, Croatia 4-0 England, and England 0-1 Slovakia, finishing bottom of their group.  After the competition, the FA would later cancel the international pathways for the team.
(Source of main picture: UEFA)
Jump forward to September 2022, when news broke via the Guardian that an U19s team was going to be relaunched to compete in the under-19s futsal European Championship qualifiers in January, this year. Speaking exclusively to Futsal Focus, former England U19 futsal captain Jared Rand opened up concerning his heartbreak when the FA cut funding to the much-loved sport two and a half years ago:
"I was absolutely gutted. An incredible amount of commitment and sacrifice went into striving to achieve my dream of playing for England. I quit football and fully embraced becoming a futsal player and playing futsal for England was my main motivation. Leading out an incredible group of boys at the England U19s first-ever Euros was the biggest honour of my life."
After the U19 EURO Jared went on to play for the senior national team under the stewardship of Michael Skubala until it too was cancelled, and last season played for Bloomsbury in the National Futsal Series Tier One. The now 22-year-old, continued:
"To read the England U19s have entered the next European Championships was amazing to see. I'm so excited for the next generation of players, as that is what it's always about. The talent we have coming through is always getting better and better, and it's exciting to watch. I wish the new group of lads' success and look forward to seeing the new team captain lead the boys onto the court. Whoever it will be, he will love it and will remember it forever."
England's new captain for the U19 team is Bloomsbury Futsal's Jamie Brooker, who led his teammates in each fixture, winning their opening game 6-0 against Malta, in their second match they defeated Estonia 4-5, qualifying for the next round with a game in hand. History was made again in the competition with a 0-3 win versus hosts Lithuania, meaning England finished the round undefeated.
The U19s now enter the main round in March, where they will face Italy again at this stage in the competition, including Turkey, and the Czech Republic. Looking ahead to the next stage, no doubt the coaching staff will review the preliminary round, and a focus will likely be on their result against Estonia. Malta ended their debut campaign on a high with a victory against Estonia to finish second. Yet England, was unable to close out their Estonian opponents in the first half of their match, conceding three goals. Why was this? Was it nerves after a convincing opening win against Malta, was it pressure knowing that victory would potentially secure their place in the next round? Whatever it was, they will have to learn from these mistakes before facing tougher competition in the main round. If England has any hopes of reaching the finals of the competition for the first time, slack defending or any cracks in mental discipline will have to be addressed or they will be punished at this level.
We have reached out to England's U19 Head Coach Sion Kitson to get his thoughts about the preliminary rounds, and we look forward to speaking with him.
Kosovo's last appearance in the competition, like England, was in 2019, where they finish third in Group B of the preliminary round. They defeated San Marino, 2-11, in their opening match but lost their remaining fixtures against Group winners Cyprus, and second-placed Sweden. This time around the new team has shown much improvement, drawing with Germany 3-3 in their opening match and coming from two goals behind to defeat North Macedonia, 3-6. The Kosovans go straight into Main Round Group 3 and were drawn with Portugal, who were runners-up in 2022 and semi-finalists in 2019. Along with Slovakia and Belarus who will be difficult opponents as well.
Montenegro has entered every edition since 2019. They finished bottom of their preliminary group, securing only one point against Group A winners Greece but lost to Andorra and Lithuania. In 2022, in the preliminary round in Group B, they defeated Gibraltar and North Macedonia, winning the group, and progressing to Main Round Group 1. In Group 1, they secured a historic victory for a developing nation against the Netherlands, 0-3 in their opening match. However, Turkey and Italy were a different story, losing 4-1, and 0-2 to Italy. This time around, Montenegro progressed defeating San Marino and Gibraltar and will face Ukraine who has qualified for both past editions, reaching the 2022 semi-finals. Romania also competed at the 2022 finals and group hosts Serbia who finished second to France, missing out on qualification by 1 point.
Futsal Focus
You can read more articles about international futsal by going to the top navigation bar or by clicking here
If you like this article and would like to keep updated on Futsal news, developments, etc then you can now follow Futsal Focus via Google News by following our page which will send you an alert as soon as we publish an article so please click here and follow us on Google.
You can also keep updated on Futsal news, developments, etc then please submit your email below in the Subscribe to Futsal Focus option.
Follow Futsal Focus by clicking on Facebook, Twitter, or Instagram or on the social media buttons on the website.