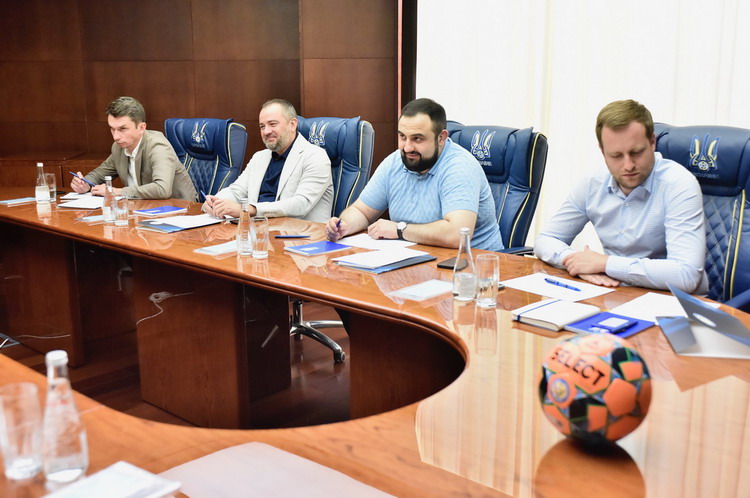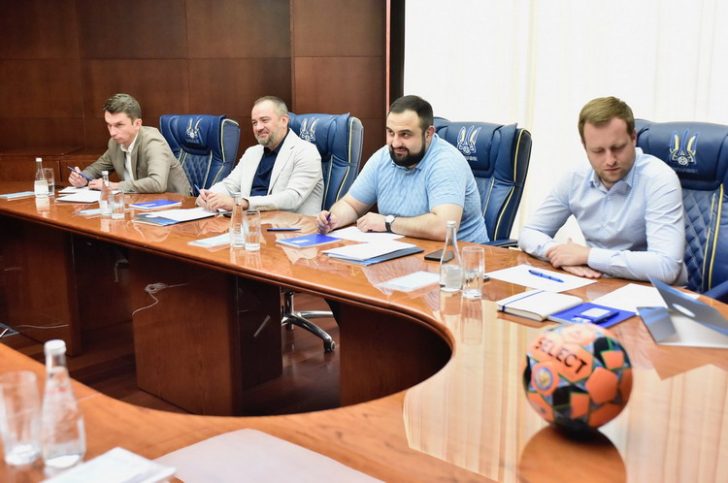 Estimated reading time:2 minutes, 31 seconds
THE LEADERS OF UAF AND AFU DISCUSSED THE APPLYING FOR THE EURO IN FUTSAL TO BE HELD IN UKRAINE
The leadership of the Ukrainian Football Association and the Futsal Association of Ukraine held a meeting at the House of Football to discuss Ukrainian Futsal.
In attendance was the Ukrainian Football Association President, UEFA Executive Committee member Andriy Pavelko, First Vice President Alan Pliev, Vice President and Secretary General Yuriy Zapisotsky and Director of the Legal Department Ihor Hryshchenko. Futsal was represented by AFU President Serhiy Vladyko and Vice Presidents Volodymyr Hrymailo, Andriy Novikov and Andriy Yamkovy.
The participants discussed the importance of the development of futsal in modern conditions, its mass character and accessibility for a wide audience.
Particular emphasis was placed on the futsal management system in Ukraine and the practical provision of all football entities with regulatory requirements: player registration, database maintenance, practical interaction of futsal associations with football associations at the regional level, jurisdiction of football justice and more. The parties noted the need and importance of implementing all decisions of the UAF Executive Committee concerning the futsal management system.
A separate important point of discussion was the initiative to hold the final tournament of the European Futsal Championship in Ukraine. The participants discussed the conditions, details and specifics of the organization of the most prestigious continental futsal competition if it were held in Ukraine. The parties agreed to prepare an application for the right to host the final part of the Futsal Euro in Ukraine and the need for additional consultations with UEFA on this issue.
The next Futsal EURO takes place in the Netherlands in 2022.
Source: Ukrainian Football Association
Futsal Focus supports the Donate4Dáithí campaign
To follow the Donate4Dáithí campaign, you can visit their website here: www.donate4daithi.org  or on Facebook at: https://www.facebook.com/Donate4Daithi you can also donate money to their campaign at: https://www.justgiving.com/crowdfunding/donate4daithi
You can learn more about the Donate4Dáithí campaign by going to our article here
You can read more articles about international futsal by going to the top navigation bar or click here
If you like this article and would like to keep updated on Futsal news, developments, etc then you can now follow Futsal Focus via Google News by following our page which will send you an alert as soon as we publish an article so please click here and follow us on Google.
You can also keep updated on Futsal news, developments, etc then please submit your email below in the Subscribe to Futsal Focus option.
Follow Futsal Focus by clicking on Facebook, Twitter, or Instagram or on the social media buttons on the website.