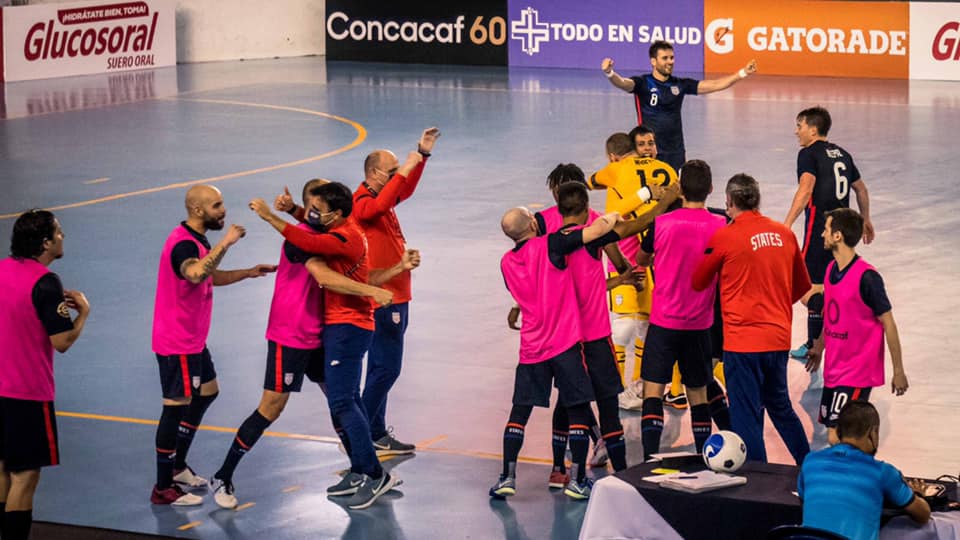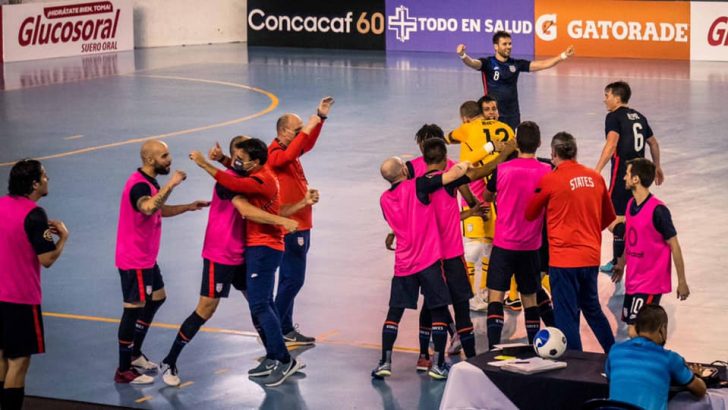 Estimated reading time:12 minutes, 54 seconds
The United States (US) Futsal National Team returns to the FIFA Futsal World Cup for the first time since the 2008 edition in Brazil. Head Coach, Dusan Jakica's team made a fabulous run in the CONCACAF Qualifiers held in Guatemala that ended in a second-place finish behind regional powerhouse Costa Rica. Scheduled to play in the Group of Death against defending champions Argentina, Iran (third place in the World Cup held in Colombia 2016), and Serbia. The US will have to improve tremendously to get out of the group. There is one thing we have learned about this team though, never count them out.
Long Road to the FIFA Futsal World Cup: Rebirth of the National Team 
In 2019, Dusan Jakica was appointed Head Coach of the US Futsal National Team along with Assistant Coaches Otto Orf and Pablo DaSilva. They immediately started looking for futsal specific players across the United States by reaching out to clubs and futsal influencers. Camps and combines were held throughout the US and a core group of players eventually traveled to Europe to play in the Futsal Week Winter Cup 2020 competition in Porec, Croatia. The US placed 3rd in this tournament.
Upon the team's return to the US, COVID paralyzed futsal competitions around the world including regional qualifiers and the World Cup. All of the hard work put in by players and the coaching staff was at risk. Many players continued to train on their own and some got together informally to continue their preparation for Guatemala. In the qualifiers, the US would draw with El Salvador and then defeat Nicaragua and Cuba to win the group. Securing a World Cup spot by defeating the Dominican Republic and then a finals appearance by besting hosts Guatemala in penalty kicks cemented the never give up and hard working identity of this US team.
Who's Who?
Goalkeepers:
Robert Damron (19) is a new addition to the World Cup squad. He plays for the Michigan Futsal Factory Academy (formerly Ann Arbor Mudpuppies) in the NFPL. Damron is a very agile and explosive shot stopper; widely regarded in the US as one of the top futsal goalkeepers. Damron obtained his first cap against Slovakia with a first half shutout.
Diego Moretti (40) is the team Captain and MVP. Moretti made some incredible saves during qualifiers. His international experience in the Italian Serie A, A2, and B make him the natural leader of this team. US success in the World Cup largely depends on how well he plays against top international competition.
Estevan Vazquez (25) has the least futsal experience of the three goalkeepers. Vazquez played professional soccer in Mexico and currently in the Major Arena Soccer League for the Mesquite Outlaws. He debuted with the USFNT in February 2020.
Note: It is surprising to not see Eduardo "Choco" Macias, a mainstay in the US goal for the last 6 years on this roster. Choco was a part of this process since 2019 and along with Moretti were the net minders in Guatemala.
Fixos/Cierres/Defenders:
Eduardo Buenfil (23) is an up and coming defender for this US team. Buenfil is still learning the ins and outs of futsal but he definitely improved throughout the WC Qualifiers. His ability to manage the game will have to be on point during the World Cup.
Julian Escobar (33) has a ton of futsal experience obtained over the last 15 years playing for NY Ecuador FC. Escobar is a crafty player with the ability to go forward. In World Cup qualifying he played more of an ala/cierre role. Transition defending and attacking will be key for Julian to make his mark on the world stage.
Guilherme Veiga (37) is a vocal and imposing presence in the back for the US. Veiga played a limited role early on and then got hurt in World Cup Qualifiers. He was a (cheer)leader for the team in Guatemala. He has a lot of experience in futsal and in the MASL but his fitness level after returning from injury is a big question mark.
Alas/Wingers:
Jeremy Klepal (28) is the owner/player of Lansing City Futsal of the NFPL. Klepal has one of the most powerful shots in US futsal. A versatile player who can attack and shoot with his left or right, Jeremy was one of the most regular performers during qualifiers. Klepal's role will be to create balance in attack and defense as he feeds off the pivots in the team's 3-1 system.
Luciano Gonzalez (26) is the difference maker on the court for the US team. Lucho has played in Argentina and Italy. He is a world champion in AMF Futsal with the Argentinian National Team. In qualifiers, Lucho led the defense as the starting fixo/cierre. Gonzalez proved to be definitive up top as well, as he had clutch goals in key moments throughout the tournament. Gonzalez and Klepal spent time training together in Michigan this summer. Hopefully this connection and the dualities stemming from it will bring some quality chances for the team.
Daniel Mattos (35) plays for Michigan Futsal Factory Academy (formerly Ann Arbor Mudpuppies) of the NFPL. Mattos has been a regular for the National Team since 2016. In World Cup Qualifiers we saw a more mature Mattos with a very different role than in previous tournaments. Looking to the World Cup and with improved fitness, Dani has to provide a spark with his strength, skill, and finishing.
David Ortiz (20) plays for the Dallas Sidekicks of the MASL. Ortiz will be debuting with the national team at the world stage. He has very limited futsal experience. A recent addition after the last domestic camp in Georgia, how much Ortiz will help this team in the World Cup is unknown.
Tomas Pondeca (19) plays for Paris Acasa in the French first division but grew up playing futsal with City Futsal in Dallas. Pondeca received the best young player award in the CONCACAF World Cup Qualifiers mainly because of his explosiveness and 1v1 play on the wing. The biggest question is will Tomas Pondeca be just as effective in the "Group of Death" or will he have to elevate other aspects of his game. Regardless, this team needs Pondeca to provide key minutes and be effective in every shift on the court.
Diego Bobadilla (28) has been a role player for the national team since 2016. Bobadilla is another recent addition to the team and a bit of a surprise. He was a member of the 2020 team that played in Croatia but did not get a call up to the World Cup Qualifiers in Guatemala.
Alencar Ventura Junior (35) plays for Safira Futsal in Boston, Ma. "Pedalada" is arguably one of the most if not the most dominant 1v1 player in regional and national competitions over the last few years. He had an  average World Cup Qualifying tournament and is remembered for the defensive miscue that led to Costa Rica's game winning goal. Junior was recovering from injury before qualifiers and it showed. We have yet to see Ventura play to his ability with the national team.
Pivots:
Raphael Araujo (28) plays for NY Ecuador FC but started his futsal journey with NJ Copa. Rapha is a workhorse! His physical strength, powerful shot, and resilience are his best attributes. Like in Guatemala, Araujo has to find his ala-pivot connections and make himself available as the third man in transition plays. Rapha's physical play is suited for a group that will be filled with non stop, back and forth action.
Everson Maciel (43) plays for Safira Futsal in Boston, Ma. Everson is the most decorated pivot in the US. Everyone in the US is used to seeing magic happen when he touches the ball. Just like the bicycle kick finish against El Salvador in qualifiers. He has worked hard to be fit for the World Cup. In Guatemala, the coaching staff did a good job to keep him fresh and use him in key moments. It would be wise to continue using him in this capacity.
Zach Reget (26) is a member of the Florida Tropics in the MASL and his first official futsal games were during the World Cup Qualifiers in Guatemala. Reget is still learning the game of futsal but his intensity, defensive prowess, and vision for goal can't be denied. He improved tremendously during the qualifying tournament! The learning curve in the World Cup is very steep but Reget is a quick study.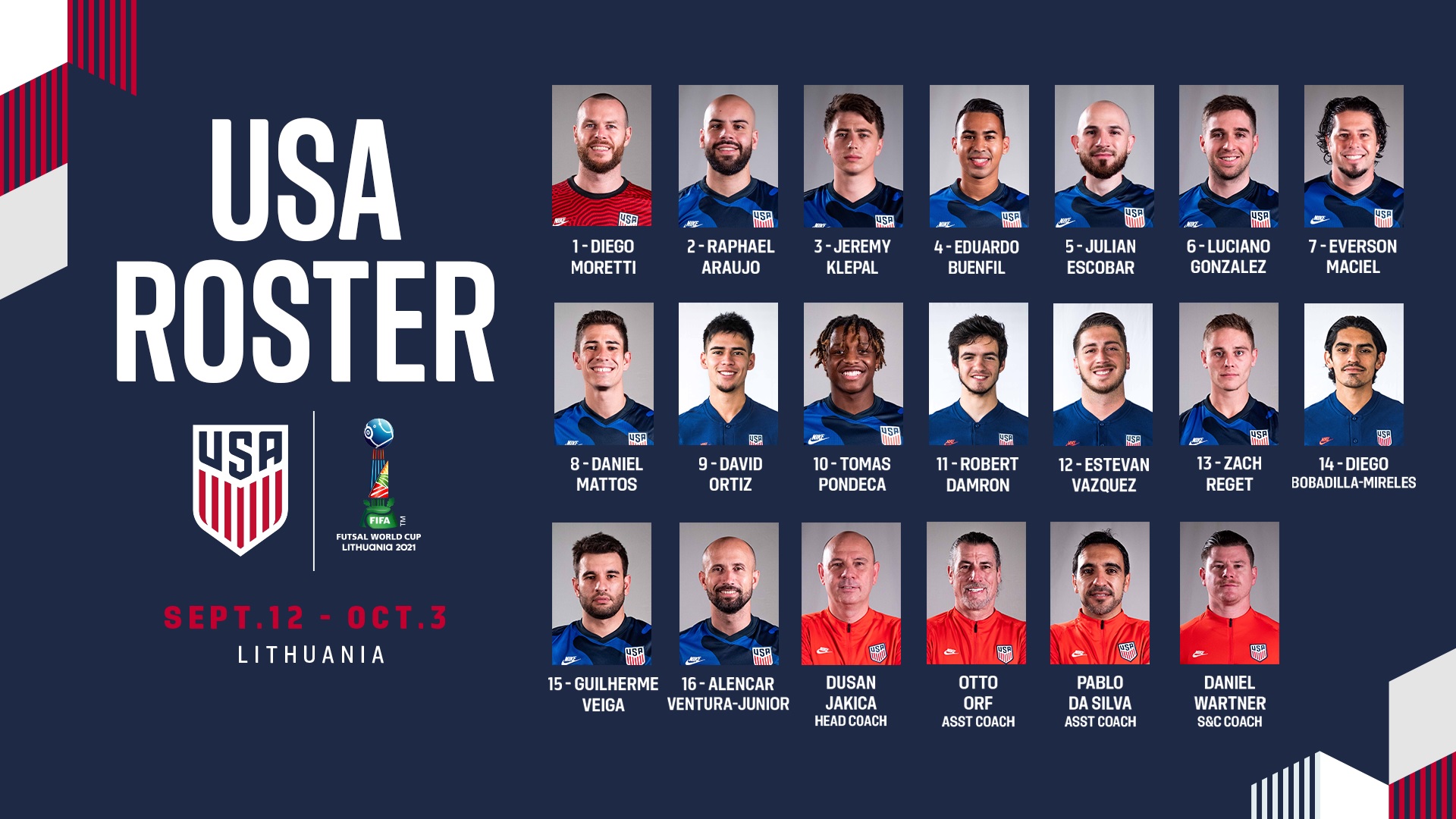 The Group of Death: Game by Game
US Futsal National Team debuts in Group F on September 14th against World Champions, Argentina. Their second match will be against Iran on September 17th and will close out their group play on September 20th versus Serbia. The top two teams of each group and the four best third-placed teams advance to the round of 16.
Tuesday, September 14th v. Argentina
World Cup Champions Argentina surprised everyone in Colombia with their "total futsal" style of play. They have not lost a beat since then and have continued to improve. Argentina is a non-stop transition team with players that know their job quite well. In their recent friendlies they were very comfortable being uncomfortable. Some rare moments of weakness were seen against Japan as they did not adapt quickly to the high and constant pressure of the Japanese team. On defence they also faltered as Japan switched between attacking systems. The US has players that are able to apply constant pressure, their success defensively will come down to concentration and decision making. Dusan Jakica's team works well on transitions going forward, their movement will be key to keep Argentina on their toes.
Friday, September 17th v. Iran
The Kings of Asian Futsal placed third in the 2016 FIFA Futsal World Cup after eliminating Brazil. Iran's style of play is very "Spanish" with a clear influence from the time Jesus Candelas coached them. Iran's rotations work the ball in between lines with constant movement and give and go combinations on the wings. Their attack has options though as they can switch to pivot play when number 9 is on the court. The US team has proven time and time again they are up for a back and forth fight. Their intensity will keep them in this game. A positive result depends on the depth and consistency of the US team.
Monday, September 20th v. Serbia
If anyone knows Serbia very well, it is Dusan Jakica. On paper this is the most accessible match for the USA. This will be a special match for Coach Dusan and the team. In a recent friendly against Brazil, Serbia was spectacular. Marcos Sorato's input as assistant coach is evident as Serbia was fluid in attack, making connections and switching seamlessly between systems of play. In this match though, anything can happen.
Hopes and fears after the World Cup
US participation in the FIFA Futsal World Cup is a win win for the sport especially when most players have deep connections within grassroots futsal. The futsal community in the United States is eager to watch this team play, not being able to see their friendly matches leading up to the tournament is disappointing for fans with the US taking part in friendly matches in Slovakia as part of their preparations.
In a sport like futsal, exposure is everything! The growth of the sport depends on it. It is the hope of all futsal enthusiasts to see US Soccer not only keep this program going but to expand as well, and increase their promotion of the sport to encourage more to get involved in its development, and to play or coach within the sport. Some fear a weak performance from the national team could lead to further funding being reduced, however, I don't see this being the case anymore. As our footballing community and industry grows so does the understanding that 'technical players' in every position is vital going forward. Awareness of futsal's contribution to this necessity is growing within US Soccer and the footballing community. Furthermore, as a nation we are highly competitive, if not the most competitive culture in the world. Therefore, does it help if we do well? Of course it does, but I believe no matter how the USA performs, US Soccer will want to best their performance going forward, and will gradually invest more in their team, and the sport to see it develop.
America's participation in the competition has had an interesting reaction, various news sites domestically and internationally have covered the US' involvement in the competition as have FIFA and the growing futsal news sites, why? The United States involvement in a FIFA Futsal World Cup is very important, and I doubt many in the futsal community would argue differently. However, just as America as a major market's involvement is important to the growth and development of futsal, so is the participation of other regional market influencers. Hopefully, America performing well at the competition, and increased coverage by our domestic media will encourage nations in CONCACAF such as Mexico and Canada, and England and Germany (UEFA), China and Australia (AFC), New Zealand (OFC), and South Africa and Nigeria (CAF) to increase their support and investment in the sport's development. When these nations are participating in a FIFA Futsal World Cup, the commercial and media landscape of the futsal industry will change considerably, and nations yet to start the sport's development, will do so.
After reading this article, you will understand why Dusan, his staff and their players achievement to reach the world cup is so important to the development of futsal. We congratulate them on their achievement, and look forward to watching them compete in the Group of Death, one of the most exciting groups of the competition.
This article was created by Tony Toral Founder of New York Ecuador FC and Stephen McGettigan founder of Futsal Focus.
Futsal Focus supports the Donate4Dáithí campaign
To follow the Donate4Dáithí campaign, you can visit their website here: www.donate4daithi.org  or on Facebook at: https://www.facebook.com/Donate4Daithi you can also donate money to their campaign at: https://www.justgiving.com/crowdfunding/donate4daithi
You can learn more about the Donate4Dáithí campaign by going to our article here
You can read more articles about international futsal by going to the top navigation bar or click here
If you like this article and would like to keep updated on Futsal news, developments, etc then you can now follow Futsal Focus via Google News by following our page which will send you an alert as soon as we publish an article so please click here and follow us on Google.
You can also keep updated on Futsal news, developments, etc then please submit your email below in the Subscribe to Futsal Focus option.
Follow Futsal Focus by clicking on Facebook, Twitter, or Instagram or on the social media buttons on the website.