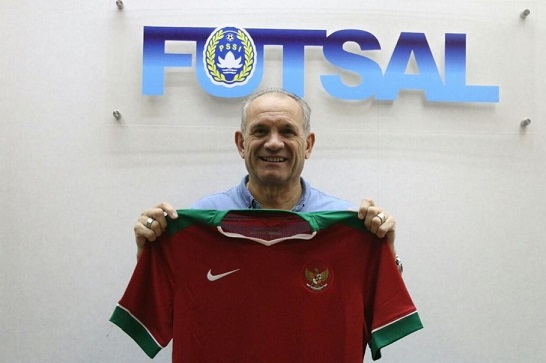 Estimated reading time:1 minute, 54 seconds
The Indonesian Football Association, or PSSI, has appointed a new head coach for the national futsal team — Victor Hermans of the Netherlands. Vic Hermans is the only European player to win the golden boot which he received at the 1989 FIFA Futsal World Cup.
Hermans previously coached several Asian teams, including Thailand and Iran. He also led the coaching staff of Malaysia's and Hong Kong's national teams. The 63-year-old has signed a one-year contract with Indonesia's Futsal Federation (FFI), a sub-organization of the PSSI.
Hermans will oversee the national team during the Asian Football Confederation (AFC) U20 Futsal Championship in May, Southeast Asian Games in August andAsean F0otball Federation (AFF) Futsal Championship in November.
"I saw during the 2016 AFF Futsal Championship that Indonesia has many talented players, but there are numerous things that should be fixed," Hermans said. Indonesia's futsal team fell short at the recent AFF Futsal Championship, marking its worst performance since 2007.  When speaking to Futsal Focus Vic Herman expressed his excitement to get started in Indonesia, that the country had a passionate Futsal spirit and the domestic league attracts thousands of fans and TV broadcast. Futsal Focus followers would have seen this when reading articles about Welsh Futsal International Rico Zulkarain who scored twice in the Final two years ago, helping IPC Pelindo to win the league in front of thousands of fans.
Though Vic Hermans will lead the Indonesian National Futsal team, his ambitions to develop Futsal in Holland and provide players with the highest coaching opportunities has not ended but increased with the launch of the FSG Futsal Academy with former national team players. Vic told Futsal Focus that this is a major step for the sports progression and for players to develop in Holland under the watchful eye of experienced Futsal coaches.
If you like the information provided, you can read more articles about international futsal by going to the top navigation bar or click here
If you like this article and would like to keep updated on Futsal news, developments, etc then please submit your email below in the Subscribe to Futsal Focus option.
Follow Futsal Focus by clicking on Facebook, Twitter or Instagram or on the social media buttons on the website.