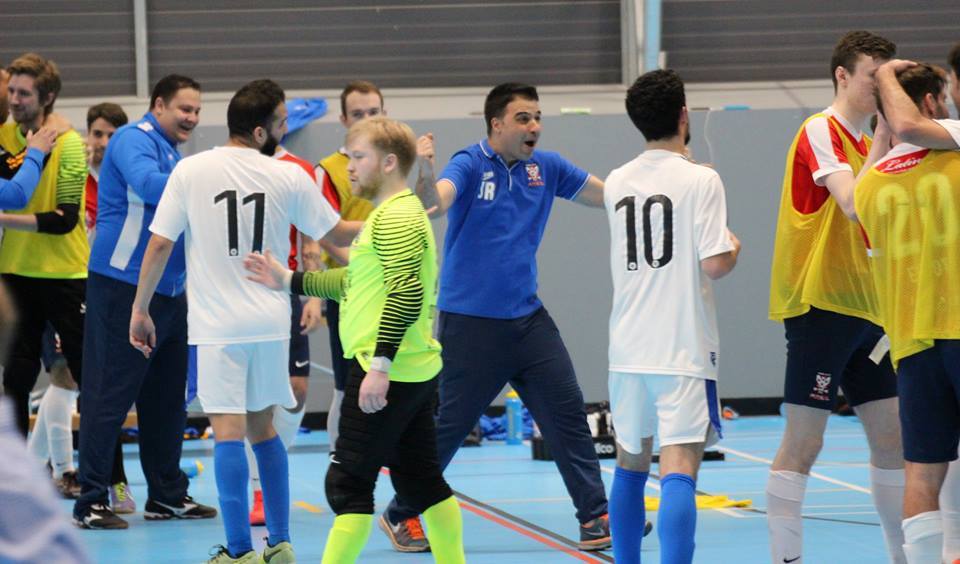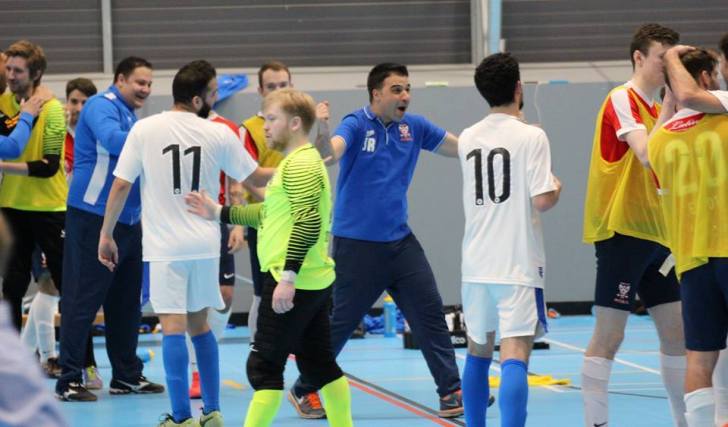 Estimated reading time:4 minutes, 58 seconds
The English Futsal league structure is made up of two top tier division named FA National Futsal Super League North and South. Below these divisions is three lower divisions, FA National Futsal Super League Division Two North, South and Midlands.
This season has seen two clubs progress and challenges one another for the FA National Futsal Super League Division Two North title. In the city of York, York City FC Futsal which was created last year by bringing the University of York Futsal programme under the umbrella of York City Football Club. Junior Roberti has continued as the leader and coach of this development/ programme in the North of England.
In the North West of England, another Futsal programme launched by Tranmere Rovers FC and lead by Damon Shaw has been growing this year.  The Wirral, Liverpool where Tranmere Rovers is situated is of historical importance to English Futsal already, here is where Tranmere Victoria invited Iran to play an international friendly in 2002 and due to this match the English FA launched the England National Futsal team a year later. Damon is also an important piece of English Futsal history in his own right, he launched Middlesbrough Futsal Club, one of the first clubs to compete in the national league, plus he organized the first-ever University Futsal competition which led to the eventual launch of the British Universities & Colleges Futsal competitions (BUCS). He is also the most qualified 'English' Futsal coach having taken his Futsal coaching qualifications in Spain and holds what would be seen as the equivalent of a UEFA Futsal A License coaching qualification if it existed. These two determined and driven coaches came to face to face this weekend, their teams were fighting to be the FA National Futsal Super League Division Two North champions plus they brought a number of youth teams to compete as well plus enjoy the experience of this important match.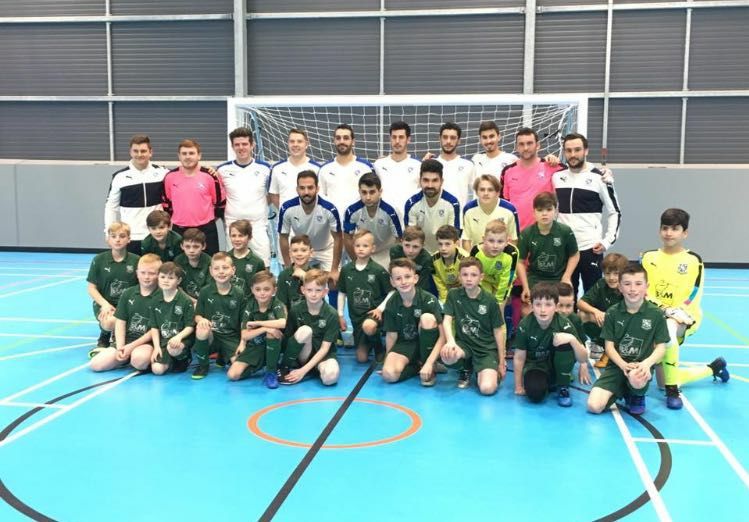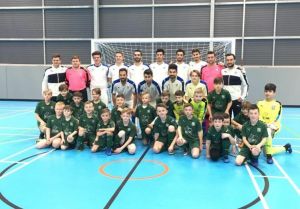 These two determined and driven coaches came to face to face this weekend, their teams were fighting to be the FA National Futsal Super League Division Two North champions. Junior was aiming for a second consecutive title but Damon was organizing his players to achieve their first.  The Minstermen (York) determinedly fought back from a couple of goals down with Robbie Bettson, Fabinho Almeida and Miguel De Vicente (2) securing them a clear advantage; only for a very resilient Rovers to respond with three goals of their own while suddenly reclaiming the lead. However, Victor Manuel struck a vital late equaliser to ensure a second consecutive title for head coach Junior Roberti and his still undefeated charges. Though the end result was a 5-5 draw, York secured the points needed to win their second league title.
After the match, Damon Shaw and his assistant Matt Fejos said, " Despite the result, I am so happy with today. So many kids inspired by the first team and players who I have no doubt will go on to play for us in the next few years. Thanks to all the squad. Been a fantastic day. You've done TRFC proud. Made me proud and such a pleasure to be part of this team (Damon)". (Matt) " Really tough result to stomach today. 5-5 away to newly crowned champions York City FC Futsal. Congratulations Junior Roberti, what you're doing now the whole country will be doing in 10yrs time. Felt our lads deserved the win and our disappointment shows how far we've come. What made it easier to digest was having four teams of futsal academy kids coming on the team bus with the men, playing before, then supporting. Despite the tense match, I believe there are better role models in this picture than what they see in the EPL, and it was an experience they won't forget. We're building something big here. Not for this one game or this single season, but for generations to come."
Junior Roberti spoke with Futsal Focus after the match and said, "This season was/still very good for us, we had a merge with York City FC what was great because of the impact in the community, visibility, etc. We are attracting 100 people as an average attendance at our matches and yesterday 208 people watched our game in the sports hall. So I believe this is thanks to the football club backing up the project."
"We also managed to get a great group of players from abroad and also from Middlesbrough who has helped us a lot to build a very good squad.
We are very solid, and so far we are working very well, including bringing in very young players into the squad. We had 4 U18's in our games so far."
"The kids side is going great, we have kids from 6 till 16, we are able to play away and host games here. yesterday we had 50+ kids from Tranmere and York playing in 3 courts alongside in our sports hall. We have a great structure for the next generations."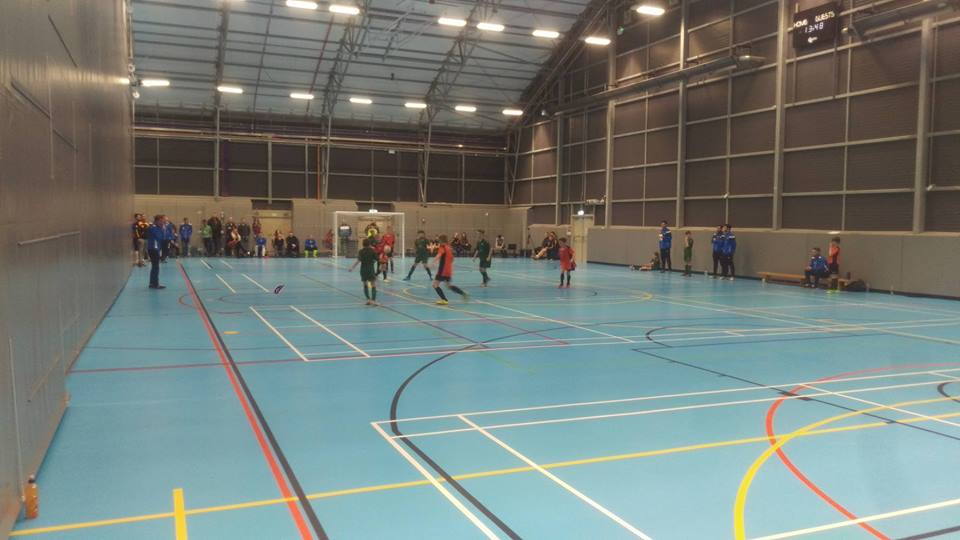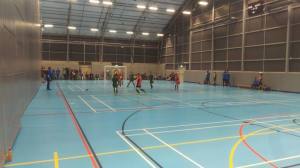 "Finally, York is learning to love the game, firsts time buyers" are loving to come and watch and the feedback is great. We are working hard to bring more and more. Again thanks to the football club we are regularly (weekly) in the main newspaper and this brings a lot of visibility."
"So, York now is in the best moment for Futsal but we want more, we want to fly higher. Super League next season and a strong FUTSAL player factory, this is the plan!"
If you like the information provided, you can read more articles about domestic futsal by going to the top bar navigation or click here
If you like this article and would like to keep updated on Futsal news, developments, etc then please submit your email below in the Newsletter section or by clicking on the Subscribe to Futsal Focus option on the header.
Follow Futsal Focus by clicking on Facebook, Twitter or Instagram or on the social media buttons on the right sidebar.