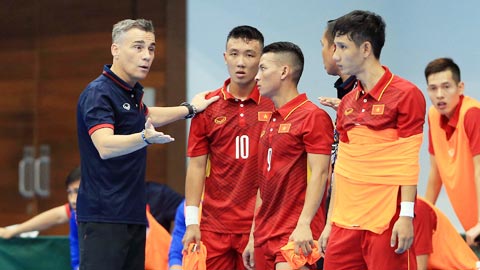 Estimated reading time:1 minute, 59 seconds
Coach Miguel Rodrigo and his Vietnamese players are in a difficult group at the upcoming AFF Futsal Championship
Vietnam has been drawn in a difficult group for the AFF Futsal Championship in Ho Chi Minh City on October 21-27. Following a draw in Malaysia, Vietnam are set to face Australia, Indonesia, and Malaysia in Group B according to the new draw results announced by the Asian Football Confederation (AFC).
Earlier, in the preparations for the tournament, from the end of 2018, the AFF divided futsal teams in the region into two groups, in which hosts Vietnam were in Group A with Thailand, Timor-Leste, and Cambodia. Meanwhile, Group B featured Malaysia, Myanmar, Indonesia, and Australia.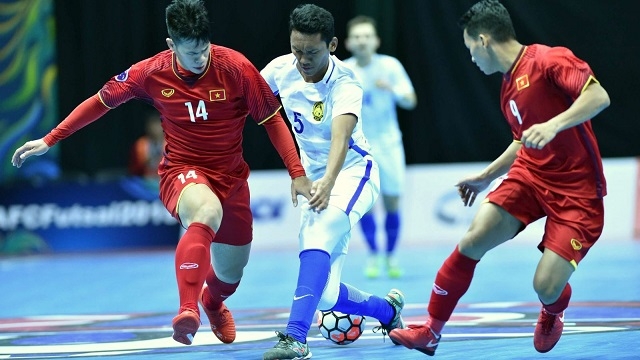 However, as the 2019 AFF Futsal Championship are also playing as the qualifying round for the 2020 AFC Futsal Championship, the AFC has placed AFF teams into seed pots based on their continental rankings and re-organized a draw in Kuala Lumpur, Malaysia, on July 16, as reported by the Vietnam Football Federation.
The draw results were as mentioned above, seeing hosts Vietnam fall into a tough group with fierce battles awaiting against strong opponents Australia, Malaysia, and Indonesia. Meanwhile, Group A includes Thailand, Myanmar, Timor-Leste, and Cambodia.
Another challenge for Vietnam's futsal team is the AFC also re-allocated the number of tickets to the 2020 AFC Futsal Championship for Southeast Asian teams. Accordingly, there will only be three slots for the AFF members at the finals instead of four as before. It forces Vietnam to fight hard for a top 3 finish at the upcoming tournament at home
Australia are one of leading teams in Asia and considered favourites to lift the trophy, Malaysia has beaten Vietnam several times in the recent past and Indonesia are always a difficult opponent.
For the AFF Futsal Championships the groups are:
Group A: Myanmar, Thailand, East Timor, and Cambodia
Group B:  Australia, Indonesia, Malaysia, and Vietnam
If you like the information provided, you can read more articles about international futsal by going to the top bar navigation or click here
If you like this article and would like to keep updated on Futsal news, developments etc then please submit your email below in the Newsletter section or by clicking on the Subscribe to Futsal Focus option on the header.
Follow Futsal Focus by clicking on Facebook, Twitter or Instagram or on the social media buttons on the right sidebar.