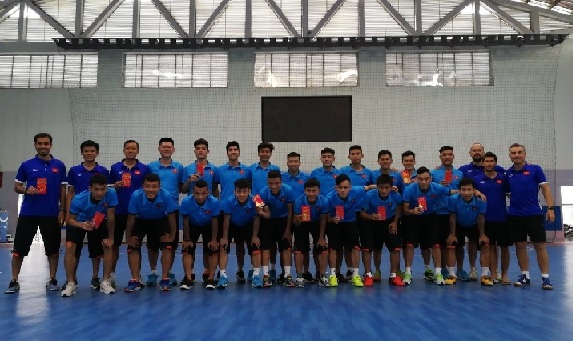 Estimated reading time:4 minutes, 4 seconds
Reported by the Futsal Corner and writer Joaquin Piñero, six Vietnamese Futsal players will train with LNFS clubs
An agreement between the Vietnamese and Spanish futsal federations led to a series of friendlies between the Vietnamese national team and some of the best teams of Southern Spain. Furthermore, some of the most promising Asian players will have the chance to enjoy a unique experience with professional clubs.
Futsal is played at the highest level in Spain, Miguel Rodrigo and Vietnam want to take advantage of that. The Spanish coach is currently the Head Coach of Vietnam, and wants to bring the Asian country to Lithuania, where the World Cup is taking place in 2020. What does he need to do to achieve that? Vietnam must qualify for the Asian Cup first, then rank among the top 5 to qualify for the biggest futsal competition in the world.
Miguel Rodrigo has been working in Vietnam since 2016, developing and improving futsal. Today, he is taking a step further with a very important agreement for his national team.
The Agreement
Thanks to the invaluable help by the Asian federation, a trip was organised with at least three matches in Andalusia. The fixtures are going to take place between February and the end of March, namely February 27th in Seville against Real Betis FS; March 3rd with UMA Antequera; and March 6th against Jaén. This will give Vietnamese players a chance to play against top-level rivals: two playing in Spanish LNFS First Division, and one of the best in the Second Division.
In addition to this experience for the Asian team, six Vietnamese Futsal players will have the opportunity to join three Spanish clubs throughout the month of March.
The teams are:
ElPozo Murcia
Nhan Gia Hung: 16 years old, even though he does not look it. First call, totally unknown. He sure has qualities, he needs to make use of them.
Chu Van Tien: "The player who bears all Vietnam's offensive weight". A big pivot, against all stereotypes.
Peñíscola RehabMedic
Chau Doan Phat: young 19-year-old who already makes the difference in Asia. He is a key player for Vietnam, his coach relies a lot on him: "He is going to be the best player in the country, in my opinion".
Ho Van Y: one of the best players in Asia. He already showed his skills in international contexts. In fact, in 2018, he was a nominee for Best Goalkeeper in the World. Coming from volleyball, he is very big: "He has much room for improvement in Spain, as he is very selfless and eager to learn".
Jaén Paraíso Interior
Dang Anh Thai: A strong wing-pivot who has just started to be seen in international contexts: "[The experience] will be very useful for him as he needs to improve his tactics".
Ton That Phi: "Surely our best player". Skillful dribbler, quick and good shooter. He is the one who makes the difference in Vietnam.
Across the U.K, players and coaches have taken the chance to play abroad but it is a decision we hope to see more of, not only for players in the U.K but around the world. Do whatever you have to do to get the opportunity to train with clubs at a higher standard but be realistic about where you are in your development and what league you think could be your next step up to aid your growth as a player and coach.  Examples of coaches and players who have already done this before he are Andy Reading, former Tranmere Victoria Futsal Club Goalkeeper and now Goalkeeper coach for the England National Futsal team. Andy has travelled around the world to improve his knowledge. Current England Futsal International Liam Palfreeman has played in Italy for Città di Falconara C5 and is now playing in Spain in the Liga Nacional de Futbol Sala for  Second Division B side U.A. Ceuti Futbol Sala. Welsh Futsal International Rico Zulkarnain played in Indonesia, Scottish International Kyle Ballingall competed in France and Damon Shaw is currently coaching in Malta. Other players who led the way are England International veteran Doug Reed who played in Spain and Croatia among other countries as did former England International Robert Ursell in Cyrpus for APOEL  Futsal, winning the league and cup plus competed in the UEFA Futsal Champions League for the club.
Authors: Joaquín Piñero (Twitter: @JoaquinPHerrera) and Futsal Focus.
Article: Aspects of this article was taken from the Futsal Corner (Twitter: @futsalcornerweb)
English translation: Emanuele Risso (Twitter: @eman_risso)
Pictures are taken from Vietnam Head Coach Miguel Rodrigo (Twitter @miguelrodrigocs)
Cover image: VietNam News