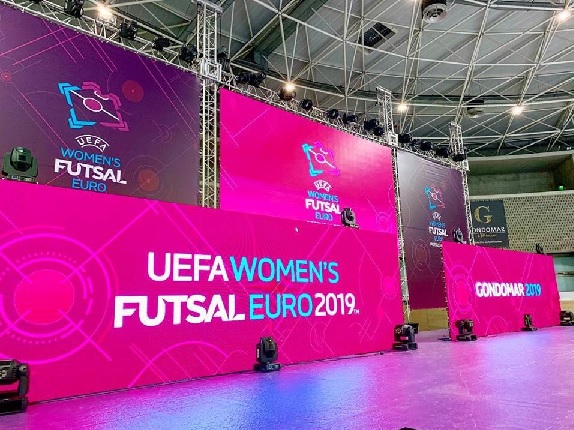 Estimated reading time:4 minutes, 7 seconds
Historic day for Futsal with the UEFA Women's Futsal EURO Finals 2019 in Portugal at the Pavilhão Multiusos de Gondomar in Porto
Exciting times for women's futsal. UEFA set a course for women's game to gain a new status with the launch of the UEFA Women's Futsal EURO and a total of 23 associations out of 55 took part. Today that decision comes to the final stages of the competition with Russia, Portugal, Spain and Ukraine kicking off this historic day for the sport of Futsal.  A high-quality quartet who all have legitimate hopes of capturing the European title.
Women's futsal has an abundance of talent across Europe and a good number of them will be present at the inaugural UEFA Women's Futsal EURO finals. Portugal is hosting this prestigious event – the Pavilhão Multiusos de Gondomar in Porto will be the setting for the start of a memorable new era. We can expect plenty of excitement in the city this evening.
UEFA decided in early 2017 to give European futsal a fresh dimension by revamping and expanding its futsal competitions, including the addition of women's and youth competitions. The new competition for European national women's futsal teams, to be held every two years, will further enhance the profile of a game that is in constant evolution.
Speaking at the UEFA Women's Futsal EURO press conference ahead of the finals, Russia's coach Evgeni Kuzmin, Spain's Coach Claudia Pons, Ukraine's coach Oleg Shaytanov and Portugal's coach Luis Conceição.
Russia's coach Evgeni Kuzmin: "Our girls are looking forward to this competition so much. For them, it is a big step forward, and they are just waiting for kick-off."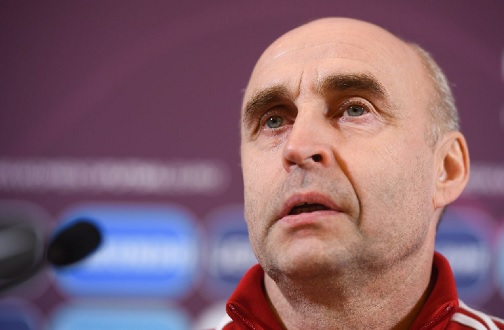 Spain's coach Claudia Pons: "Russia have taken a leap forward and improved a lot over the past few years and I think tomorrow's match will be tough. It will be decided on small details and that is what we've been working on."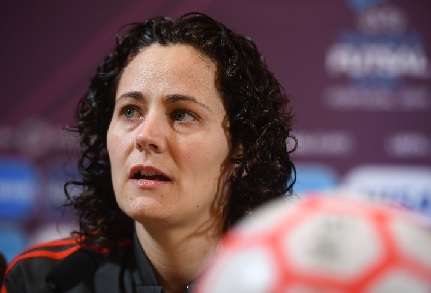 Ukraine's coach Oleg Shaytanov: "For us, it will be tough, but for Portugal, it won't be easy because they will feel the pressure of wanting to win so much and not to let down their fans."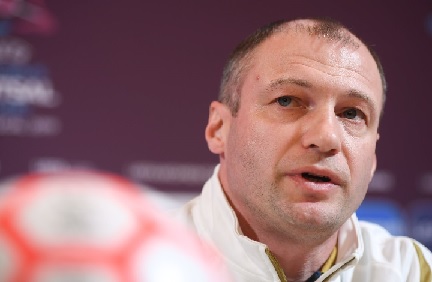 Portugal's coach Luis Conceição: "Ukraine are a very competitive side, very strong physically in one-to-one situations, so we have to be careful."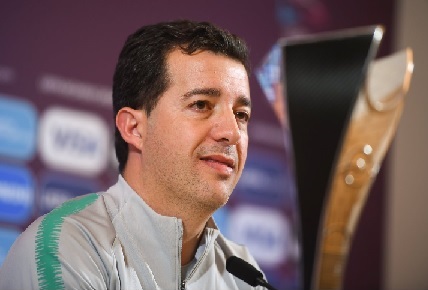 The Pavilhão de Gondomar has witnessed many great occasions in domestic and European futsal. It was here in 2007 that the men's UEFA Futsal Championship was hosted.  A 22-year-old Ricardinho thrilled the home fans that year with a series of spectacular performances in propelling Portugal to the semi-finals. There they lost to the eventual champions Spain on penalties, but not before O Mágico had brought a capacity crowd to their feet with a brilliant bicycle-kick goal.  We look forward to seeing who will be the standout star play at the Women's Finals, producing the skill, goal and performance that will bring this 2,800 capacity stadium to their feet.
Before the advent of this UEFA Women's Futsal EURO, the sport's European elite have sought out other proving grounds – including Krasnogorsk in Russia, venue of the annual International Victory Day Tournament each May. Spain's deciding 1-0 win over Russia last May secured a fifth consecutive triumph (and sixth overall) and featured Anita Luján as player of the tournament. Russia were runners-up for the fifth year running in a four-team round-robin event that has also featured the national teams of Poland, Hungary and Czech Republic in recent years.
The Spanish FA (RFEF) established its own high profile Four Nations event in 2016 when Russia won the inaugural edition ahead of Spain, Portugal and Italy. When the same quartet met again in Guadalajara in December 2017, hosts Spain prevailed, beating Portugal 4-2 in their final fixture to secure the trophy.
On a global level, the Women's Futsal World Tournament ran for six years from 2010-15 and ended with Brazil victorious each time – with runners-up medals for Portugal (three times), Spain (twice) and Russia (once). Women's futsal also made its debut as an Olympic sport in 2018, with Portugal's under-19 side winning the Women's Youth Olympic Futsal Tournament in Buenos Aires in October.
You can watch UEFA Women's Futsal EURO across Europe and the world thanks to UEFA's broadcast partners and the live streaming of games on our YouTube channel UEFA.tv.
In territories where there is no broadcast coverage listed below, fans can stream every game live for free on UEFA.com and via the UEFA.tv channel on YouTube. Highlights of every match will also be available on UEFA.com as of midnight CET after each matchday in all territories.
Futsal Focus wishes all the participating nations in the finals good luck and we look forward to watching the matches this evening.
All pictures were taken from the UEFA Futsal Twitter page: https://twitter.com/UEFAFutsal