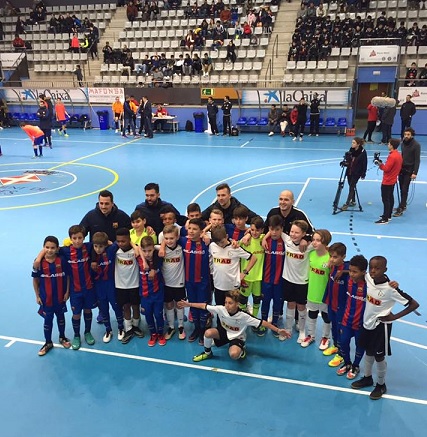 Estimated reading time:7 minutes, 15 seconds
Olé Futsal Academy of London, England have been crowned World Futsal Cup Champions after defeating Spanish Giants F.C Barcelona at U-12 level.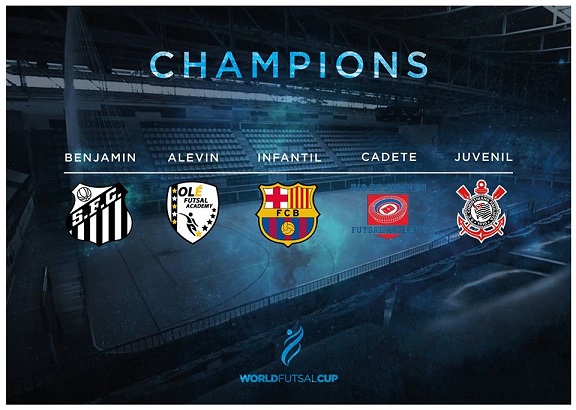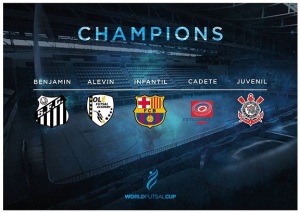 What a difference a year can make. At last year's competition, the academy faced a tough experience against one of the world's best youth structures in F.C. Barcelona. However, Academy Director Alfie Brooks recognised the unique benefits that can only come from challenging themselves against this level of opponent, both for players and the coaches.
Before the tournament, he was interviewed by the organisers and went on to say" I learnt a lot from the likes of Barcelona and El Pozo Murcia, particularly the intensity levels both these teams play at whilst in and out of possession of the ball. The intensity level is far higher than anything I have witnessed in England."
He continued to discuss how worthwhile their debut at arguably the world´s premier youth futsal championship was. "It didn't stop there, comparing Academy Football/Futsal in England, the Spanish are far more advanced technically and especially tactically. It opened my eyes last year and gave me a sense of realisation of how good you actually need to be as a player in all areas of the game. A majority of this success should be credited to the coaching model and coaches' ability to provide accurate detail in Spain, something I have attempted to emulate at Olé Futsal over the years."
Competition
This year they went into the competition with a quiet confidence. Their U-12 'Alevin' team were drawn in a group with Barcelona and RVA 'American Champions'. Their U-10 'Benjamin' team were predominantly formed of U-9 players However, these boys were well-equipped for the challenge, having played futsal for almost three years together. They found themselves in the group with Brazilian champions Santos and local Catalan side Palafolls.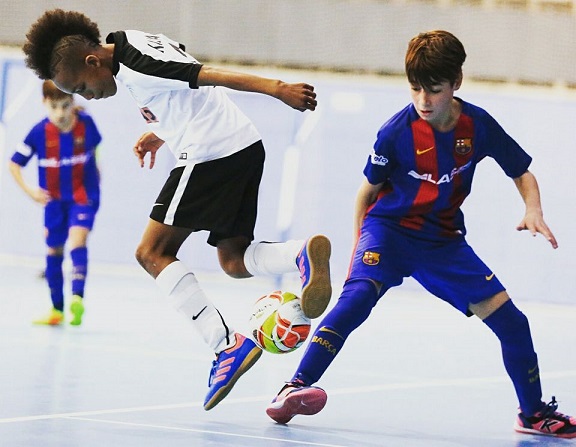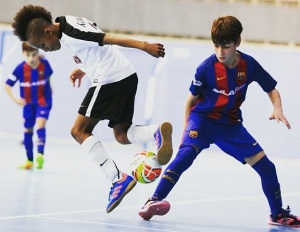 The U-12's finished top of the group, a close encounter with F.C Barcelona ended 1-1 and a 9-3 victory over RVA sealed 1st place on goal difference. The U-10's won against Palafolls before defeat against Santos confirmed they would finish runners up in the Group.
World United Futsal 'USA' were next up for the U-12's, Olé ran out comfortable 11-3 winners. The U-10's faced Rio De Janeiro Futsal, a club formed from players playing for the likes of Fluminese, Flamengo, Botafogo and Vasco Da Gama. Despite Olé taking a 1-0 half time lead the Brazilian side edged in front with only two minutes left on the clock. In typical Olé fashion the boys produced a memorable last minute scoring two goals, the winner coming with 16 seconds remaining ensuring Olé would have two teams competing in the finals.
Finals day saw repeats from the group fixtures. Olé vs. Santos at U-10 and Olé vs. Barcelona at U-12. The opening fixture between Olé and Santos saw the Brazilians dominate, however, this encounter was a closer affair. The intensity level was exceptionally high, mixed with the technical and tactical efficiencies of both clubs, the game was of the highest level. Santos lead 3-1 at half time although the story may had been different had Olé converted either of the two long penalties. Santos were state champions in Brazil, this was by no means a coincidence. Despite this Olé scored to make it 3-2 with four minutes remaining on the clock. With Olé pushing for an equaliser, Santos continued to threat on the counter ending the game victorious 6-2 winners. Despite the defeat Alfie remained optimistic ''The Academy formed a great bond on and off the pitch with Santos and I'd personally like to congratulate Felipe and his team. They were deserving champions''.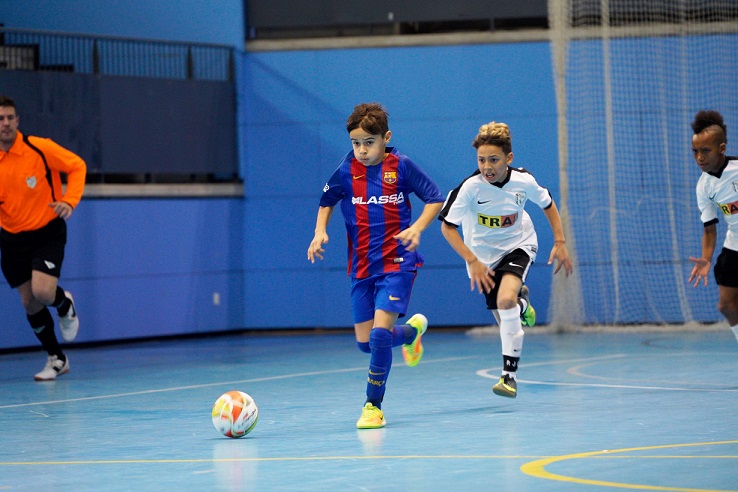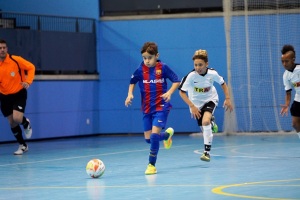 The U-12's faced Barcelona for the second time in the final and after a tense game earlier in the group, the same was expected. Both teams were comfortable in possession yet impressive in their defensive duties whilst pressing high up the pitch. Barcelona took a 1-0 lead into half time. It wasn't until three minutes before the end that Olé's persistence finally found an equaliser. This lasted for a matter of moments, Barcelona regained the lead following a precise counter-attack. The excitement wasn't over, Olé equalised for the second time. It appeared to be heading towards penalties, Olé created another three or four great chances in the closing stages but a mixture of great Goalkeeping and equally disappointing finishing ensured the game ended with penalties. Olé went on to win 4-3 on penalties '' From a coaching perspective penalties is never a pleasant way to conclude a game, fortunately this time we came out as winners''.
Achieving what had been seen as impossible is a remarkable accomplishment for all involved at the Academy, they received plaudits and an abundance of credit from many of the worlds best coaches and official organisers at the event for their playing style and overall outlook for the game.
''It has been a surreal experience but knowing my players this achievement was of no surprise. Their ability to learn, the talent within the team, added with their willingness to play for one another this unlikely dream became feasible. We worked hard throughout the year to ensure we could compete at the highest level''. The hard work paid off for the London club and they now have the biggest accolade in Youth Futsal. It appears an achievement of this magnitude has broken the mould demonstrating Futsal doesn't come with a Passport but with the correct understanding and coaching anything can be achieved.
Perception
These experiences can be beneficial both on and off the court. Forming contacts, discussing Futsal with leading figures are just as significant as to what happens on the court. Many imperative subjects were discussed including the link to Football.
He added ''The universal approach to how Futsal is perceived differs across the globe. There are no set guidelines when it comes to the purpose of Futsal and its link to developing Football players. The evening prior to the Finals we sat in front of a coaching panel, delegates from Santos, Corinthians and Barcelona were present. Interestingly each club viewed the role of Futsal differently. Santos used Futsal solely as a development tool for their Youth Players up until 12-13 years old before beginning their transition on to Grass. Corinthians combined their Youth development with both Futsal & Football and at the age of 15-16 years they would then decide for the players whether they continue with Futsal or Football. Barcelona run their Football and Futsal Academies from around 10 years old with the pathway leading directly to their first teams''.
Despite the diverse methodologies and approach to the game, it is evident Futsal has a fundamental role to play both as a development tool for Football and a game in its own right.
Brooks a former youth team player at Chelsea F.C went on to say ''Producing players that make a professional living through either Football or Futsal are decisive yet practical long-term objectives of our Academy''.
Ole
In the months building up to the World Futsal Cup, the Academy received plenty of publicity and recognition, which included an appearance on national television following a video that went viral online and has since been viewed by over 10 million unique users.
This seems to merely be the beginning for Olé, as they look to build on their already successful programme. They run Elite Groups at U-6/U-8/U-10/U-12/U-14 whom train frequently and participate in the Premier Youth Futsal League. Sessions are also provided for development phase players and beginner classes are available from four years of age.
''We start from a young age for a specific purpose, to develop the correct habits as early as possible. With street football virtually non-existent in England, this phase is vital and plays an imperative role in the child's development especially in Brazil, maybe what we are doing is replacing or offering an alternative to the street in the early years''.
Building a purpose built Futsal facility appeared to be next on the agenda, with the prospect of this occurring seemed not to far in the too distant future.
If you like the information provided, you can read more articles about grassroots and coaching by going to the top bar navigation or click here
If you like this article and would like to keep updated on Futsal news, developments etc then please submit your email below in the Newsletter section or by clicking on the Subscribe to Futsal Focus option on the header.
Follow Futsal Focus by clicking on Facebook, Twitter or Instagram or on the social media buttons on the right sidebar.