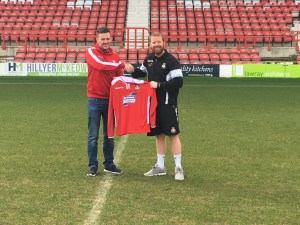 Estimated reading time:2 minutes, 42 seconds
UEFA Futsal Cup hopefuls, Wrexham Futsal are to become part of Wrexham AFC, in a move that will link Wrexham Futsal, Wrexham AFC and Wrexham's community arm the RCF. The partnership will see links between Wrexham Futsal and both the football club and RCF strengthened with a number of community-based projects as well as facility developments taking place.
All three organizations have ambitious plans to create an create an environment where everybody can access and gain a greater understand about what futsal is. The ultimate aim being to hold the UEFA Futsal Cup, the equivalent to the Champions League, here in Wrexham in the not to distant future.
Rich Ozolins-Jones, manager of Wrexham Futsal had this to say "As a Wrexham Fan and someone who is very keen to develop the game of futsal, this partnership is a fantastic step forwards, and something we are going to look to develop more and more over time to ensure that Wrexham becomes a thriving futsal town. I have had a number of positive meetings with Matty at the RCF and the plans going forward are very exciting.
Futsal is a 5-a-side form of football played extensively in South America with a number of top football professionals such as Carlos Tevez, Neymar an Sergio Aguaro having grown up playing the game. Played with a heavier ball, the game requires heightened technical ability and quickness of thought and feet. The popularity of the game in Europe is increasing year on year with a number of professional leagues no operating in Europe, as well as international tournaments. Wrexham Futsal currently have a number of players who represent both England and Wales at International level.
Matthew jones, manager of the RCF commented "This is a fantastic opportunity for us as an organization and a football club to be aligned with such a well run and successful Futsal club. We currently run a number of Futsal sessions both in the schools and out in the community and this link will really allow us to spread the word of Futsal and engage more and more people in this fantastic sport. I have held numerous talks with Rich over the last few months a believe this is a fantastic step forward for Wrexham AFC in our aim to engage with the local community".
Matthew also commented that there are hopes to develop a Wrexham AFC Futsal academy set up for players at age groups under 5, 6,7 and 8.
If you like the information provided, you can read more articles about domestic futsal by going to the top bar navigation or click here
If you like this article and would like to keep updated on Futsal news, developments etc then please submit your email below in the Newsletter section or by clicking on the Subscribe to Futsal Focus option on the header.
Follow Futsal Focus by clicking on Facebook, Twitter or Instagram or on the social media buttons on the right sidebar.